criticizes maradona | critica a Maradona
El pasado 26 de junio se enfrentaron Argentina y Nigeria en un partido de vértigo. Una excelente participación del equipo suramericano y el equipo africano. Para mí los africanos merecían el empate, pero bueno. Cosas del fútbol.
El presenté post tiene como objeto criticar a Diego Armando Maradona, uno de los mejores jugadas de todos los tiempos, pero un ciudadano que debe ser tallado y repudiado por el mundo, formar parte del ostracismo deportivo, político y social.
Para las personas de dos generaciones mayores a la mía fue un ídolo, se podría decir que para los Argentinos es tan conocido como Pablo Escobar para los colombianos, y vaya que Escobar es un muy mal ejemplo.
Pero considero que en el mundo actual, Maradona es una referencia para casi 3 generaciones. La de mis padres, ya de 50 años, la generación de pasado los 30 años y la mía de veinte para arriba.
¿Cómo una personas con la influencia de Maradona pueden hacer tal espectáculo y en un elevento visto por cientos, incluso Miles de millones de personas en el mundo?
Creo que sí en la actualidad una persona que es leída por al menos 200 personas debe cuidar sus estados de sobriedad, aún más una influencia de talla mundial.
Ahora bien, Maradona fue ingresado a una clínica después de su show, solo porque el equipo nacional de Argentina paso a Octavos, lo que me hace preguntar, ¿Que pasaría si la selección Argentina gana la copa del mundo? Este señor se morirá de una sobredosis.
Espero de verdad que las adicciones sean controladas y que el deporte sea un faro mundial para su lucha, no para que un drogadicto gane dinero por publicidad solo por estar en estado de ebriedad y casi morir de sobredosis.
También hay que hacer una crítica a los países comunistas (como mi país, Venezuela) que le entregan millones de dólares solo para hacer lobby a su favor. Maradona, pudo ser un excelente jugador pero hoy día no es más que un mal ejemplo mundial que debería ser execrado de todas las pantallas, para un ser como éste sólo queda la indóminia, el desprecio y ser ignorado porque ni su nombre merece ser recordado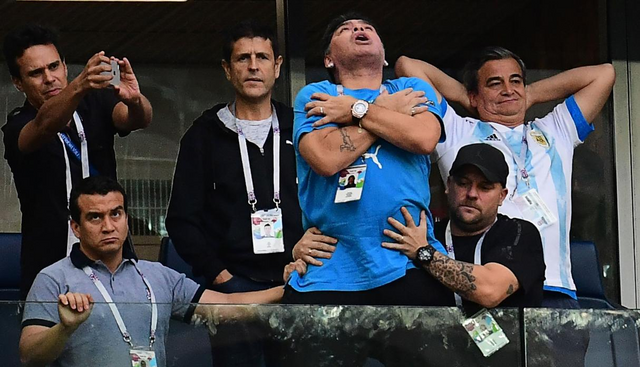 On June 26 they faced Argentina and Nigeria in a game of vertigo. An excellent participation of the South American team and the African team. For me the Africans deserved the draw, but good. Football stuff.
The post presented aims to criticize Diego Armando Maradona, one of the best plays of all time, but a citizen who must be carved and disowned by the world, be part of sports, political and social ostracism.
For people of two generations older than mine was an idol, you could say that for Argentines is as well known as Pablo Escobar for Colombians, and boy Escobar is a very bad example.
But I believe that in today's world, Maradona is a reference for almost 3 generations. The one of my parents, already of 50 years, the generation of past the 30 years and mine of twenty up.
How can a person with the influence of Maradona make such a spectacle and in an eleven seen by hundreds, even Billions of people in the world?
I think that nowadays a person who is read by at least 200 people should take care of their sobriety states, even more a world-class influence.
Now, Maradona was admitted to a clinic after his show, only because the national team of Argentina went to Octavos, which makes me ask, What would happen if the Argentina team wins the world cup? This man will die of an overdose.
I really hope that addictions will be controlled and that sport will be a world beacon for their struggle, not for a drug addict to earn money for advertising just for being drunk and almost dying of overdose.
We also have to criticize the communist countries (like my country, Venezuela) that give millions of dollars just to lobby in their favor. Maradona, could be an excellent player but today is just a bad example worldwide should be execrated from all screens, for a being like this is only the indomina, contempt and be ignored because his name does not deserve to be remembered