Pamela Anderson Marries Bodyguard Dan Hayhurst in Her 9th Wedding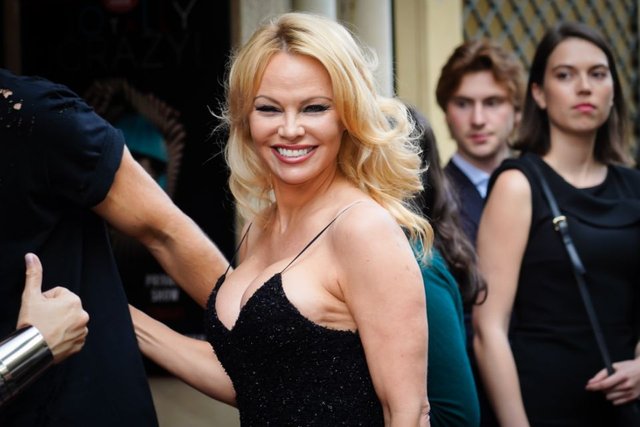 Pamela Anderson Marries Bodyguard Dan Hayhurst in Her 9th Wedding
The 53-year-old Baywatch alum wed her bodyguard, a bodybuilder and fellow Canadian, Dan Hayhurst, in an intimate ceremony on the grounds of her home on Vancouver Island, British Columbia on Christmas Eve, E! News confirmed on Wednesday, Jan. 27. The two have been together since at least last fall.
"Pamela is over the moon and feels more at home than ever before," a source connected to the couple told E! News exclusively about her and her new husband's recent wedding. "This is really such a full circle moment and return to her roots. They are actually both natives to Vancouver Island. They are splitting their time between Malibu and her family home in Vancouver. Spending time during quarantine has been cathartic for them both."
This marks the fifth marriage and ninth wedding ceremony in 25 years for Pamela. The actress was previously married to four different men, including first ex-husband Tommy Lee, with whom she shares two sons, Brandon Thomas Lee, 24, and Dylan Jagger Lee, 23.
The source told E! News that "Brandon and Dylan couldn't be happier and support their mom no matter what." The insider also said that Pamela's relationship with her new husband is "really sweet," adding, "Her friends think Dan is the nicest man she's ever been with."
At their wedding, Pamela wore a cream-colored, scrunched cap-sleeve gown with a cathedral-style veil and dark Hunter rain boots, as seen in photos posted by The Daily Mail, which first reported the wedding news. A local pastor performed the ceremony, while the couple recited traditional vows, it reported. Qiyupelenexw from Snuneymuxw First Nation acted as a witness and sang the "Paddle Song," which signifies a new journey, and drums played throughout the ceremony, the outlet said.
Tommy Lee (1995)
Pamela married Motley Crüe's drummer in 1995 on a beach in Mexico after dating for four days. They recorded a private sex tape on their honeymoon and it was later stolen from them and distributed publicly in what marked one of the earliest celebrity sex tape scandals.
Anderson and Lee welcomed their first son, Brandon Thomas, in 1996, and a second son, Dylan Jagger, in 1997. The couple divorced in 1998. They temporarily reconciled in late 2008.
Kid Rock (July 2006)
Pamela and Kid Rock first dated in 2001 and got engaged the following year but split in 2003. They reconciled in 2006 and wed in July of that year on a yacht in St. Tropez, France.
Kid Rock (Early August 2006)
In August 2006, just days after exchanging vows on a yacht in St. Tropez, France, Pamela and Kid Rock had a second wedding ceremony at a wedding chapel at a courthouse in Beverly Hills, Calif.
https://zenodo.org/record/4474329#.YBHNNugzbIU
https://zenodo.org/record/4474346#.YBHRMugzbIU
https://zenodo.org/record/4474334#.YBHRU-gzbIU
https://zenodo.org/record/4474355#.YBHSNegzbIU
https://zenodo.org/record/4474359#.YBHThOgzbIU
https://zenodo.org/record/4474448#.YBHZUugzbIU
https://zenodo.org/record/4474463#.YBHax-gzbIU
https://zenodo.org/record/4474506#.YBHf7-gzbIU
https://zenodo.org/record/4474516#.YBHhHOgzbIU
https://zenodo.org/record/4474531#.YBHjtugzbIU
https://www.guest-articles.com/health/sex-files-consider-a-fantasy-vacay-to-get-you-through-these-tough-times-27-01-2021
https://www.guest-articles.com/entertainment/pamela-anderson-marries-bodyguard-dan-hayhurst-in-her-9th-wedding-27-01-2021
https://gumroad.com/cohenmaricela
https://muckrack.com/maricela-cohen/bio
https://note.com/maricela/n/nb2d417523e62
https://guysandy176.medium.com/pamela-anderson-marries-bodyguard-dan-hayhurst-in-her-9th-wedding-66c5579d347f
Kid Rock (Mid-August 2006)
In mid-August 2006, Pamela and Kid Rock tied the knot a third time onstage at the famed honky-tonk Tootsie's Orchid Lounge in Nashville, Tenn. (Pictured: Pamela appears at a July 2006 press conference in Las Vegas for her PamelaPoker.com website. She is wearing a wedding veil to celebrate her and the rocker's upcoming nuptials.)
Kid Rock (October 2006)
In October 2006, Pamela and Kid Rock said their "I do's" for a fourth time in a wedding ceremony at the Clarkston Union Bar & Kitchen in Clarkston, Michigan, Kid Rock's home state in front of about 150 friends and family members, local newspaper The Oakland Press reported.
That November, four months after their first wedding, Pamela suffered a miscarriage. Later that month, she filed for divorce.
Rick Salomon (2007)
In October 2007, Pamela married the film producer and her longtime friend at The Mirage Hotel & Casino in Las Vegas. In February 2008, she requested that their marriage be annulled, citing fraud.
Rick Salomon (2014)
In 2013, Pamela and Rick reconciled. In January 2014, they remarried. She told E! News at the time, "We're very happy. Our families are very happy and that's all that matters."
In July 2014, Pamela filed for divorce from Rick. Weeks later, they reconciled and she asked a judge to dismiss her divorce petition. But in February 2015, she filed for divorce again. Rick sought to annul their second marriage. Amid a turbulent split, the two were ultimately granted a divorce in April 2015.
Jon Peters (2020)
In January 2020, Pamela and Jon, a producer on A Star Is Born, had a private wedding ceremony in Malibu, Calif., her rep confirmed to E! News, adding, "They love each other very much." But just 12 days later, the actress announced that they had split.
"I have been moved by the warm reception to Jon and my union," Pamela said in a statement to E! News. "We would be very grateful for your support as we take some time apart to re-evaluate what we want from life and from one another. Life is a journey and love is a process. With that universal truth in mind, we have mutually decided to put off the formalization of our marriage certificate and put our faith in the process."
In September 2020, Pamela tweeted a link to an article about her new romance with her bodyguard. She wrote, "Pamela Anderson was never married to Jon Peters - it was just a bizarre lunch ... no 'marriage' no 'divorce' ..."
Dan Hayhurst (2020)
Pamela and her bodyguard wed in a private ceremony on the grounds of her Vancouver Island home in their native Canada on Christmas Eve 2020, E! News confirmed.