Military Contractors Hacked Activist Post Following Bombshell That Several Alternative Journalists Set Up With Child Porn, Here's The Warning Shot!
Military contractors hacked Activist Post with malware to attempt to upload images (presumably child pornography) after a massive exposure article this author wrote noting not support for Alex Jones, but that other alternative media journalists had previously been targeted and set up for the same sick illicit material as well.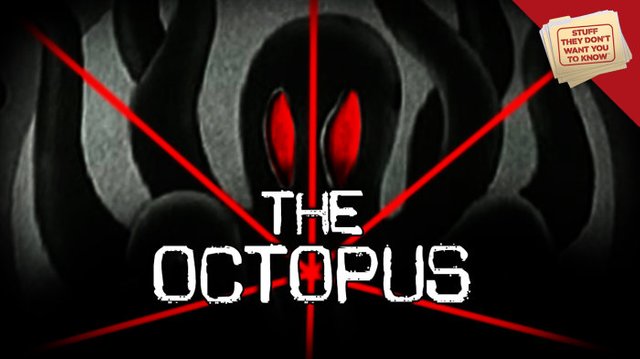 https://twitter.com/An0nAKn0wledge/status/1141409649557741574
This happened less than 24 hours yesterday after publishing my massive bombshell on Tuesday that showed the arrest and imprisonment of Matt DeHart, and Brian Hill for child pornography possession and the threats against -  Melissa Melton, Luke Rudkowski, Dan Johnson and Stewart Rhodes, Infowars, Activist Post, Intellihub, V for 9/11, Dprogram, Stewart Rhodes, Lew Rockwell, Rense, Dan Johnson, Luke Rudkowski, and Truth Action.
In that article, I went into detail about an ominous message received years ago by several alternative media outlets and individual independent journalists threatening to set us all up with child pornography. The hackers claimed to be called the Political Hackers Squad.
Brian Hill called the malware that infected his own computer the e-mule virus, noting the malicious code was setting people up to be pedophiles, Federal Jack reported.
Hill received threatening emails in 2013 from tormail.org with the statement "Brian is going to be a sex offender, he was set up with child porn, the police would never believe a word he says, and his friends are next."
The emails Hill was sent were provided to this author when working at We Are Change, and Hill also talks about them in a video he made that his family sent to We Are Change below.
In fact, as shown, "Alex Jones" was directly named in those threatening emails as well. Those emails were sent by somebody claiming to be working under the Political Hackers Squad, alluding to being bribed to be pardoned by the Obama Administration for their alleged criminal accusations of child porn if they set up various different political enemies of Obama by being given lists of people to set up.
More specifically, you can read an archived version of their message which was posted on The Hidden Wiki on TOR, Brian Hill wrote.
== We Shall Set Up All Political Activists, Alternative Media, And Libertarian Politicians With Child Porn Starting Soon ==
WE ARE RESPONSIBLE FOR SENDING CHILD PORN TO LUKE RUDKOWSKI'S, DAN JOHNSON'S, STEWART RHODES, AND TONS OF OTHER PATRIOT'S EMAIL ADDRESSES. THIS IS NOT OVER, WE PLAN TO PUT CHILD PORN IN EVERY PATRIOTS EMAIL AND THEN MAKE EVERY PATRIOT A SEX OFFENDER FOR LIFE. WE ALSO PLAN TO SEND CHILD PORN TRICK EMAILS AND EVEN HACKERS TO SEND CHILD PORN TO EVERY PATRIOTS COMPUTER THEN CALL THE FBI WITH LOWER LEVEL MINIONS UNTIL EVERY PATRIOT AND ALTERNATIVE MEDIA OVERLORD IS RAIDED THEN CHARGED WITH CHILD PORN. WE SHALL GET MULTIPLE CONVICTIONSS AND WIN. HAHAHAHAHA!!!!
SIGNED,
[email protected] [email protected] [email protected]
OBAMA SUPPORTERS
POWERLORD [email protected]$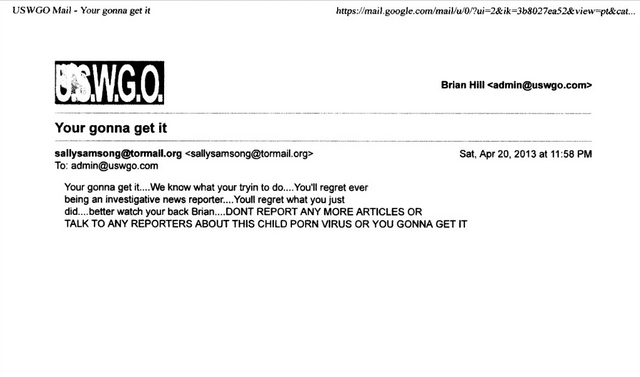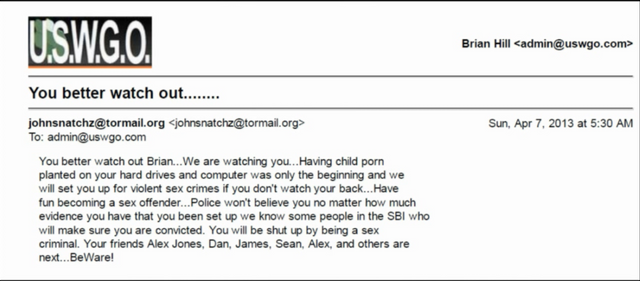 Additional evidence that supports Brian's claim of being set up is the fact that his computer was downloading the images of child pornography while in the custody of the North Carolina State Bureau of Investigations (SBI) in August 2012 and 2013.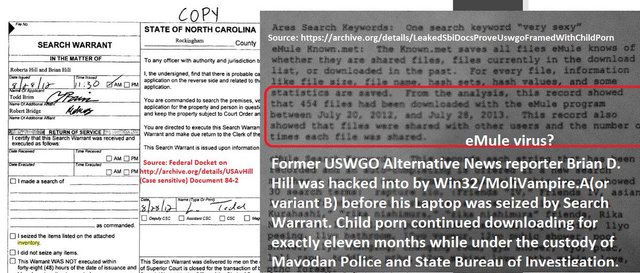 This is evidenced by documents titled "the Joy Strickland emails," in which Joy Strickland tells Agent Rodney White that "Brian might be innocent." The Joy Strickland emails, provided to We Are Change by Brian's family, provide proof that Joy Strickland was provided a prior warning that Brian might be innocent before the DHS arrest. For more on Brian Hill's case see the article I wrote for We Are Change, "WRC EXCLUSIVE: Alternative Media Writer Brian D. Hill Setup On Child Pornography Possession."
It's worth noting that in 2014, due to WikiLeaks who released the Hacking Team emails, we learned that governments worldwide were paying for a Remote Access Trojan (GALILEO) which seemed to have attributed the source code in possibly forging child pornography as IB Times reported. 
Right now the Activist Post website remains in accessible prompting to login to the admin dashboard and techs at Word Press are looking into the attack. The attacker used an exploit from exploit-db, shelled the server then attempted to upload images onto the site. Given what I just wrote about this can't be dismissed and is documented on the blockchain.
WARNING SHOT 
I will go further, and provide partial information to what I have been working on regarding telling the true story of 911 and the story that has to be told first of PROMIS (Prosecutor's Management Information System) software and The Octopus that journalists Danny Casolaro and Ian Spiro were assassinated for trying to tell. 
This is a warning shot to the military contractors and deep state shadow government warned by Senator Daniel Inyoue during the Iran-Contra hearings, who think I am bluffing about having information that can destroy the empire, secrets which were left by this writers' friend and source former FBI LA Dir. Ted L. Gunderson.
https://www.youtube.com/watch?v=VlwGRIrfKcM
As I have reiterated CIA whistle-blower Michael Riconisciuto holds the keys to many different events throughout history. So much so Riconisciuto is known as the "dot connector" around the internet. Once you look into the story of Michael Riconisciuto (who seems to be imprisoned under NDAA, with his current location unknown) you see the clearer picture how we are run by criminals.
Here's a nugget of truth that very few know, Michael Riconisciuto warned Colin Powell months prior to 911 from inside prison of the exact plot and cell within NJ that planned to carry out the September 11th attacks on America. How is it possible that a man in prison knew the plot?
Well, Riconisciuto helped set up the Mujaheddin, with unassembled Chinese 107 MM rocket systems at a meeting with Ted L. Gunderson, Tim Osman (Osama Bin Laden) and Ralph Olberg in 1986, by using his contacts in the Chinese industrial and military group Norinco. These could be reconfigured into portable anti-aircraft guided missile systems, and produced in Pakistan at a facility called the Pakistan Ordinance Works to fire at the Soviets in Afghanistan. (Pakistani ISI) 
Which, that leads us to BCCI where we will stop with CIA director, Bill Casey setting up BCCI with Pakistani intelligence officers (ISI) including Agha Hasan Abedi, a close adviser to General Zia of Pakistan and, more importantly, the head of the Bank of Credit and Commerce International (BCCI). This same bank was used to fund gun running and drug running operations like Iran-Contra and Operation Cyclone. BCCI was the first link bank they then used offshore banks like Panama as the Panama Papers showed with Operation Goldfinger.
Then Moscow proceeded to get revenge on the U.S. years later using Al-Qaeda. Before 911, Tim Osman (Osama Bin Laden) purchased PROMIS software on the black market after FBI agent Robert P. Hansenn sold PROMIS to the Russians. That's not the end of the story this is only the beginning and doesn't answer the Israeli vans filled with bombs on the George Washington bridge and across the tri-state, 911 is one of the U.S.'s dirtiest secrets. Not only was the operation aided by treasonous bastards who demanded some agents stop investigating, but all in all 911 was a massive intelligence failure because there was an incredible amount of foreknowledge.
[RELATED: The Official Narrative Of 911 A Bigger Conspiracy Theory]
Welcome to the inferno. Hell is about to be unleashed tread lightly and watch your steps mother fuckers.. time is ticking bastards. Still think I don't have damaging information? 
Imagine if I actually cited everything leading up to 911 and all the foreknowledge? Also, here's a mega.nz with thousands of documents on 911, a leak from a CIA agent that started to doubt whether he was a good or bad guy. You fucked with the wrong person, you push me, I push back and don't make me talk about the military anthrax, sent to media and specific Democrat politicians who stood against the Patriot Act weeks after 911.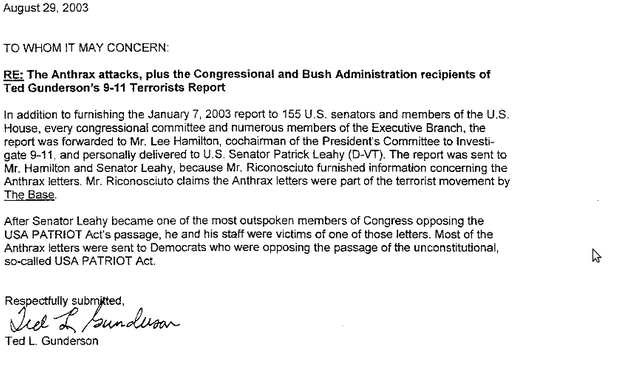 https://mega.nz/#F!QlYQ0aQJ!4vR2QxhGiH7aoh9_DI3s3g
I will go out a martyr if that's what it takes, you don't scare me, it's time the public knows how corrupt their government is and what has gotten several people killed anyway. If anything is to happen to me, things will be way worse for you. The general populous grows tired of the corruption, falseflags, the war mongering, the propaganda and the lies.
Most of all we are all sick of those we never elected within the Congressional Military Industrial Complex, that President Dwight Eisenhower warned us all about, that also attempted overthrowing FDR with the Business Plot, - targeting sovereign American citizens, pulling strings and violating the U.S. constitution. Eventually you will face violent upheaval from within your own walls and the people themselves i.e. civil war.
Further, the Anonymous collective isn't my army, but naturally there are individual Anons that will stand beside this writer against you and you should know Anonymous as a collective has several secrets that have yet to come out. I'll leave my secret admirers and you the reader with a quote from Johnny Cash, "Whats done in the dark will be brought to the light."
This is all on the blockchain mother fuckers totally immutable to censorship let's see you take down Steemit.com and hack all the computers in the blockchain to edit this article. This is only the beginning.