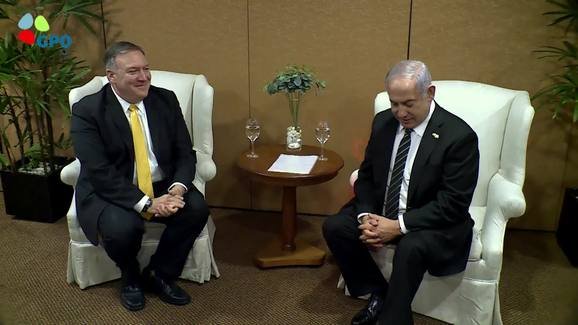 BEIRUT, LEBANON (8:00 P.M.) - Israeli Prime Minister Benjamin Netanyahu and US Secretary of State Mike Pompeo met and discussed how to continue their countries' cooperation in the Middle East while in Brasilia during Jair Bolsonaro's inauguration on Tuesday.
Netanyahu stated that in the meeting with Pompeo: "we're going to be discussing the intense cooperation between Israel and the United States which will also deal with the questions following the American decision on Syria and how to intensify even further our intelligence and operations cooperation in Syria and elsewhere, to block Iranian aggression in the Middle East, to roll it back."
Pompeo reassured Netanyahu that "the decision the President made on Syria [to withdraw troops] in no way changes anything that this administration is working on alongside Israel.
The counter ISIS campaign continues, our efforts to counter Iranian aggression continue and our commitment to Middle East stability and the protection of Israel continues in the same way."
Video credit: Ruptly

---
If you can't view videos or other embedded visuals, click the link below!
Posted from AMN with SteemPress : https://www.almasdarnews.com/article/us-protection-of-israel-to-continue-despite-syria-decision-pompeo-tells-netanyahu-video/
---

Follow AMN on Steem to get updates, We follow back :-)