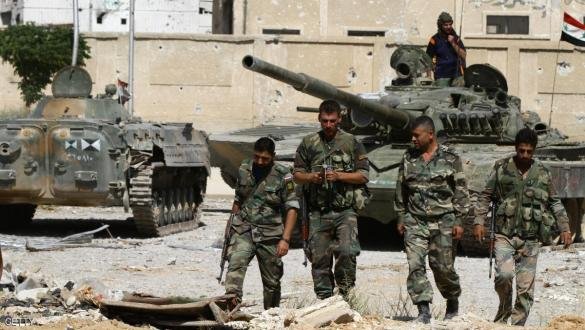 BEIRUT, LEBANON (1:00 P.M.) - The Syrian Arab Army (SAA) has reached their tipping point in west Aleppo after the jihadist rebels launched another attack on the provincial capital from their positions at the city's outskirts.
According to a military source in Aleppo, the Syrian Arab Army's Republican Guard announced via loud speaker that Hay'at Tahrir Al-Sham and their allies have until October 15th to withdraw from the Al-Zahra Association Quarter or else they will be launching a large scale operation.
Hay'at Tahrir Al-Sham and their jihadist rebels have launched several attacks on the west Aleppo districts from their positions in the Al-Zahra Quarter in the past, prompting the Syrian Arab Army to concentrate their elite forces at this front.
The source added that the Syrian Arab Army wants the jihadist rebels to completely withdraw from the Al-Layramoun Quarter, which neighbors several government areas in northwest Aleppo.
Hay'at Tahrir Al-Sham will not likely withdraw from west Aleppo without any pressure from the Turkish Army, who is currently positioned at the nearby town of Daret Izza.
However, the Turkish military does not appear to be pressing the jihadists to leave, as they have launched several attacks on west Aleppo since the Idlib buffer zone deal was announced.

---
If you can't view videos or other embedded visuals, click the link below!
Posted from AMN with SteemPress : https://www.almasdarnews.com/article/breaking-syrian-army-gives-jihadist-rebels-until-oct-15-to-leave-west-aleppo/
---

Follow AMN on Steem to get updates, We follow back :-)