Dancing thief
This thief was so happy at finding a fifty-pound note in a stolen wallet that he did a little celebratory dance.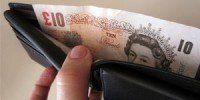 Police have released this CCTV footage of the 31-year-old man, who took the wallet from a parked car in Birmingham. Sergeant Alan Lawless said, "We couldn't believe it when we saw the footage. He was so happy at getting his hands on someone else's cash that he did a little dance on the pavement. He may have felt like dancing at the time, but he looked pretty miserable when we knocked on his door to arrest him."
The man, who has convictions for offences including shoplifting, criminal damage, and vehicle interference, was later jailed for two weeks after admitting theft. Dancing his ways behind bars!