Una Ayuda Para Michy A Help For Michy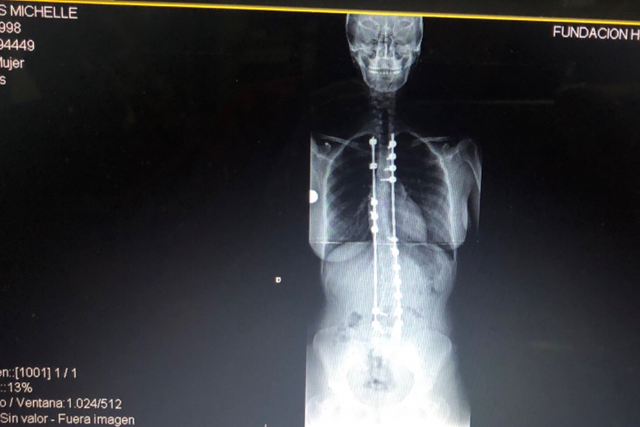 Hola, mi amia Michelle Flores. Tiene 22 años natural y procedente de Anaco edo. Anzoategui, Venezuela. Quiero compartir con ustedes una historia. Aproximadamente hace 5 años fue operada de Escoliosis Idiopatica del Adolescente con dos curvaturas, en la Fundación Hospital Ortopédico Infantil con el dr. Antonio Cartolano. Actualmente tengo 2 barras correctivas, 18 tornillos y 2 ganchos. Desde que comenzó el año 2020 he padecido de mucho dolor. Por lo qué decide el 17 de febrero acudir a consulta con su médico tratante y le diagnostican que tengo los 2 ganchos sueltos en la cual unas de las barras está desprendida. Necesita con mucha urgencia volver a operarla, ya que esto puede generar muchas complicaciones. Pido de su colaboración, ya que ella no cuenta con las posibilidades de costear dicha cirugía. Cualquier granito de arena será bienvenido, DIOS LES BENDIGA y les multiplique salud en abundancia. Muchas Gracias !!
si puedes ayudar por otros medios como paypal, payeer, cryptocurrency, steemt dollar, steem
seria un gran apoyo
Hi, my friend Michelle Flores. He is 22 years old and from Anaco edo. Anzoategui, Venezuela. I want to share a story with you. Approximately 5 years ago she was operated on Idiopathic Adolescent Scoliosis with two curvatures, at the Children's Orthopedic Hospital Foundation with dr. Antonio Cartolano. I currently have 2 corrective bars, 18 screws and 2 hooks. Since the beginning of the year 2020 I have suffered a lot of pain. So he decides on February 17 to see his treating doctor and he is diagnosed that I have the 2 loose hooks on which one of the bars is detached. You urgently need to operate it again, as this can cause many complications. I ask for your collaboration, since she does not have the possibilities to pay for such surgery. Any grain of sand will be welcome, GOD BLESS YOU and multiply your health in abundance. Thank you so much !!
if you can help by other means like paypal payeer cryptocurrency steemt dollar steem
it would be a great support