My Name is VicChris: Hi, Can we Shake Hands? Am new on Steem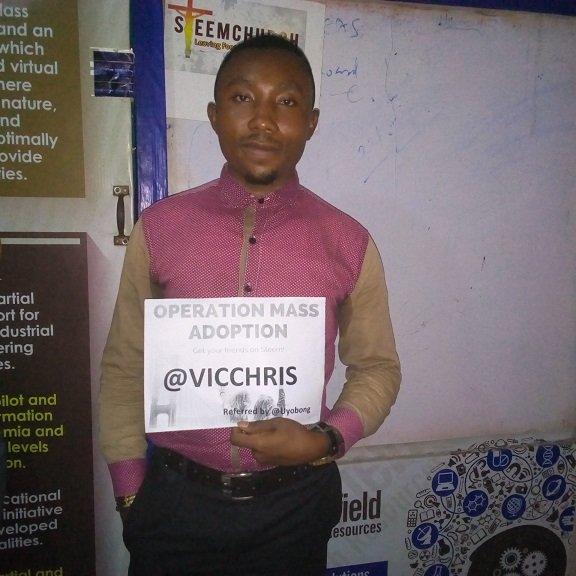 I am Christian by name, alias "Vicchris". I chose that my Steem nomenclature be @Vicchris.
@Vicchris is a computer technician by vocational training. I finished my Secondary Education and currently serving as a Computer Technician in Fortune High School, one of the leading secondary schools in Uyo, Akwa Ibom State, Nigeria.
I can be very funny because I love seeing people smiling and happy, though, I am gentle. Though a fun and joke lover, if you listen carefully, you will learn from me. I believe life live is all about communication and so I maximize every opportunity I have to communicate.
I love God, I love people, I love music (gospel) and I love what I do – dismantling and coupling computer parts.
Why am I on Steem Blockchain?
Many thanks to a big brother @Uyobong, who told me about Steem and helped me to create an account. He had told me some few months behind, but I thought I couldn't have the time to blog, however, I have learnt that flaws are accepted and people can really learn here.
Beyond the financial rewards, I hope to utilize every learning opportunity I have on this blockchain. I trust that my ICT skills will be sharpened the more.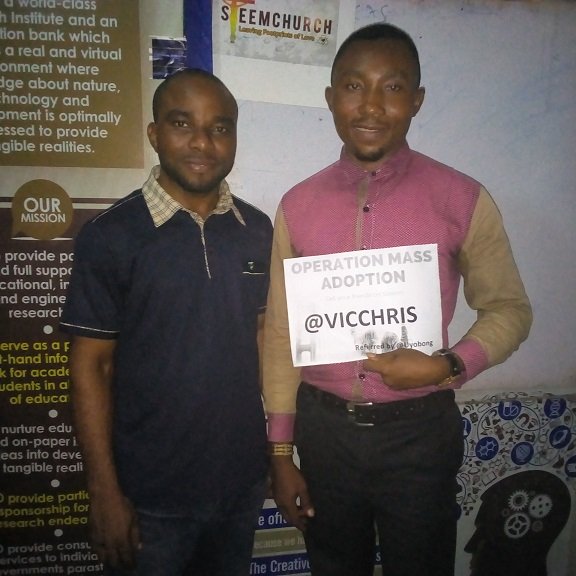 How Will I contribute to Steem?
Brother @Uyobong did say that I must be ready to contribute some tangible things to the blockchain. After giving some thoughts to it, here is what my bring here will add to the system:
I will increase the number of active users
I will share my knowledge on Computer maintenance and repairs with my audience;
I will make you laugh with my jokes
In the near future, I hope to receive Steem as payment for services when we successfully build a solid Steem community in Uyo.
Where Would I love to be on Steem?
With my inclinations to ICT I will love communities that will help me learn and learn from me. I have heard about @Steemstem @buildteam @utopian-io.
Moreover, I will love to share my faith-based thoughts on @Steemchurch, @Sc-n, @Christian-trail.
I am also aware of some NIgerian communities like @Stach @Ulogs, etc.
I will also love to be a part of what @Writeandearn is doing.
I just believe I will have a good time here on this blockchain.
Thanks to you all that spent you special time to go through my introduction. I hope to receive some warm comments from you.
I hope you love the footer below customized for me by @Writeandearn created by Uyobong to teach us how and to blog on Steem.
Thank you and remain Blessed