Free Steem For Everyone !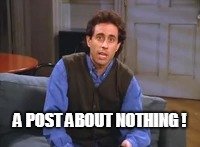 Much like the show Seinfeld, this topic is about nothing
Yes, you read that right. This topic is about nothing at all. I have nothing of substance to say and in this topic neither do you.
Rules
Place a random comment in the comment section. It can be about anything, the more crazy / shocking and funny the better.

This contest is about having fun and reading the other entries so don't forget to upvote the entries that you thought were the craziest / funniest.

Upvote / Resteeming is not required but are appreciated and help with paying and increasing the prizes
Prizes
This week I will be setting an @steem-bounty of 1 steem and everyone who enters with a crazy comment will be getting an upvote and winning a share of the @steem-bounty.
@steem-bounty is a reward placed on a topic that is distributed to the participants in the topic. 95% of the bounty is distributed according to the votes from the bounty creator. 5% or the rest of the bounty is determined by votes of everyone else that voted on the comments. This initiative was started by @knircky.

" Snake Eyes 3 " Dice Game ( Win A Free Resteem Subscription )