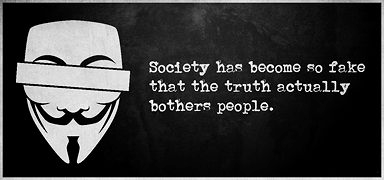 "I think we are living in a world of lies: lies that don't even know they are lies, because they are the children and grandchildren of lies. One of the hardest things to accept is that the reality of our world is buried under so many layers of official deception and well-cultivated public ignorance about our history and our political system. Even if you break through somehow, momentarily, and hold up a fragment of the truth, most people have no context for dealing with it. It's like a bolt from the blue, they can't process the information. And so the sea of lies closes over us again, and again, and again.
But I don't know what else we can do, except to keep on telling as much of the truth as we can find, to anyone who will listen: reclaiming reality, fragment by fragment, one person at a time. It's an endless task – maybe a hopeless task – but the alternative is a surrender to the worst elements in our society – and in ourselves."
I don't own this content just shared for education and comments only.