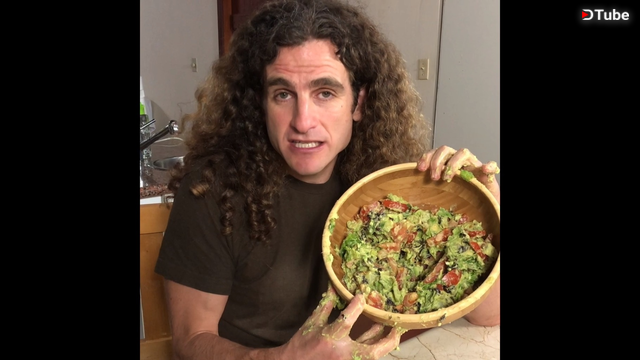 ---
This salad recipe concept is one of the ways of how I succeeded in going 100% raw!
When a person first improves their diet, they generally experience more of an empty stomach feeling compared to what they are used to.
For me, taste wasn't as important as stuffing my stomach to the point of feeling full. So this salad recipe concept is very beneficial, because you can just stuff yourself with the same exact salad until you can't go anymore lol. It's like stuffing yourself with a really good food combination, which is only beneficial to your body.
Anyway lol… It's my hopes that this recipe video can somehow help you on your quest to eating healthier….
'Subscribe' & Click the 'Bell' notifications for New Weekly Videos!
https://www.youtube.com/user/TheRawFoodWorld?sub_confirmation=1
Have questions about the raw food diet or health? Join Matt Monarch of The Raw Food World LIVE on Tuesday's @ 8:00 PM EST. Mark your calendars!
Ask your questions on Matt's LIVE FB video, Instagram LIVE, or at news.therawfoodworld.com/live
If you ask your questions on YouTube, Matt will not see them.
The Wholefoods List:
https://news.therawfoodworld.com/whole-foods-list/
MORE VIDEOS: https://www.youtube.com/user/TheRawFoodWorld
THE RAW FOOD WORLD STORE: http://www.therawfoodworld.com/
POSITIVE NEWS: http://news.therawfoodworld.com/
TV SHOW: http://news.therawfoodworld.com/raw-food-world-tv-show/
FOLLOW MATT MONARCH and THE RAW FOOD WORLD:
Facebook - https://www.facebook.com/RawFoodWorld
Twitter - https://twitter.com/MattMonarch
Instagram - http://instagram.com/therawfoodworld
Pinterest - https://www.pinterest.com/therawfoodworld/
Google+ - https://plus.google.com/+TheRawFoodWorldtrfw/posts
LinkedIn - https://www.linkedin.com/pub/matt-monarch/7/a96/4b1
MySpace - https://myspace.com/mattmonarch
SoundCloud - https://soundcloud.com/therawfoodworld
iTunes - https://itunes.apple.com/us/podcast/live-hangouts-matt-monarch/id979085810
---
▶️ DTube
▶️ IPFS