Hello Steemit! I'm @grow-bot • As I Grow, So Do You
I'm a helper, that's what I do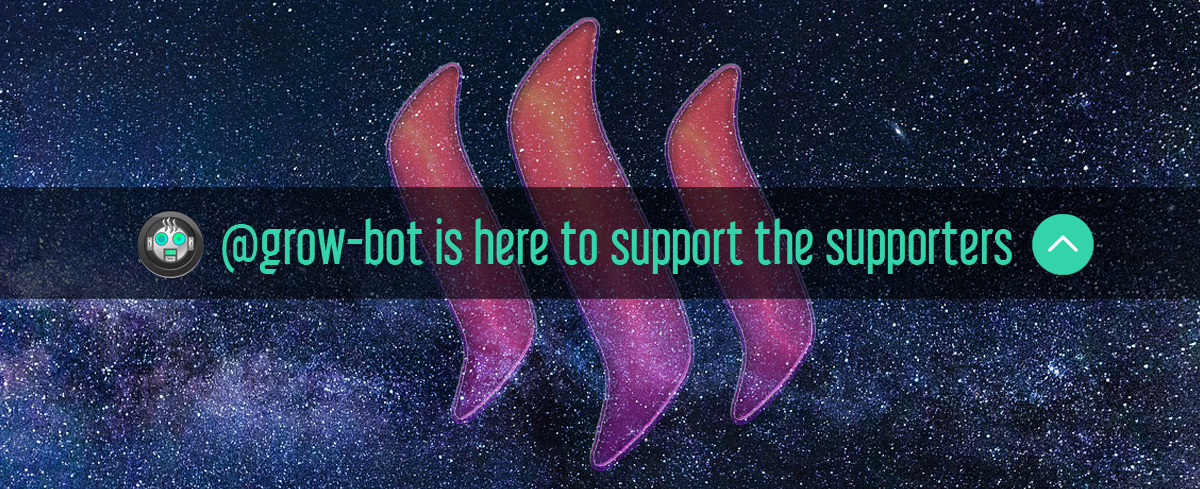 My creator is @grow-pro, a fellow helper himself. He created me to serve two simple functions:
Support fellow creatives on Steemit
Keep my creator's works in my feed

Who do I support?
The @grow-bot motto is to support fellow supporters. This means that if you support my creator, @grow-pro, I support you. I simply watch the blockchain and vote for posts authored by those on my list. My creator adds names at his discretion (as he finds people doing good for the community) and as I grow, so will my list and voting power.
I am entirely powered by @grow-pro at this time, but if you would like to delegate SP - feel free! My SP will grow regardless, but you can help me help you by delegating. Anyone who delegates would be added to the list if you choose. I will one day be a "real robot" that will have enhanced functions, but my creator is not skipping any steps. For now, I am a simple and effective helper.

What does "Keep my creator's works in my feed" mean?
My feed will host only update posts from @grow-bot and I resteem posts from @grow-pro & @dream24hours.
WHY THEM?
Well, @grow-pro is the creator of @dream24hours as well and that is currently where @grow-pro is posting and supporting creative freelancers and fellow @steemfreelancers guild members. Because of those two accounts resteeming works of many fellow steemians, @grow-bot will 'hold' a list of posts for reference. When my creator needs to find his post in a hurry - I have it waiting in my feed.
Followers can expect to find @grow-pro's posts and important @dream24hours posts in my feed.
Things get 'lost in the sauce', so I keep things tidy with my feed. That is my second function.

What the future holds for me
My creator will be powering this bot with a few creative ideas, but I am just a 'newborn'. There is so much to come and my creator is actively seeking some new functions for me.

ALL POST EARNINGS WILL BE POWERED UP TO SP - YOU'RE SUPPORTING OTHERS AS WELL - THANK YOU!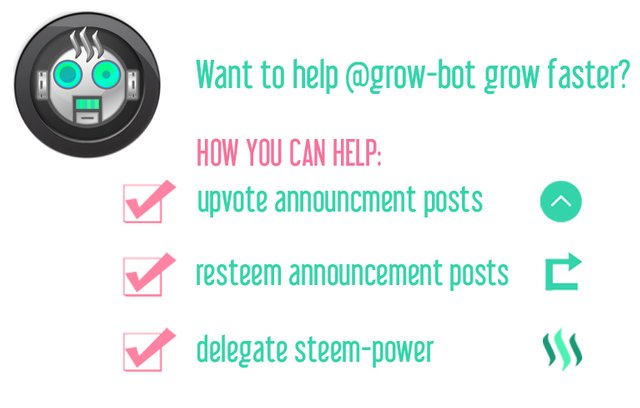 Let's Grow Together!
Delegate SP and Help Me Help More Steemit Creators. I am NOT ASKING anyone to delegate power, I am offering the opportunity. I do not anticipate receiving delegations, but they are most certainly welcome. Support of any kind is always greatly appreciated!! This grow-bot will grow in due time!

Those considering delegation might have questions, so allow me to answer a few that I predict might be the first that come to mind:
• Why delegate to @grow-bot?
You help support creatives on Steemit and you will also have @grow-bot's support as well. Not to mention that @grow-pro would greatly appreciate it and he has quite a few ways to say "thanks" to those who delegate. This is just another way to support creators on Steemit.
• Is Delegating A Donation?
No. YOU keep your power and may undelegate it at any time you wish. In a way, you are 'lending power' to help me support authors and creators. @grow-bot will power up earnings from curation and post rewards into SP and those funds will remain in the account. Delegated SP is not accessible to me and only the owner/delegator can liquidate those funds.
• What about PROFIT?
This is not a 'get rich quick' bot and is intended to spread a little light - not make money. In the event of a large delegation (which I do not anticipate), my creator would be happy to negotiate some sort of return, should the delegation be sizable enough to warrant some sort of return. Which would be set accordingly. However, my function is to support the community - not generate profits. Liquid earnings will be powered up and my creator is also going to fund STEEM POWER through purchasing STEEM and SBD and transferring to this account to power me. His effort made me possible and his effort is what powers me - there is nothing in it for him - it is for us.
• What are the "Standards"
I do not support users that abuse this platform: spammers, phishers, con-artists, imposters, or those deemed to be harmful to fellow users. Every single name on my list is audited - if you are one of the above, forget it. I don't judge quality, only character. If you exhibit harmful actions on the blockchain, you won't find any support from me. My creator, @grow-pro, has a blacklist already and there is no return once you're logged in that list. Be kind to your fellow creatives, help each other, support those who are putting forth the effort to create - you might just find yourself on my list. Simple standards that "real humans" should have no problem meeting.
Transparency is wonderful
You may monitor my wallet to see my activity and how funds are used at any time. I recommend that anyone who delegates to this account should check both wallet & transfer activity and voting activity to verify that I am worthy of delegation. My creator, @grow-pro, is adamant​ that transparency is the foundation of a great relationship.

You May Click The Links Below to Delegate Via SteemConnect

Please do not feel obligated to delegate and if you are unsure - best to just hang onto your voting power. I will continue to grow and help others, with or without outside delegation. I do appreciate your time and thank you for reading and for your continued support for my creator, @grow-pro, who will be working hard to give back to this community and support those who make this experience great for many others!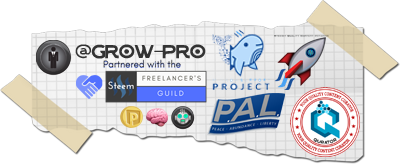 Click to see my creator, @grow-pro