Hello community, this simple and very common flower of our tropical countries is everywhere, it is the cayenne flower. Your presence is as abundant as its benefits.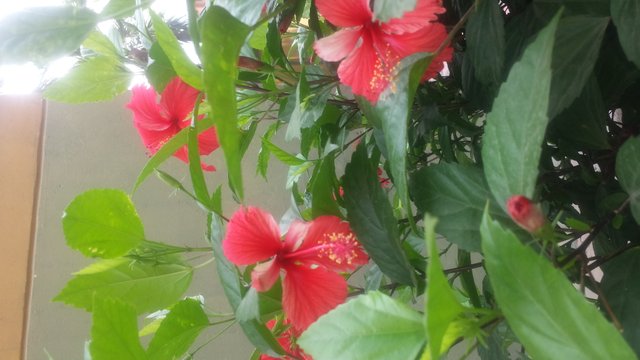 The popular cayenne or rose flower, papo, bonche or sanjoaquín is known by different names depending on the country, the Hibiscus rosa-sinensis is a shrub that blooms throughout the year and is original from Central Asia, it is also the national flower of Malaysia, in America it is also an outstanding flower for countries such as Puerto Rico, the Dominican Republic and the islands of Hawaii is the USAAA. Although it is mostly grown in gardens for ornamental purposes, its benefits for health and cosmetics are less used and taken into account in most of the countries where it is located.
Among the health benefits you can count:
The flower is conferred analgesic, antispasmodic, astringent, anti-irritant, mild laxative and emmenagogue (which causes menstruation in women) properties.
A decoction of cayenne flower can be used to prepare drinks for tranquilizing and sedative purposes, so it is especially beneficial to get a good night's sleep.
Teas or infusions are also used to relieve pain in case of gastric ulcers, in case of cold or catarrh as an expectorant.
Combined with honey or lemon helps to enhance its antibacterial power.
You can also add the decoction of cinnamon flower directly to the bath for more relaxation and in case of muscle pain.
Among the cosmetic benefits you can count:
The leaves of the cayenne bush after a process of crushing and soaking in clean water you get a gel (slimy) that is used as a softener for hair, to control dandruff, to avoid baldness or alopecia.
With this same gel you can prepare a shampoo mixing with other natural ingredients such as olive oil, sabila or aloe vera, incorporating this mixture to your usual shampoo.
Sure you have a cayenne bush near your house or in your patio or garden or in the ornament of your city or rbanization, from today you will no longer be indifferent when you see a cayenne bush. You encourage yourself to take advantage of its benefits ... nature is simple, but very wise.