Bitcoin Green Masternode/Staking Tutorial (Masternode Comparison With DASH)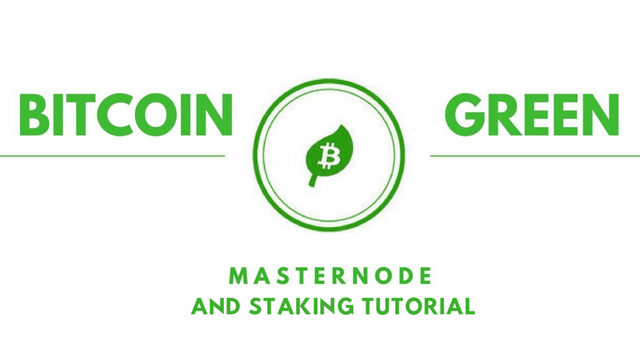 How to stake Bitcoin Green?
1 First download the wallet at https://www.savebitcoin.io/wallet/
2 Make sure your wallet is loaded and it is fully synced, and of course you have to put some BITG in your wallet.
3 At first the BITG logo in the bottom right will be gray, but after it is fully synced it should turn green.

(If you have set a password for your wallet then you will have to "unlock your wallet" to make it possible for your wallet to stake your coins. You can do that by going to settings in the top left corner of the wallet interface, then click on "unlock wallet", type in your password. And lastly click the "for staking only" checkbox.)
4 When the BITG logo finally is green, then your wallet is mining BITG coins with proof-of-stake!
Your wallet has to be running in the background or else it won't mine!
To increase the staking earnings, add more BITG to your wallet, or setup a masternode!
Bitcoin Green masternode
Want to earn more Bitcoin Green? If you have more coins you can setup a BITG masternode, but why would you setup a BITG masternode and not another masternode for example DASH? In short, if you don't know which masternode coin is the best or you don't want to spend thousands and thousands of dollars on a masternode? Then Bitcoin Green is probably your best bet!
Bitcoin Green masternode compared to a Dash masternode
Masternode costs
A BITG masternode costs only $1,775.25 or 0.52353 BTC
but a DASH masternode costs a massive $61,309.67 or 18.08097 BTC
Bitcoin Green has a great ROI!
Annual ROI of a BITG masternode: 99.39% (367 days until ROI)
Annual ROI of a DASH masternode 6.82% which means it takes 5352 days until ROI!
BITG masternode income stats

All price are as of time of writing (7th december 2018)
How to Setup a Bitcoin Green masternode?
First of all I would highly recommend a masternode hosting platform like gin platform: https://p.ginplatform.io/#!/
This way you don't have to have your pc running 24/7 and it's way easier.
1 First make sure your wallet is fully synced and you have atleast 2500 BITG in your wallet!
2 Go to "Tools" on the wallet interface and then click on "debug console", a window will pop up, type in:
getnewaddress
3 Then send 2500 BITG to the address you just generated, go to the "send" tab and send exactly 2500 BITG coins.
Make sure that "subtract fee from amount" is NOT checked!
4 Go to https://p.ginplatform.io/#!/ search for bitcoin green and click on the little blue +


5 Open the transaction tab and copy the tx id of the transaction of the 2500 BITG you just made to your own address. Then paste it in on ginplatform, and click continue!



6 Go to "tools" and click on "Open masternode configuration file", paste the information provided by ginplatform in the notepad file.

It should look something like this:
keys above are made up
7 Go to "Tools" in the wallet and then click on "debug console", copy and paste the information provided by ginplatform, which looks something like this:
startmasternode alias 0 b2h523k-23hfhksg-shfh25gd-5h53
If the debug console give the result "Succesful", then congratulations your Bitcoin Green masternode is up and running!