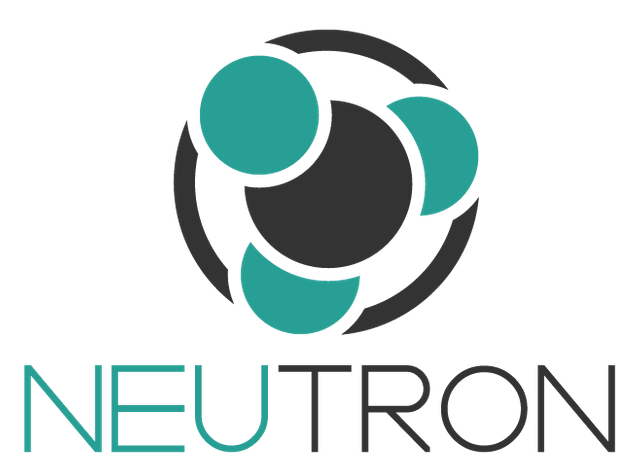 Must Have 2048MB RAM
Must Have Ubuntu 17.04x64
Must Have Desktop Wallet With 25K Masternode
MUST HAVE NEW SERVER, NOTHING INSTALLED
Neutron v2.0.0 VPS COLD Wallet Setup
Step 1.
Launch a BRAND NEW $10, 2048MB Server with Ubuntu 17.04x64


Step 2.
Prepare your Desktop Wallet, Create a Masternode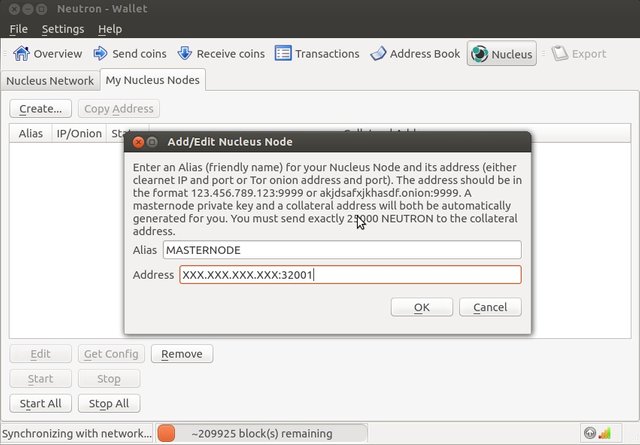 Step 3.
Deposit 25,000 Neutron to your new Masternode Address
Step 4.
Highlight your Masternode, Click "GET CONFIG"

Step 5.
Copy this info to a notepad, Edit the Following:

USER, PASSWORD, PORT, MASTERNODE ADDRESS(desktop IP) and

ADD rpcallowip=YOUR VPS IP ADDRESS

ADD staking=0
(DESKTOP NEUTRON.CONF)
rpcallowip=VPS FOR COLD WALLET
rpcallowip=127.0.0.1
rpcuser=REPLACEME
rpcpassword=REPLACEME
server=1
listen=1
port=32001
masternode=1
masternodeaddr=HOME IP:32001
masternodeprivkey=XXXxxxXXXXXx
staking=0
(VPS NEUTRON.CONF)
rpcallowip=127.0.0.1
rpcuser=REPLACEME
rpcpassword=REPLACEME
server=1
listen=1
port=32001
masternode=1
masternodeaddr=HOME IP:32001
masternodeprivkey=XXXxxxXXXXXx
staking=0
Step 6.
Save this File as neutron.conf under the Roaming folder


To find the Roaming Neutron Config Folder, Goto Search, type %appdata%

Click Roaming, then click Neutron

(Restart the Desktop Wallet when done saving neutron.conf)

Step 7.
Open your VPS Console, Type this command:




Step 8.
Let the script do the work, This will take a few mins to complete.


(Installing EVERYTHING also syncing the block chain)
Step 9.
Once back at a command Prompt, time to setup the config. Type:

./go.sh
Step 10.
Answer the questions with your Desktop Wallet GET CONFIG information
Step 11.
Once back at command prompt, Type:

reboot
Type neutrond
(test with: neutrond getinfo)
(IF cannot connect to server, Give it a moment and try again.)
Ensure its working
When you use neutrond getinfo, look at the blocks. Make sure its up to date, Over 1017695. Check the latest Block Number
BLOCK EXPLORER
Step 12.
Click START on the Desktop Wallet to ACTIVATE the Masternode
Must say "Node Started" before continuing
(IF NOT, check Config. Make sure transaction of EXACTLY 25,000 Neutrons has 15+ confirms)
Step 13.
On the VPS, type command:
neutrond masternode start
Step 14.
If you see, "Masternode Remotely Started" then your done.
neutrond Controls
neutrond =========================== Start Cold Wallet
neutrond getinfo ==================== on wallet status
neutrond masternode start ============ Start Masternode
neutrond masternode list ============= List Of Masternode IP's
neutrond listreceivedbyaddress 0 true === List of Address that Received Coins
neutrond --help ====================== MORE COMMANDS
neutrond stop ======================= Stop Neutron Wallet
To Edit the neutron.conf Manually:
nano /root/.neutron/neutron.conf
make your changes


Save the changes you've made, press Ctrl + O .
To exit nano, press Ctrl + X .
If you exit from a modified file,
it will ask you if you want to save it.
Just press Y, It will then ask you for a filename. Press Enter
You can now exit the Desktop Wallet.
Open it every few day to sync and Receive the REWARDS!!!!

MAKE SURE YOU UNLOCK YOUR WALLETS
MAKE SURE YOU UNLOCK YOUR WALLETS
MAKE SURE YOU UNLOCK YOUR WALLETS

****Both Desktop & VPS neutron.conf Must MATCH****
Any Questions, Please Join our DISCORD Community!
JOIN OUR DISCORD COMMUNITY!
Feel free to contact me on Discord.
Happy Masternoding!
Oicu8
Neutron Technical Support