How to boost your event networking with automation V2?
This is an update for my December 2018 article. Facebook no longer allows you to extract event's attendees, which drastically reduces networking possibilities. Thankfully LinkedIn started to implement some events features. This article wills focus about how to leverage LinkedIn events.
Step 1 search for event:
LinkedIn doesn't provide search option for event yet. However as the event FAQ mentions public event can be searched for, I guess it is only a question of time before a search option for event appears.
For the time being you can search for LinkedIn event using google search:
Include "site:https://www.linkedin.com/events/" in the query to limit the search results to LinkedIn event's pages

I strongly recommend to add some time related keyword in order to avoid past event in the results (It is not possible to extract list of attendees from past events)

Add some keyword you are interested in
For example the query "site:https://www.linkedin.com/events/ startup may 2020" will return you this event: https://www.linkedin.com/events/newcastle-northeaststartupweek2020/
Step 2 extracts the attendees list:
In order to access the attendee list you need to click on the "attend event" button: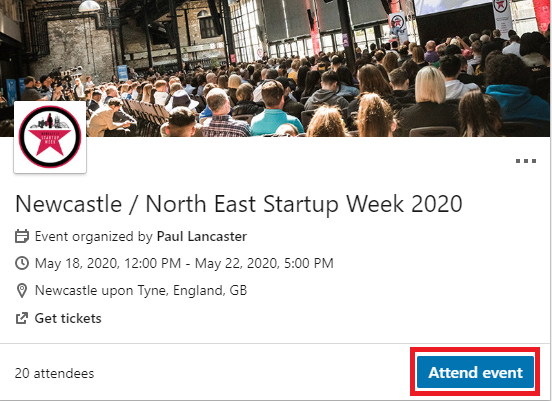 Once you are marked as attendees click on the "See all" button to get the list of attendees: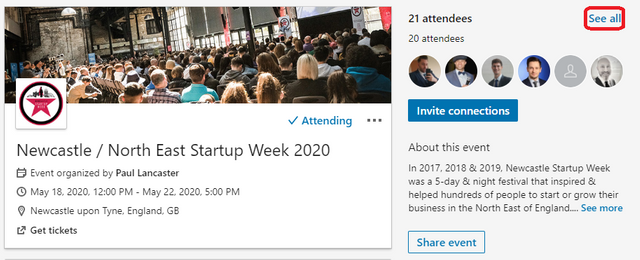 Copy the url of the attendees' list. You can now extract the list of attendee using my favorite Growth Hacking tool: Phantombuster.
You can indeed use this API to extract event attendees: https://phantombuster.com/phantombuster/3149/linkedin-search-export
Just follow the API setup and enter the url of the attendees' list under "Search input":

As a result you will get a csv file with link to all attendees.
Step 3 outreach event attendees:
At this point you should have a list of LinkedIn profile urls. This is straight forward to use. You can check the step 3 of my former article for the step by step: https://www.linkedin.com/pulse/how-boost-your-event-networking-automation-fabian-maume/
Or if you are confident in setting up Phantombuster, you can jump directly to those 2 APIs: