Neoxian City Photo Challenge
Trick or treat?
I came across #neoxianphotochallenge with the theme " Halloween"
at the last second and I decided to join in spontaneously.
Do you like Halloween?
My 10 year old son you can see on the picture is crazy about it.
He would like to do everything at the same time, so that means carving pumpkin, pumpkin soup
cook, so that we can then eat in front of the fire 🔥 ... Not to forget creepy make-up / make-up, so as to catch prey, to ring the neighbors and be gifted with delicious sweets.The full program so 😁..
---
Already the Celts celebrated this autumn festival, which was celebrated in gratitude for a good harvest in honor of the sun god.
At big bonfires the first harvested fruits were eaten. On the logs, straw dolls were set in the shape of animals or witches, because the Celts believed that on that night Saman, the Lord of Death, called the evil souls to him. Even in later centuries, especially in Ireland and Wales, such protective fires were kindled to ward off the spirits freed by the power of evil for the night.
---
---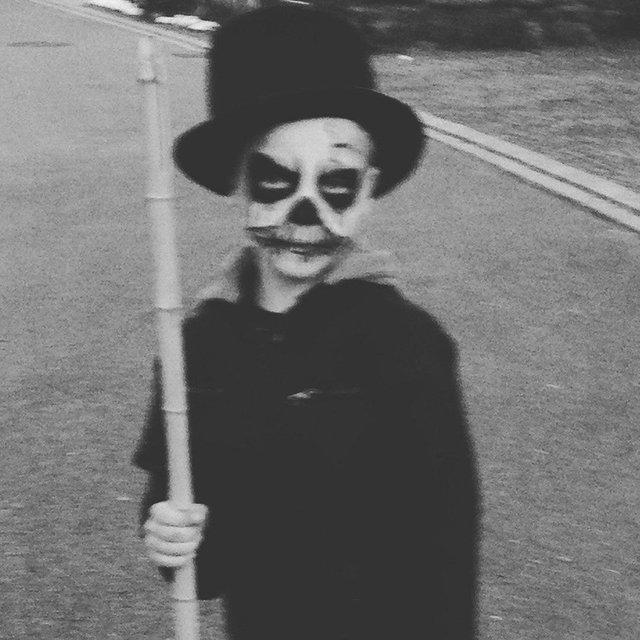 ---
---
Gerade noch rechtzeitig bin ich auf diese #neoxianphotochallenge mit den Thema "Halloween" gestossen, und habe entschlossen ganz spontan da mitzumachen.
Mögt ihr Halloween ?
Mein 10 jähriger Sohn den ihr da auf dem Photo sehen könnt,ist jedenfalls ganz verrückt danach.
Am liebsten würde er alles gleichzeitig tun, also das heisst Kürbis schnitzen, Kürbissuppe
kochen, damit man die dann vor dem Feuer essen kann... Nicht zu vergessen sich gruselig zu schminken / verkleiden, um so auf Beutefang zu gehen,bei den Nachbaren zu klingeln und sich mit leckeren Süssigkeiten beschenken lassen. Das volle Programm also😁 ..
---
Schon die Kelten feierten dieses Herbstfest, das als Dank für eine gute Ernte zu Ehren des sonnengottes zelebriert wurde.
An grossen Freudenfeuernwurden die ersten geernteten Früchte gegessen. Auf die Holzstösse wurden Strohpuppen in gestalt von Tieren oder Hexen gesetzt, denn die Kelten glaubten, dass in dieser Nacht Saman, der Herr des Todes, die bösen Seelen zu sich rief. Auch in späteren Jahrhunderten wurden vor allem in Irland und in Wales solche Schutzfeuer entzündet, um die Geister,die durch die Macht des Bösen für diese Nacht befreit waren, zu bannen.
---