One of my goals with Steemit has been to turn my spare time into cash and my content into even more. Sharing the love I have for gaming with everyone has always cheered me up. Some of my favorite memories are from when I ran a hobby shop. I love to see the way people puzzle out things infront of them and how they choose to engage with each other.

So I'm a building myself a Doghouse. One made out of effort and hard work but a warm spot where I can rest my head and know I'm doing it right and my family is fine. Where everyone has a place to come puzzle things out.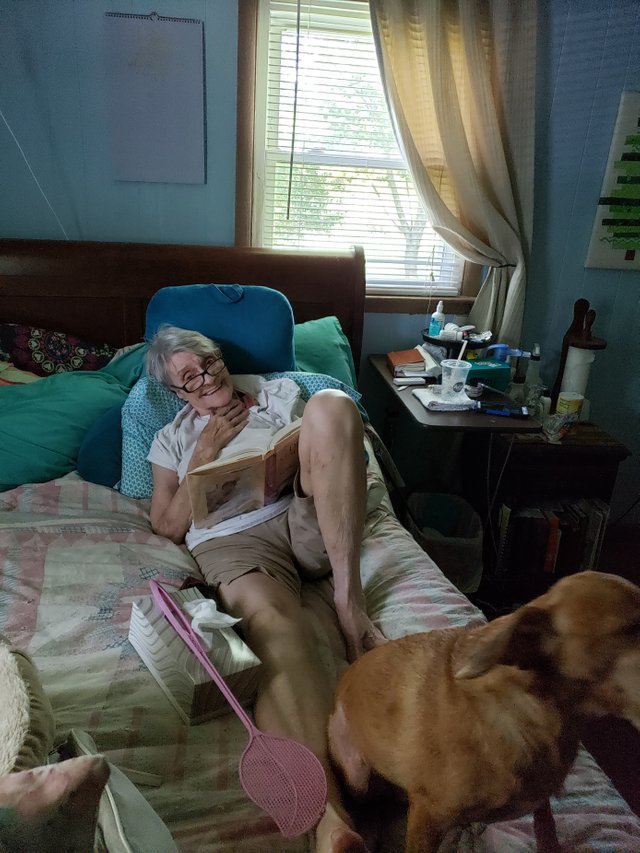 This sweet 'ole lady is my granny. 

This UpFundMe is to fund me as I do everything I can. I plan on using any and all UpFundMe rewards to improve my health, fix my home, feed my family, or further my career.
First things first, I'm currently taking care of my elderly grandmother and working any odd jobs from home. So currently any extra money I can make is going towards fixing her house. She has pulmonary fibrosis and no savings because her immediate family took all of her money over the years and she wasn't able to keep up with home maintenance. Several areas have rot and need to be repaired!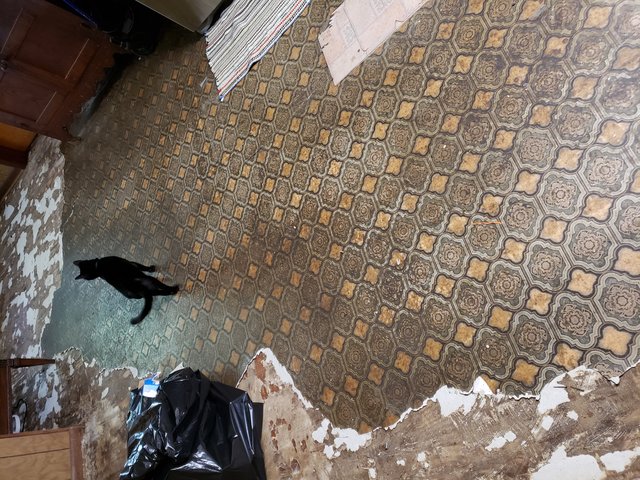 So far the kitchen linoleum is coming up easy enough. 

This will be my first time doing some of these repairs and I lack the tools. I'll be starting with the kitchen as seen below. The floor needs to be ripped up and cleaned. There are some areas in much worse shape as well but I wanted to start here to make sure I do everything properly in an easy area and so she'll have a clean kitchen to walk in.
Tools to Buy
I have a couple tools in my box but I think I'm missing these.
The house has been in her family for a while and they've simply added onto it as needed. Most of the surfaces are wood but they've either been covered over, stained, scratched, or are rotted. I will begin by ripping up all the old flooring and sanding down all the wooden surfaces. I'll be able to rip up the flooring during brief windows but the sanding may be trickier due to her illness. After the floors are cleaned she may have to leave to my sister's for a week so we can do some of the messier/dustier work.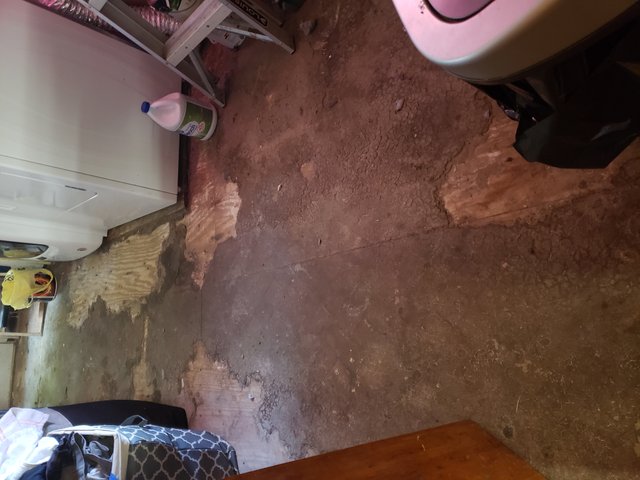 This room is pretty nasty. Couple soft spots also

This is my first time really sinking into a project like this solo. I've done some work on job sites but I'm hardly a handy man. If you have any tips or support make sure to drop it in the comments below!
---
I truly appreciate your support! My content is heavily focused on freebies, airdrops, and gaming. I've made over $5,000 this year from the cryptocurrency freebies promoted on my channels. I've used this money to buy my granny a New Fridge, Dishwasher, and Washing Machine and now we're fixing the house! I couldn't have done this without you guys. If you're looking to score some free cryptocurrency make sure to follow my channels and show some love!
---
Curated Multiverse News
August Giveway Prize(s) - 100 Enjin Coins
---
| DogGoneGreat Freebie Masterlist | FREE Mobile Mining App! |
| --- | --- |
| | |
| Earn INT Token! STEEM Quests! | Block ADs. Get PAID! |
| --- | --- |
| | |
| The Multiverse Telegram | Take Quizzes for Crypto! |
| --- | --- |
| | |
| Follow my Twitter! | Subscribe to my Youtube! |
| --- | --- |