What is incredible on Steem is the number of Apps (or dApps) that are coded by the community.
After a 30 days challenge to promote SNAX with @dragosroua, I took more time to read the comments about HF21.
I am really against downvoting and I would like to give my opinion.
The best way to discuss the evolution of Steem is a well structured forum.
Steem posts can deal with one subject only other wise it is becoming messy.
I don't like Discord and other multi chat because you need to spend hours when you want to follow one subject only and all the interactions between participants make it laborious to follow the answer of the question you have asked 3 days ago.
Forum is an excellent tool to discuss about one subject and @buildteam has coded a new kind of forum on the top of the Steem blockchain called tokenBB
TokenBB is a forum where you are paid to give your opinion.
The subject who is interesting the Steemians the most is the evolution of Steem and the recent discussions about HF21 are hot.
There are plenty of posts about it and hundreds of comments.
@thecryptodrive, the CEO of @buildteam made an effort to structure a tokenBB forum about the evolution of Steem. This forum is called neosteem.com, quite a good name, I must tell.
How do you connect to a tokenBB forum ?
You have to authorize @buildteam to post your comments on the blockchain so you must give them some permissions.
For the previous month Steemconnect has been recommend by the community to connect with Steem dApps. I am not a security expert and I don't know what is wrong with Steemconnect and even if there is something wrong with it.
But @buidteam recommend to download the last version of Steemconnect on your computer to access Neosteem. I don't like to install new Apps because my computer is already quite stuffed.
So I looked at Keychain, a new dApps.
Keychain is a chrome extension, so that mean that you have have to install it with chrome. It is similar to MetaMask, but for Steem.
You can choose which key you enter in Keychain, posting, active or owner.
Neosteem request your active key, I don't know why and @thecryptodrive will probably answer this question. ;)
It take few seconds for Chrome to install Keychain. Few more seconds to paste and copy your key from your secret USB or cold storage and that's it, you can give your opinion about the future of Steem on Neosteem.
Two more Apps I have used ! There are only about 450 ones left I have to try !
Neosteem is so vast that it will take some times to know what is the right section to post in or to comment in.
Will this forum help to improve Steem governance ? I hope so, but the Steemit whales are not likely to abandon their power and it is not tomorrow that we will see a voting system based one person, one vote.
If you don't take in account the opinion of the users, then don't be surprise that they will left Steem for more democratically govern platform. I don't only want to earn steem I also want my opinion to be taken into account !!!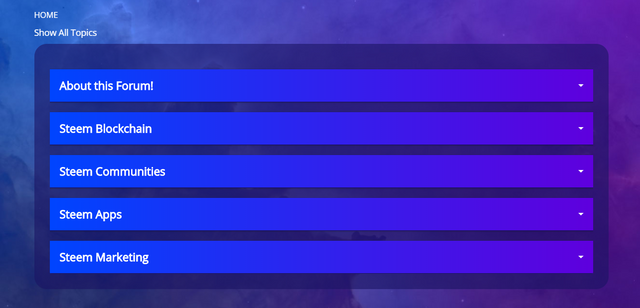 Image source : Neosteem home page.
See you on Neosteem ! In the governance section of the forum !