Spotcoin & Golden Fleece:
Spotcoin & Golden Fleece go together like picks and shovels.
Spotcoin and Golden Fleece are both from Georgia. Golden Fleece are mining experts, taking full advantage of the abundance of cheap hydropower in Georgia. Spotcoin has an established OTC, and offers liquidity for mined coins. Last November, Spotcoin and Golden Fleece teamed up, working together ever since.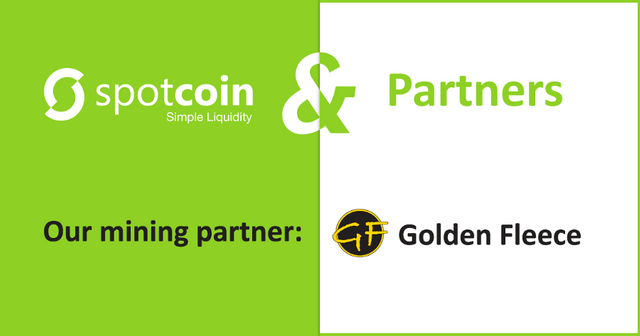 But mining has quickly developed from an 'anyone with a spare server' side job into a cutting edge multi-rig business that is not without its controversies. Let's check in with Spotcoin co-founders Andrew Thornhill and Guram Rukhadze -also the company's CTO- about the partnership with Golden Fleece.
Developing a mining site is expensive. Why should Spotcoin be involved with mining?
AT: Mining digital currency is an essential part of the global eco-system. There are many currencies that are now and will continue to be minable, and by obtaining them through mining Spotcoin gets the benefit of providing more liquidity into the digital exchange. SPOT token holders get the benefit of a 12 percent dividend from the profit earned over Spotcoin's businesses, including the mining operation. We can run mining at a higher profit margin than many because we can access low cost electricity rates in Georgia. Computer server hash power is the conduit to all of this business and the electricity cost to run these servers is the common denominator. On top of that, Georgia has the highest renewable energy percentage as total countrywide, for energy production in the world. As Spotcoin is a digital currency integrator company that is in Georgia, it simply makes sense that Spotcoin should be engaged in digital currency mining on some level.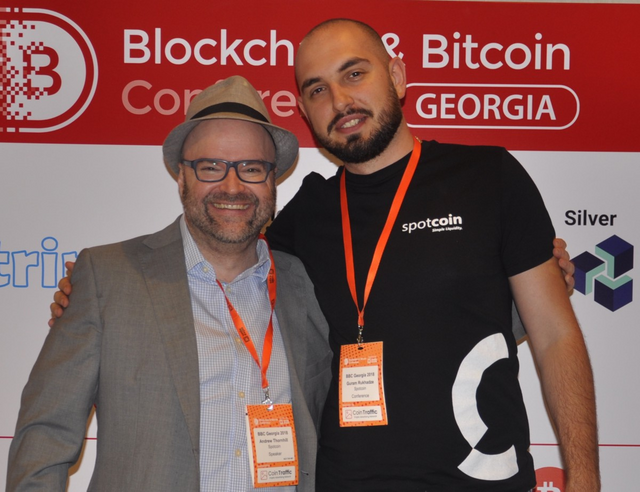 Andrew and Guram
How did the partnership with Golden Fleece come about?
GR: Spotcoin was introduced to Golden Fleece in the Fall of 2017 and we quickly formed a partnership. As an OTC marketplace, Spotcoin offers Golden Fleece additional selling points for their mined currency and Golden Fleece offers Spotcoin tons of technical knowledge, contacts and experience in mining currencies and more specifically, mining currencies in Georgia.
Why partner with Golden Fleece?
AT: Golden Fleece are great partners for Spotcoin. We share a love for Georgia, a desire to have a healthy place at the future digital currency table, and for growth of business.
GR: They were the first ever Georgian ICO, they have experience, knowledge, a good vision for Georgia and on top of it all, they are great guys! That stuff matters. Spotcoin and Golden Fleece have very similar core business ethics, we go a long way to build trust and provide transparency.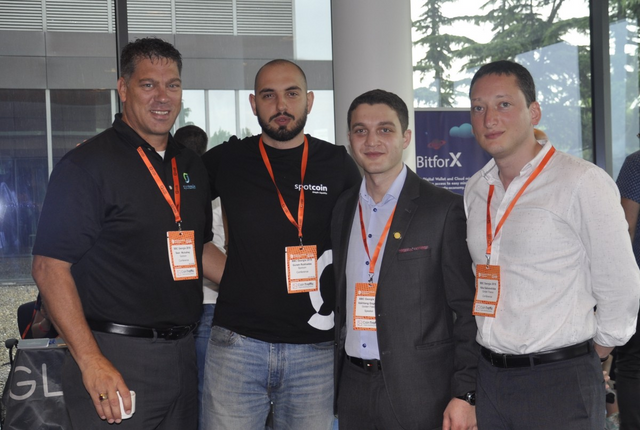 Our Sean Mulcahey and Guram Rukhadze with Golden Fleece's Vakhtang Gogokhia and Nika Sakvarelidze
Can investors and consumers come to Spotcoin if they want to get involved with mining?
AT: Absolutely yes. Spotcoin offers a huge value add to any person or company that is mining now, wants to mine in the future or simply wants to be part of the new, evolving digital economy. Spotcoin is already partnered with several mining operations in Georgia. One of these projects is the construction of a building that has a direct power line into one of the largest dams in Georgia.
GR: This facility will store Spotcoin mining servers but will also rent excess capacity to others who want to mine or host. Spotcoin can offer these services, on top of our OTC services to actually sell or trade the mined coins.
What about the sustainability side of mining?
It's an issue, but besides the fact that Georgia has abundant hydropower, Golden Fleece is developing a facility at the sunny Black Sea coast covered with solar panels, and are planning on generating 15% of their electricity through solar power, to power what eventually should be a 20MW mining facility.
GR: That's a lot of mining power, and they have the latest, most efficient equipment to work with. I'd say that is the best option and the closest thing we have when it comes to sustainable mining.
What does a potential SPOT token buyer get out of it?
AT: All Spot token holders will receive dividend payments from the total Spotcoin business operational profit, which includes mining and the renting out of excess capacity of the mining facility. To be exact, every quarter, 12% of net profits of our non-exchange operations will be distributed among SPOT token holders. And partially, you'll have Golden Fleece to thank for it.
GR: And that's on top of the dividend from 51% of the total trading fees generated by Spoitcoin's digital exchange, that will be paid to SPOT token holders weekly.
---
Interested in more Spotcoin?
Join our Telegram community: Spotcoin Team, Spotcoin News, and Spotcoin Bounty.
Take a look at our complete ICO offering here.
Read our Whitepaper here, for more details.
Visit spotcoin.com, where we make digital currencies work for everyone.
Residents and citizens of the United States and US territories are prohibited from taking part in the SPOT Airdrop and the SPOT public sales. Residents and citizens of the following countries are prohibited from taking part in the SPOT public sales: Bosnia and Herzegovina, China, Ethiopia, Iran, Iraq, North Korea, South Korea, Sudan, Sri Lanka, Syria, Trinidad and Tobago, Tunisia, Serbia, Vanuatu, Yemen
However, certified accredited U.S. investors can take part in the SPOT private sale. Chinese and South Korean investors can participate in the private sale when paying with digital currencies, after signing the SAFT form and completing the KYC /AML process. Any investment in digital currencies comes at a risk. No one should invest money that he or she can not afford to lose.
Forward-looking statements are provided to allow potential investors the opportunity to understand management's beliefs and opinions in respect of the future so that they may use such beliefs and opinions as one factor in evaluating an investment. These statements are not guarantees of future performance and undue reliance should not be placed on them. Such forward-looking statements necessarily involve known and unknown risks and uncertainties, which may cause actual performance and financial results in future periods to differ materially from any projections of future performance or result expressed or implied by such forward-looking statements.
Although forward-looking statements contained in this email are based upon what management of the Company believes are reasonable assumptions, there can be no assurance that forward-looking statements will prove to be accurate, as actual results and future events could differ materially from those anticipated in such statements. The Company undertakes no obligation to update forward-looking statements if circumstances or management's estimates or opinions should change. The reader is cautioned not to place undue reliance on forward-looking statements.