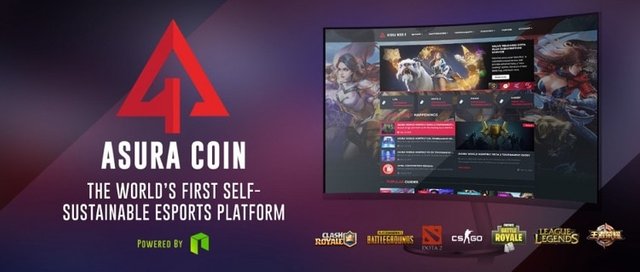 Asura is a Sports platform. Through this platform, users will gain the ability to access professional game guides, eSport news, videos, forum discussions, community-oriented events, community matchmaking, community tournament hosting, eSport streams, a unique betting system, and much more – all in one place.
How does AsuraCoin work?
The core functions of Asura World are broken down into 5 categories:
e-Sports betting and tournament live stream features
Professional guides by the community
Community matchmaking
Gaming tournaments hosting
Community Center
Unlike other platforms, Asura World has introduced a betting system where the users contribute to how bets are created in the platform. In this platform, the users can propose their own betting ideas and users who get their bets selected (through a community vote) are rewarded in ASA Coins for their contribution. Through this process, bets are more related to e-Sports as the community is more likely to suggest bets that are focused more on the game instead of creating unrelated bets.
By comparing to other platforms, the betting rules in Asura World are highly flexible and unique. Asura World offers more specific rules based on the different games on the platform. Also, the platform consists of a live streaming feature where tournaments and gameplay are streamed. Asura World will offer professional and in-depth guides to games for the platform's users. These guides are written by top professional gamers, ensuring that only the best and most valuable guides are published to users of the platform. This way, users can not only engage with the platform but also use it as a tool to improve their in-game skills quickly and efficiently. These guides will be presented via video clips along with annotated images and commentary as the team knows that text-based guides are less than ideal for teaching especially in video games. Users can view the first video of a guide for free but to access the rest of the guide, they will have to pay in ASA Coins which are then paid to the guide creator for his or her efforts.
Community matchmaking is another great feature of Asura World. This feature allows users to host their own matches that can also be staked. Players would agree on the match's terms before the game and the staked funds are then managed by the platform; after the game is over, the funds are automatically released to the winner which is automatically determined by the respective smart contract based on the result of the match. This feature is very useful for the tournament organizers as they can also use the platform to quickly organize tournaments with a small hosting fee.
Coins are spent on a multitude of things including betting and participating in tournaments but gamers also have the ability to earn ASA Coins by engaging and contributing positively to the platform.
Competitor Analysis about Asura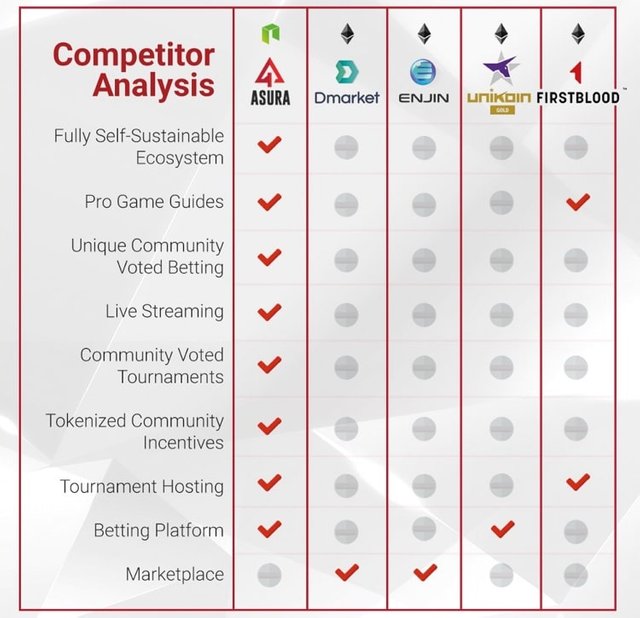 The Asura Coin Token Details
• TICKER - ASA
• TOKEN TYPE - NEO BLOCKCHAIN
• ICO PRICE PER TOKEN - 1 ASA = 0.02 USD
• FUNDRAISING GOAL - 12,000,000 USD
• TOTAL TOKENS - 1,000,000,000
• AVAILABLE FOR TOKEN SALE - 65%
Project Details
Website: https://asuracoin.io
Whitepaper: https://asuracoin.io/whitepaper.pdf
Twitter: https://twitter.com/asuracoin
Facebook: https://facebook.com/asuracoin
Reddit: https://www.reddit.com/r/AsuraCoin
Telegram: https://t.me/asuracoin
Author - pubudu
Bitcointalk link - https://bitcointalk.org/index.php?action=profile;u=1685433