A new historic record for NEO, which exceeded $53 - what is the outlook for 2018?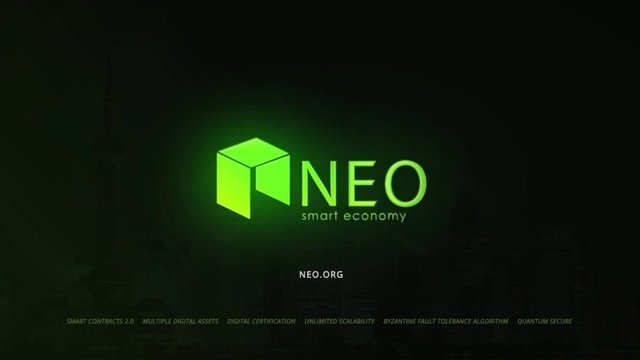 NEO reached a new historic high this Thursday morning, surpassing for the first time the $53 threshold. In this article, we look at this increase and the outlook for NEO in 2018.
This morning, at 5:40 a. m., the NEO crypto-currency recorded a new historic record, in excess of 53 dollars (about 45 euros):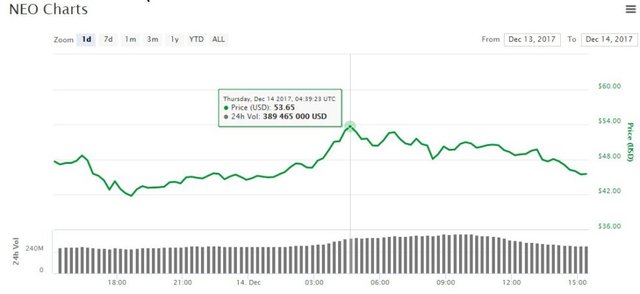 The price of the digital currency had already surpassed the $50 mark on 14 August - when it was worth less than $8 at the end of July, and only $0.30 at the beginning of May.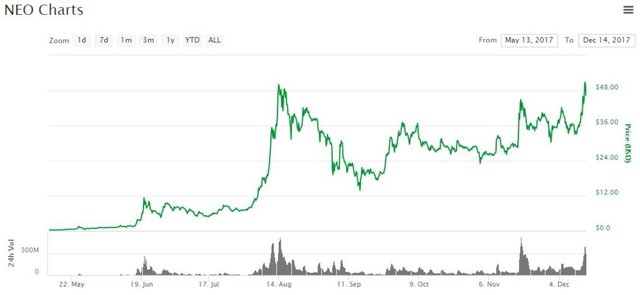 This increase last summer was mainly due to the name change of NEO from AntShares.
In the aftermath, crypto-money had lost more than two-thirds of its value in just one month, following rumours that the government was about to force trading platforms to shut down, and that it planned to ban COIs in the country.
There was also a sharp increase in trading volume, rising to nearly $300 million over the last 24 hours. However, they are still well below the volumes recorded last August, which exceeded $500 million over one day.

Bittrex and Binance shared more than two thirds of the trading volumes, mainly through the NEO/BTC pair:

But while NEO surpassed its previous records in August, in dollar terms, the currency is still falling sharply against the Bitcoin "steamroller":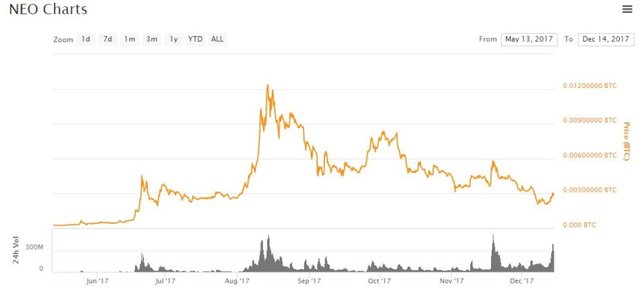 On the NEO/ETH side, there has also been a (less significant) decline since mid-August:

NEO: "Chinese Ethereum"?
When Ethereum co-founder Vitalik Buterin appeared on stage at the BeyondBlock conference in Taipei on November 25th, he seems to have mentioned NEO.
While presenting his vision for the future of Ethereum, Mr. Buterin said with a big smile:"L" Ethereum Killer, it's Ethereum, the Chinese Ethereum, it's Ethereum, the Ethereum of Taiwan, it's Ethereum... 2.He was probably referring at that time to NEO, which some people refer to as the main rival of the blockchain Ethereum.
Like Ethereum, NEO offers both cryptocurrency and a platform for designing decentralized applications.
However, NEO has never presented itself as a "Chinese Ethereum": this is what many Western investors have called it. And in order to justify the appreciation potential of crypto-currency, many indicated that China tended not to be like the rest of the world.
They have been able to take the example of many services that dominate their sector in most countries - except China. Indeed, in the Middle Kingdom, WeChat rather than Whatsapp, Weibo rather than Twitter, Taobao rather than Ebay, Baidu rather than Google, Didi rather than Uber,...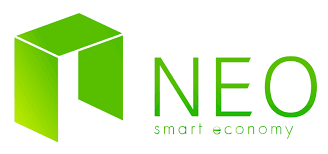 And beyond the technological promises offered by the platform, it is, in part, the Chinese origins of NEO that have made it particularly attractive to western investors.
The crypto-currency market is known to be extremely dynamic in Asian countries (especially South Korea and Japan). On the Chinese side, the government had put a stop to this frenzy by banning ICOs (which NEO allows to drive) and by forcing encryption-currency trading platforms to end their activity.
But while the government is tightening its grip on crypto-money, some proponents of NEO believe that it could one day accredit the platform, or even use the technological innovations it generates. They cite for this some events, such as the fact that Da Hongfei, the creator of NEO, was invited to a government-sponsored conference on the future of block-chain technology in the country.
It should also be noted that the teams behind NEO are behind the OnChain project, which provides blockchain technology services - services that could be applied in China to both the public and private sectors.

Finally, investors' appetite had been spurred by the publication of the government's roadmap for the next five years, unveiled at the last Chinese Communist Party conference, which mentioned blockchain technology.
We remember that the price of NEO had already gone up last month. He had flirted with the $50 mark, following news of a developer competition in partnership with Microsoft.
But the news was not enough to boost NEO's share price from 48 dollars on 18 November to 33.5 dollars three days later.
This news echoed an announcement made by IOTA, which also indicated a partnership with Microsoft - which had led, a few days ago, to a considerable increase in its value.
What prospects for NEO in 2018?
As a platform for implementing Dapps, NEO's future will certainly depend on the quality of applications that will benefit from its technology.
Red Pulse appears to be one of NEO's most promising ICOs. The project, which recently raised more than 405,000 NEOs, aims to make China's financial markets more accessible to foreign investors. It has already managed to attract big names, since renowned financial institutions are already using the platform, which was launched in 2015. Examples include Bank of America Merrill Lynch, Credit Suisse, Goldman Sachs, HSBC and Morgan Stanley.

But several dozen applications are currently in preparation. Here is a short presentation of some of them:
Ontology aims to provide, among a wide range of tools, a digital identity verification system and data exchange platform.
APEX-A aims to facilitate interactions between companies and their customers, and has formed partnerships with prestigious companies such as Alibaba, Oracle or Microsoft.
Nex aims to revolutionize crypto-currency exchanges through a decentralized platform
TheKey is also a decentralized identity verification platform ProjetICO, which was originally to be deployed on the Ethereum blockchain, aims to introduce a new type of ICO, called "SAFT". This was intended to allow Chinese and American investors to bypass the regulatory barriers that currently prevent them from participating in ICOs.
Qlink is a decentralized mobile network PeerAtlas wants to deploy a medical data distribution network that will reward contributors.
Among the various challenges facing NEO is decentralization, which is a key element of its roadmap. One of the most common criticisms against NEO is thus linked to its relatively centralised dimension - if compared to other blockchain projects - with only 7 nodes currently in operation.
In addition, it would appear that one of the major challenges for NEO is related to its ability to comply with the next set of rules that may be issued by the Chinese government. But this is likely to contradict the aspirations of many cryptocurrency advocates, who favour a libertarian approach and believe that digital currencies must above all provide an alternative to rules imposed by governments and financial institutions.
However, while these barriers may be perceived by many investors as a disincentive, they could ultimately give NEO a competitive advantage if the platform were ever softened by the Chinese government.
If NEO's price has not risen as much as some people hoped in August, it would appear that current developments place it in an excellent position for 2018. It could be one of the most exciting Blockchain projects in the next 12 months.
References: NicheHunt, Steemit, Coinmarketcap
This article does not constitute an investment recommendation. We suggest that you conduct your own research before deciding to invest money in crypto-currencies - extremely volatile assets. Don't spend more than you could afford to lose. We shall not be liable for any capital loss in connection with the reading of this section.
Translated with www.DeepL.com/Translator