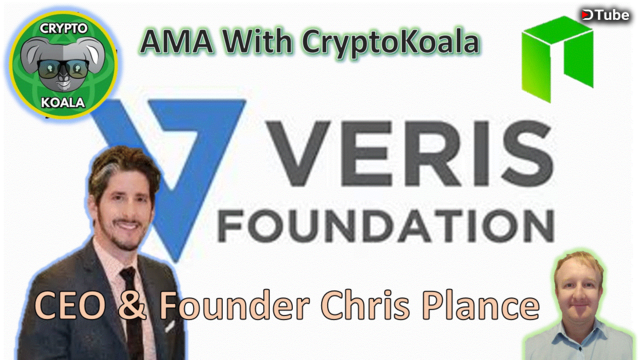 ---
Hello NEO and Crypto Community, The Veris Foundation ICO is based in US, Powered by NEO, Which is looking at using Blockchain to Streamline the claims process in the US Healthcare industry.
We talk about Chris Background in how he had the conversation 2 years ago with a fellow member of the team which started the concept of the project.
Chris current workings in the community hospital and how the claim process in the US healthcare industry that involves insurance firms, administration and clients being a part of the remittance process which to pay physicians is costly.
With the utilization of Blockchain technology The Veris Foundation seeing looking at reducing them costs with trust being an important part of that process.
The potential for applying that same system over here in Australia streamlining the remittance process through Blockchain.
Chris obtaining a Bitcoin for his Birthday and how this introduced him to Crypto and Blockchain.
Plus we talk NEO Consensus nodes, Why choose NEO out of the other Blockchains? The ins and outs of project, How you can get involved in the veris foundation ICO taking both NEO and ETH.
The Pre - ICO Sell-out with the importance of having the Main net and wallet up and running before the sale.
Being a Non- profit and how this has to comply with the highest level transparency , security or utility? We have the discussion.
SEC Possible future position on crypto and Blockchain, The VRS token itself and how you can hold it on the Veris Foundation Wallet.
🔗Links to Veris Foundation:
👫 Veris Foundation on Twitter: https://twitter.com/verisfoundation
🎤 Veris Foundation Website: https://www.verisfoundation.com/
🗞️ Veris Foundation Medium : https://medium.com/verisfoundation
---
🗞️ Join us on telegram! Andy (ICO review) & I two Aussie youtubers. Have created a channel 👍
Crypto Nebula Community - Crypto Knowledge Sharing
https://t.me/cryptonebulacommunity
---
👫👭👬Social- Me on other platforms-
Crypto koala - Twitter https://twitter.com/Cryptokoala_Aus
- Steemit https://steemit.com/@jamiebu
- Facebook https://www.facebook.com/Cryptokoala.io
-Investfeed-
-LBRY Cryptokoala
🦁 VERIFIED PUBLISHER ON BRAVE
Fast & Secure browser- https://www.brave.com/
---
📚 ICO's are considered as High risk investment, but can be high reward, make sure your carry out your research before investing.
📚 I enjoys making YouTube videos on cryptocurrency and I'm not professional advisor giving advice on investing and trading. I'm not saying buy these coins. You got research yourself guys. What I say is what I believe and my personnel opinion, apart from that I hope to see you on the moon or building on minecraft if you are trading cryptocurrency's.
💻 If you you want to mail or telegram me the koala lives at : [email protected]
https://t.me/cryptokoalaau
💰 CoinSpot- To trade and buy cryptos a Australian exchange
https://www.coinspot.com.au?affiliate...
💱 Software Wallet: for Cryptocurrencies
Windows/Mac/linux: http://exodus.io
🔐 Securing your Cryptos? Hardware wallet- Nano Ledger S
https://www.ledgerwallet.com/r/7f2e
---
▶️ DTube
▶️ IPFS