NEM-tools **relaunch**
Why a 'another' relaunch?
The old frontend was written with react-bootstrap and had some sort of navigation-issues that made it impossible to navigate to specific functionalities of the app. After investigating this issue I decided to use the official NEM Library Angular 4 Seed.
Unfortunately I didn't have enough time to port all old react-functionalities immediately to angular. Because automated restarts of delegated harvesting used to be the most wanted feature I wanted to bring that feature back online as soon as possible.
This happened very soon but afterwards I stopped my efforts. I also didn't like the dependency to angular2-materialize which makes use of the Materialize CSS Framework
In the last couple of weeks and months I got multiple requests that people would like to have all functionalities back up running. Specifically the functionality to export transaction- and harvesting-history to csv.
As I wanted to make use of the officially supported Angular Material components I searched for a new starting point for a completely new frontend and came accross the angular-ngrx-material-starter.
I liked the design, decided to use it and started to port all past functionalities to the new frontend.
How does it look now?
Well the frontend isn't really done by myself, but I am really happy about the new design. You should keep in mind that it is designed to usage on the desktop.
The mobile-look of some parts do not look very good :-D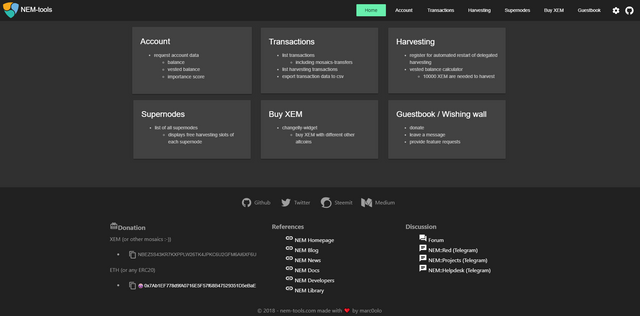 What are the functionalities?
As some of you surely cannot know which functionalities NEM-tools provided in the past, I will describe them shortly:
Settings (top-right)

here you can provide your public NEM-address which will be stored on your client and reused when you come back to NEM-tools

Account

request account data

balance
vested balance
importance score
cosignatories
...

Transactions

list recent/full transaction-history

TransferTransactions (also those sent via multisig)

including other mosaics than nem:xem

ImportanceTransferTransactions (deactivate / activate)

list recent/full harvesting-history
csv-export of the respective history

Harvesting

Supernodes

Buy XEM

changelly-widget to buy XEM with different altcoins

Guestbook (new)

iFrame of Wishing Wall

feel free to leave a message and send some XEM ;-)
HTTPs
Many were concerned that the site wasn't running with https. The problem was that I the application communicated via NEM Library directly to the NIS Api of the selected node(s).
Fortunately I found some nodes that support https so that I was able to activate https for NEM-tools. Here is the list of the nodes that can be used with https:
Currently NEM-tools is only using london.nemchina.com to communicate with as there is a problem with the ConnectionPool of NEMLibrary when receiving the paginated transaction-history.
Feedback
Your feedback is always appreciated. I have some more things that I want to integrate into NEM-tools. But I don't know how much time I will be able to spend. So I don't want to make any promises here :-D
You like this service?
Do not forget to upvote and feel free to send me some XEM or other mosaics ;-)
NBEZ5S43KR7KXPPLW26TK4JPKC6U2GFM6AI6XF6U