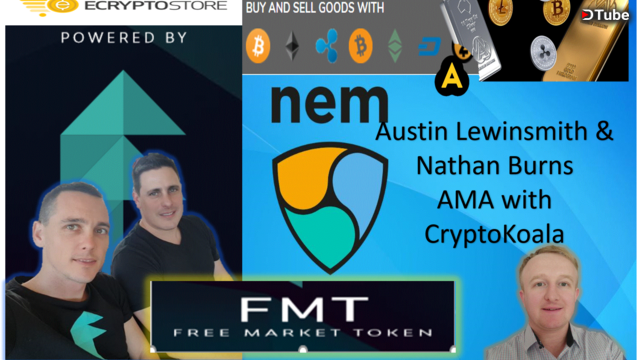 ---
Hello NEM and Crypto Community, The Free Market Token ICO is based in Australia, Powered by NEM, Which is looking at using Blockchain to bring a multiple purpose token to the masses, the FMT token has many functions including being used on the free market tokens ecryptostore, for VR gaming think "Pokemon Go" , buying Gold and Silver through Ainslie Bullion!
Cryptokoala talks with Nathan Burns, Austin Lewinsmith and we discuss the teams Background, how they both been business partners for 15 years.
With The 3rd co-founder Rafael Bergola having a background in Software.
Highlighting they do not need to outsource as they have the technical, accounting and legal aspects in house.
Including having team members based in Asia and which this gives an entry point for expanison for the project in the future.
How they have been working on the ecryptostore concept prior to the project with the idea of a tokenised Ebay.
Building up to a fully functional ecrypto store that can accept soon the Free Market Token.
Why choose NEM? comparing to Ethereum and how it is a stand out as a robust platform with NEM fully backing the project.
The Free market Token ICO Itself and how you can get involved and get some FMT.
The upcoming Blockconscious event in Brisbane and Much more!!
🔗Links to Free Market Token:
Looking at getting involved and like the project? please click on my referral link 👍 https://ico.freemarkettoken.io/r/f1Wsi
👥Free Market Token on Facebook: https://www.facebook.com/FreeMarketTo...
👫 Free Market Token on Twitter: https://twitter.com/freemarkettoken/
🎤 Free Market Token Website: https://freemarkettoken.io
🗞️ Free Market Token Telegram: https://t.me/FMTofficial
---
🗞️ Join us on telegram! Andy (ICO review) & I two Aussie youtubers. Have created a channel 👍
Crypto Nebula Community - Crypto Knowledge Sharing
https://t.me/cryptonebulacommunity
---
👫👭👬Social- Me on other platforms-
Crypto koala - Twitter https://twitter.com/Cryptokoala_Aus
- Steemit https://steemit.com/@jamiebu
- Facebook https://www.facebook.com/Cryptokoala.io
-Investfeed-
-LBRY Cryptokoala
🦁 VERIFIED PUBLISHER ON BRAVE
Fast & Secure browser- https://www.brave.com/
---
📚 ICO's are considered as High risk investment, but can be high reward, make sure your carry out your research before investing.
📚 I enjoys making YouTube videos on cryptocurrency and I'm not professional advisor giving advice on investing and trading. I'm not saying buy these coins. You got research yourself guys. What I say is what I believe and my personnel opinion, apart from that I hope to see you on the moon or building on minecraft if you are trading cryptocurrency's.
💻 If you you want to mail or telegram me the koala lives at : [email protected]
https://t.me/cryptokoalaau
💰 CoinSpot- To trade and buy cryptos a Australian exchange
https://www.coinspot.com.au?affiliate...
💱 Software Wallet: for Cryptocurrencies
Windows/Mac/linux: http://exodus.io
🔐 Securing your Cryptos? Hardware wallet- Nano Ledger S
https://www.ledgerwallet.com/r/7f2e
---
▶️ DTube
▶️ IPFS