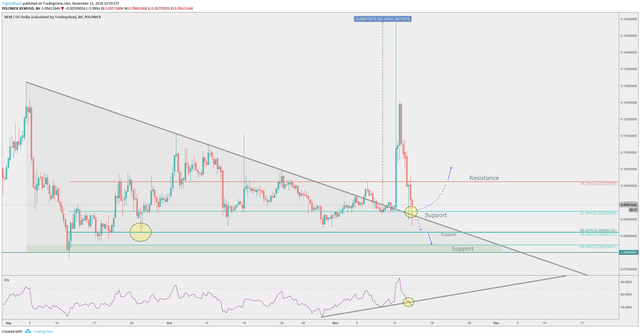 NEM is a dual-layer blockchain similar to Ethereum but written in Java, that is one of the most popular computer programming languages. Launched back in 2015, the NEM mainnet supports multiple ledgers on its cryptocurrency layer, and the NEM Smart Assets layer supports mosaics to represent any store of value. NEM's proprietary crypto coin is XEM, which is harvested (mined) using a Proof-of-Importance algorithm. Its the Smart Asset System that makes NEM so powerful. Nodes on the NEM blockchain process API calls, which makes it easy to develop for, whether the dApp accesses NEM's API directly, through a server, or in the background. In short, NEM built a blockchain-based cloud platform with a NEM Infrastructure Server (NIS) made of secure, decentralized processing nodes on one side and a client side, like the NEM Community Client ( NCC), which acts as a gateway.
Back in January 2018, Coincheck suffered a malicious hack, where thieves managed to steal approximately $520m worth of NEM. It was the most expensive theft on a cryptocurrency exchange as compared to the Mt.Gox theft, $450 were stolen. NEM stopped tracking the coins in mid-March after concluding that enough data was provided to local law enforcement to conduct a full investigation. Coincheck responded to the hack by refunding the 260,000 affected users in JPY from their own capital. Such decision to refund was taken very positively by cryptocurrency community and recently, on the November 12, Coincheck announced the resumption of trading for XEM coins.
Quote of an announcement:
" resumed new account opening and payment/purchase of some virtual currencies on October 30, 2018," the exchange announced on their website. "With regard to ETH, XEM, and LSK, technical safety confirmation has been completed with the cooperation of external experts and we have resumed payment/purchase of the virtual currency from November 12, 2018."
After the re-listing announcement by Coincheck, price went straight up, while NEM gained over 60% against the USD. Price tested the $0.15 high, but then immediately corrected back down. Currently XEM/USD is trading at $0.094, after rejecting the 61.8% Fibonacci support. Although the spike below the support has been produced, it managed to close above. This might suggest the strength of theXEM coin, and as long as support holds, price is likely to increase.
However, considering the collapse of the Bitcoin, NEM also remains in the risk territory. Further decline towards $0.086 Fib support, or even down to $0.08 psychological support is to be expected.
---
See the latest prices across multiple exchanges at https://www.cryptaldash.com