Tools of the trade
Happy @needleworkmonday to everyone! It is getting late here in the Pacific Northwest of the US, but I am just getting time to make this post. I was intrigued by @fiberartists challenge to crafters to show some of the tools of our craft. I think I will start small and work up.
Tins and tools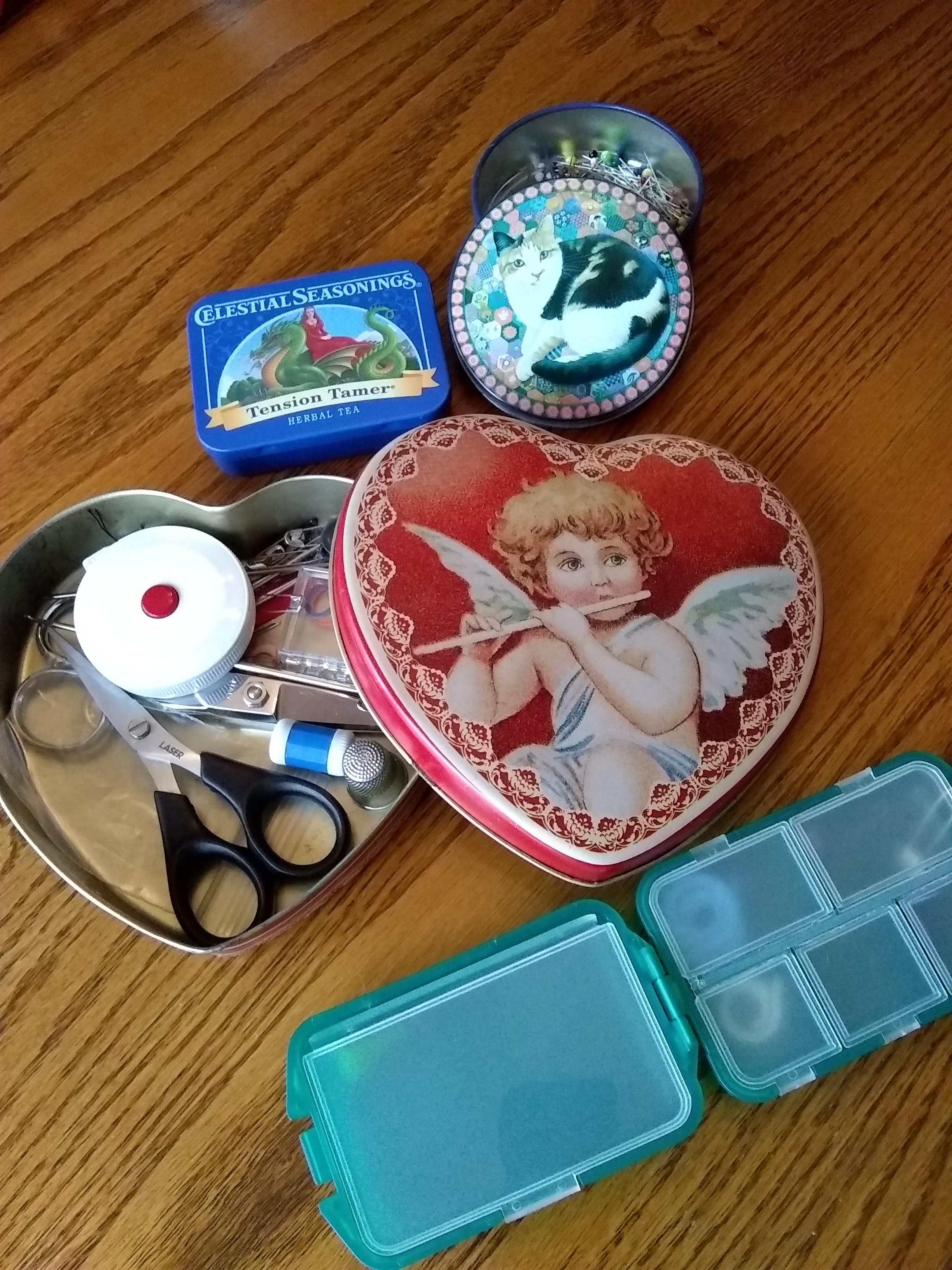 I have loved tins since I was small and my mom would give me a small bandage tin to carry my lunch money. I loved the sound of the coins rattling in the tin. The round tin with the cat on it was my mom's and is full of straight pins. I use them to block my knitting. The heart-shaped tin with the angel was given to me a long time ago by mom, partly because I play flute. Both pairs of scissors in the tin were gifts from - you guessed it, mom. I frequently use the tape measure, row counter, stitch markers and other items in the tin. It's the one thing I don't want to forget if I am taking a project to work on away from home. The green plastic box in the bottom of the frame is something from the yarn shop in town. Not beautiful, but functional; home to many stitch markers.
Needle storage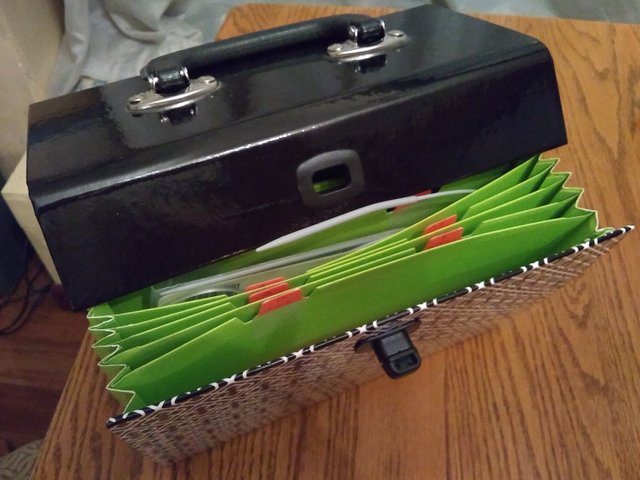 Some months back I was at the yarn shop, admiring some storage ideas for circular knitting needles. They had these beautiful pouches made of silk, with slots for multiple needles. I just loved them, but didn't love the really high price. commenting on this to one of the women who works there, she empathized and said she bought a multi-file folder that works beautifully. I found the little file box, above, at the office supply store on the clearance table. I tagged each compartment with needle sizes and it fits them all, with another slot for a few other tools. I love that it closes and is easy to carry. No more digging through a plastic bag filled with tangled needles for me! Ah, organization in one facet of my life...
Bag lady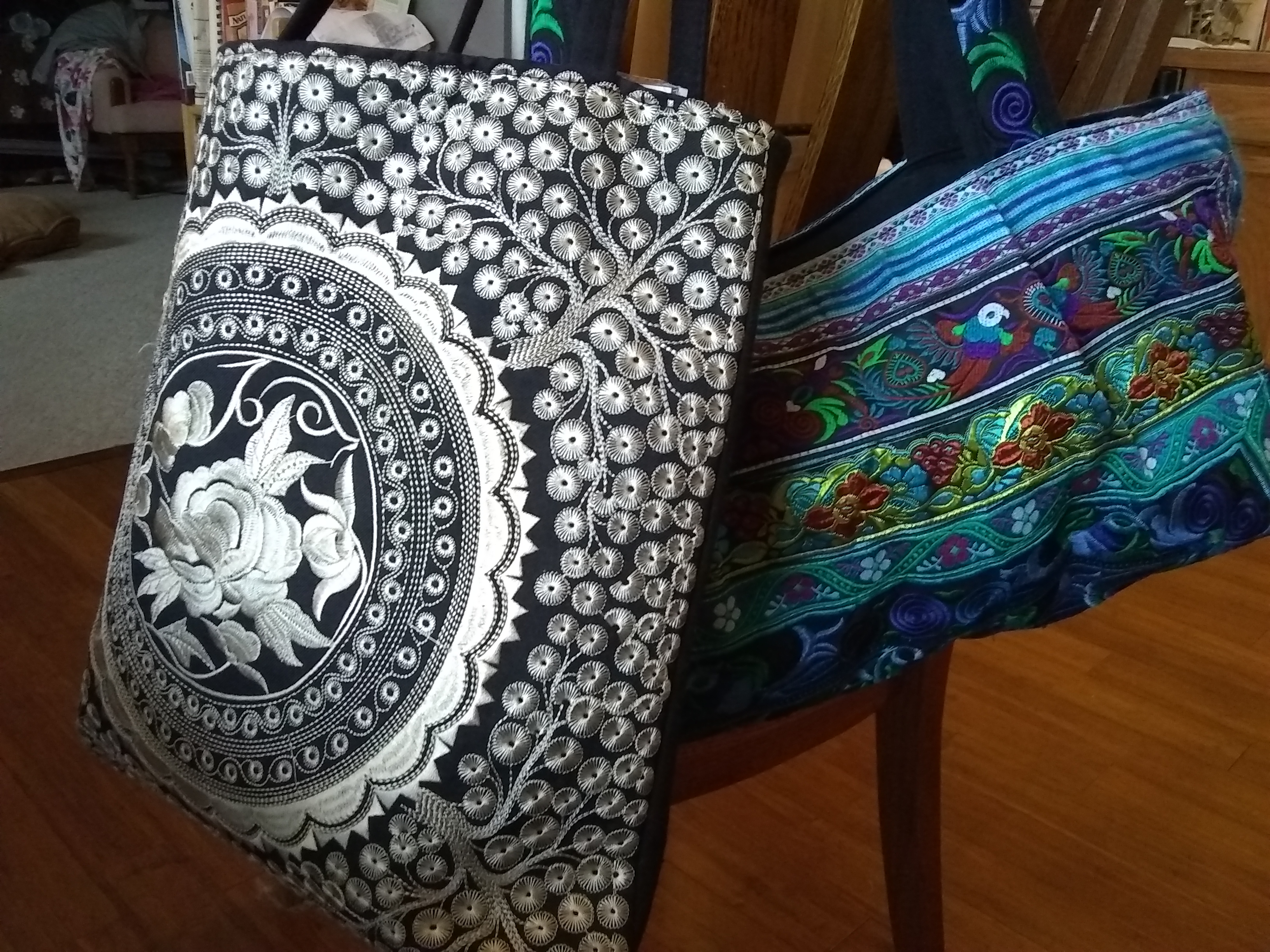 These are two of my favorite project bags, among the many boxes and bags I sometimes use. Both were Christmas gifts from the last couple years. The black bag is from a friend and is currently storing the shawl I am working. The blue bag is from my sister and holds the poncho that is slowly getting done. I think they are both beautiful and love taking them with me when I go to knit at the yarn shop or a friend's.
Well, that is a sample of my tools, etc. I will be attending a workshop on Wednesday this week, and will probably load up the shawl to work on as I listen and take notes. I love all the knitting I get done when I sit and listen!
Thanks @fiberartists for the the challenge!