Bottle cosy
The summer is over but even now I rarely leave the house without a bottle of water. But we all know how the evaporative cooling makes the outside of a container wet. That's not good for books or cell phones or project bags - things I regularly carry in the bag. I have a thermo mug (which would work) but as you can't really clean cheap thermo mugs it is a quite expensive one. And since I'm stingy I only use it for hot drinks. So I decided to simply make a cover for the cheap water bottle I use.
---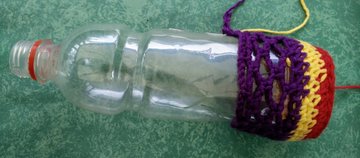 ---
The bottle is of a store bought "flavoured water" beverage which I tend to buy every now and then when I forgot to bring my bottle or when the old bottle is damaged. I use left overs of a simple cotton yarn (what we call 'potholder yarn' in Germany) and started crocheting a chain, closing it and making the double amount of double crochets (all crochet terms are UK) into the loop, not the chain stitches.
Now I simply worked in the round (2n row every 2nd stitch doubled, 3rd row every 3rd stitch etc.) with double crochets till it was the size of the bottle bottom. The next row were slip stitches and then, well - I don't know an English name. It is a double crochet but I don't work into the top of the stitch of the row before but into the stitch itself. "Between the legs" was how it was explained to me. That makes a really firm and dense fabric and looks a bit like it was knitted.
---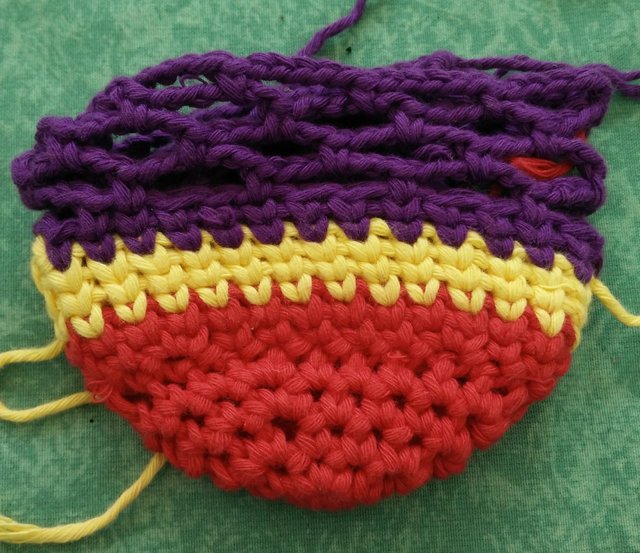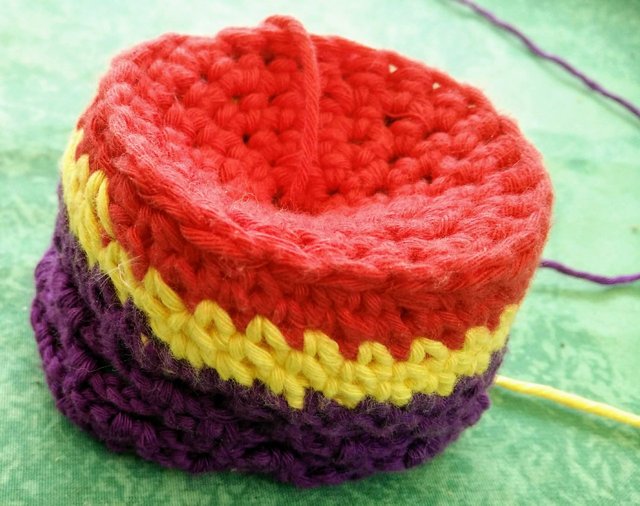 ---
Left image is of the right side, right image is of the back side. I use the bottle cover inside out because the one row of slip stitches make this nice edge between bottle bottom and side. In the left image the yellow stitches and the rows below and above show the "knit" stitches. They slant a bit to the left but I like the optic of it.
---
After some rows I started to make chains which I plan to do till the "shoulder" of the bottle. There I plan to make double crochet again with small holes in it to pull a cord through. I will show you a picture of the finished bottle cover later.
---
Flaschenbezug
Zwischendurch trinken ist wichtig - aber wenn man eine Flasche mit gekühltem Inhalt, und wenn es nur Wasser aus der Leitung ist, in eine Tasche mit Papieren, Handy oder Stricksachen packt dann wird durch die Verdunstungskälte alles unangenehm nass. Man kann natürlich Thermosflaschen oder -becher nehmen, aber die sind schwer und für den Alltagsgebrauch als Wasserflasche ist mir mein guter Thermobecher zu schade. Also bin ich jetzt dabei mir aus Resten von Topflappengarn einen "Überzieher" für eine einfache Plastikflasche zu häkeln.
---
What's on my needles
I have to admit I didn't work a lot on my scarf - still only 43 cm :(
I started a new "mindless knitting" project: a simple rectangle shawl knit lengthwise, 360 stitches in a row. So far only 6 rows in so not a lot to show. It's quite a fancy yarn of which I bought three skeins when I saw them in the bargain bin in my local yarn shop.
---
Contest
I just remembered last week's post by @phoenixwren about an upcycling contest. Does a bottle cosy count? Then this post is my entry ;)
---