Its been ages since I done a full sized blanket! I usually get really bored once the rounds get too big and leave it in the WIP pile. But this time, I got inspired by the changing seasons around me in Argyll and it really got me going!
Autumn is coming round fast, and the green rolling hills are slowly turning gold and orange. We get the most amazing sunrises at this time of year, with low lying mist refracting colours all over the place - it truly is stunning.
Ive been using chunky yarn from Hayfield Bonus and Stylecraft for other projects and fell in love with Paprika when making cow heads (a story for another day!) and when I saw these 3 colours together I had to make something. Ive tried the Beautiful Shells pattern before, when I was first starting out crocheting, and it is such an easy, but detailed looking finished product. Last time it took me about 6 months to complete, but I was so unbelievably chuffed with the end result - it really cemented home the love and fascination of crochet - making something out of next to nothing :)
Beautiful Shells is a free pattern on Ravelry here: https://www.ravelry.com/patterns/library/beautiful-shells-blanket
The world really is your oyster with this one - use as many or as few of any colour to create a new design each time.
So, without further ado - this is Beautiful Shells - Autumn.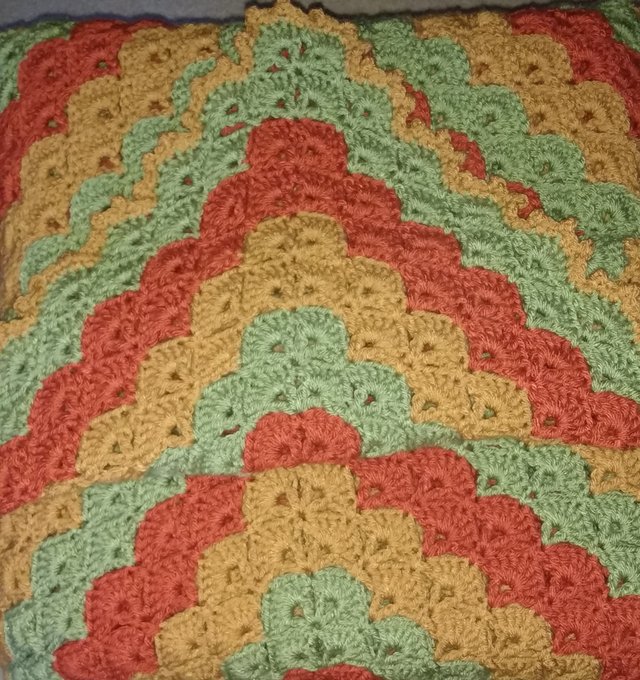 Ive used Meadow and Gold from Stylecraft Special Chunky range, and Paprika from Hayfield Bonus, with a 6.5mm hook.
This pattern is so easy, you truly can sit and relax while doing it. Each set of shells is an increasing repeating of 2 rows of pattern, and you can make as big or a small as you like. Its difficult to do this wrong, and if you miss a stitch or two it is generally easy to mask it, except for the corners - Ive made that mistake a few times and it is easier to frog than try to adjust.
On this Autumn inspired blanket I used the Gold Chunky to make a picot border, to finish it off. So worth the effort! I think the edge looks like leaves, adding to the autumn feel. Now I just need to decide who to give this to for Xmas!
Tips:
On the V rows - I have a tendancy to miss the occassional DC, so I end up with a single instead of a V. Obviously if you realise early, its best to pull out and do it right, but if you complete the round and dont want to turn back, dont worry! When you come to do your 7 dc to form the shell, take the 7th dc down to the sc in the previous row, and this nips the shell down to where it should be, replacing the missing dc in the previous round.
try to weave in your ends as you go - saves a lot of sewing at the end! The way I managed was to gently tie the two ends together forming a small know, then stitch over the top of the knot to hold it in place. I went back and still stitched them back through again with my darning needle to make sure they were secure.
Below is my first attempt and it takes pride of place on our guest bed. Little kitty loves it and snuggles up almost every day on this beaut :)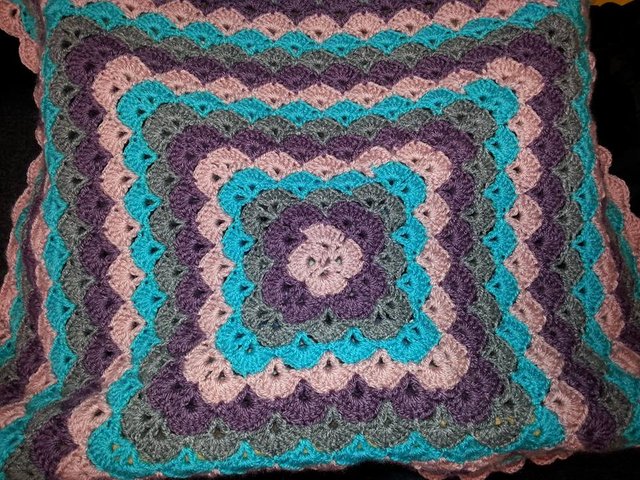 Hope you like this weeks makes :)