The winner of the NBA Finals will get a trophy. But Either Will Gain Respect
The Miami Heat and the Denver Nuggets both feel as though they have been treated disrespectfully, and they are using that as fuel as they compete for a championship.
Rocky, an anthropomorphic mountain lion with a lightning bolt for a tail and the mascot of the Denver Nuggets, rushed around, dragging a pickaxe, seeking to find the source of all the noise. He had to make the voices disappear. They were treating his team with disdain.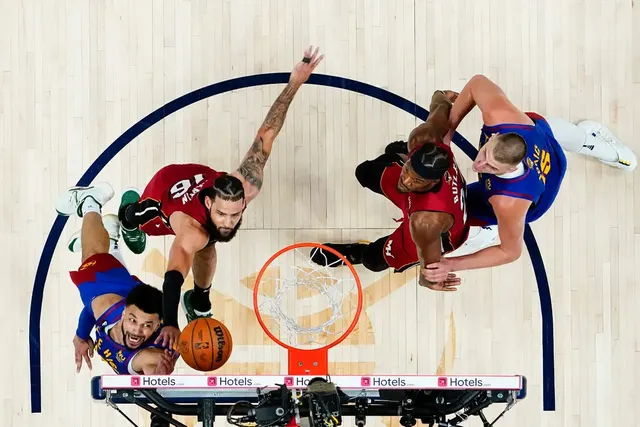 The Nuggets had dominated the NBA playoffs for weeks. They also believed that the news media had been unfair to them for weeks. Not after they defeated Phoenix and Minnesota in the opening two rounds. Not after they defeated the Lakers in the Western Conference finals by a rout.
The Nuggets showed a video of Rocky getting ready to avenge them during a break in Game 1 of the NBA finals on Thursday night. At least symbolically.
Nuggets Coach Michael Malone bemoaned the national sports coverage during the conference finals in an audio clip of slights from commentators. The last thing he said was before Rocky broke a television in a room with his pickax. "And all everybody talked about was the Lakers!" He persisted in breaking things until a framed photograph of an unidentified Lakers player was seen on film laying broken on the ground.
Miami Heat, Denver's finals rival, had a mediocre start to the championship round on Thursday. The Nuggets won 104-93 with a lead of up to 24 points. They came into the series as overwhelming favorites, an unusual situation.
Guard for the Nuggets Jamal Murray remarked, "Even when we win, they talk about the other team. It gives us a little more motivation and will taste better when we win the chip, he continued.
the Heat and the Nuggets, the eighth and top seeds in the East and West, respectively, feel that their skills haven't been properly appreciated this postseason. Both teams have utilized this as motivation. Even when the slights are simply imagined or possibly even justified, turning perceived disrespect into fuel is a frequent tactic in sports.
When he was inducted into the Basketball Hall of Fame in 2009, Michael Jordan made disrespect a central topic of his speech, referencing a moment when he was dismissed from his high school's varsity squad. Later in his career, Jordan made up a taunting incident involving a rival named LaBradford Smith, who he claimed did so after the Washington Wizards player scored 37 points in a game against Jordan's Chicago Bulls in March 1993. Jordan scored 47 points against Washington the following night with the intention of humiliating Smith.