The NBA-Holes Column: 2018 West All-Star Starters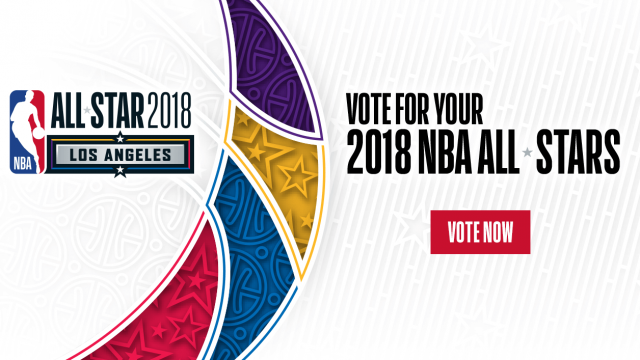 As the NBA nears the halfway point, All-star voting is in full swing. In fact voting closes on Jan. 15 at 11:59 p.m. ET. Before the starters are released on Jan 23rd, here are my picks for the West All-Stars.
---
Frontcourt
Kevin Durant (GSW)

Kevin Durant is having yet another phenomenal year. While Steph Curry was out with an ankle injury, KD led the Warriors to the best record in the league. It is scary just how good this team is at the moment. They have the highest Point-Per-Game at 115.8 as well as the highest point differential. Outscoring teams by an average of 9.1 ppg. Durant also has the highest usage rate among all forwards, according to CleaningtheGlass.com. As well as ranks in the top 10% of points per shot attempt among eligible forwards. He is a high usage and high efficiency player. A lock for All-Star starting honors.
Anthony Davis (NOP)

Despite the New Orleans Pelicans middling record of 22-20, Anthony Davis should be an All-star starter. Davis is averaging 26.7 PPG, and 10.5 REB, along with 2 assists and 2 blocks a game. While the questions of Davis' future in New Orleans will only grow louder if the team does not improve around him, for now he is carrying ( along with Demarcus Cousins) a below average team to a playoff birth. All his efforts are worthy of All-star starting accolades.
DeMarcus Cousins (NOP)

Speaking of Demarcus Cousins...can a 6th seed that is barely above .500 really have 2 All-star starters? Yes absolutely. Cousins has been equally as good as Davis this year in almost every statistically category. In fact the two of them account for ~45% of the entire teams Points-Per-Game this season. That right there shows you just how terrible the rest of this roster is. Some might argue that Draymond Green (GSW), who is ahead in voting, might be a more worthy choice. Justifying the need to praise the Warriors for the season they are having. While Draymond is the heart and soul of the Warriors if you look closely he has not been the player he was just a year or two ago. His turnovers are up with similar usage rates. While his 3-point shot has fallen off from his 2015-16 highs. Cousins has been a much more important player for his team this year. He is putting up the numbers for an All-star starting bid this year.
Guard (Backcourt)
Stephen Curry (GSW)

Despite missing a dozen games this year with an ankle injury ( the Warriors held him out longer than needed, they are that good), Curry is going to be an All-star for the 5th year in a row. The way teams are forced to defend when he is on the floor is almost All-star worthy in of itself. It is a no-brainer for Steph, he is leading the vote among all West players, is beloved around the country and is one of the greatest shooter in NBA history. It is not even a debate.
James Harden (HOU)

Always a bridesmaid, never a bride. James Harden just seems to always come in second place. He has been runner-up to the MVP 3 out of the last 4 years. His team has the second best record in the West. Even when it comes to All-star votes, he has gotten the 2nd most votes the past 2 years among West guards. Can the guy catch a break. Harden will start in the #2 spot this year in the All-star game. He is putting up a statline of 32-5-9 while still learning how to play with Chris Paul. His team is beating opponents by 8 PPG, only second to the Warriors. All in all #2 is not terrible, he will still be an All-star starter this year. Not a bad consolation prize.
Follow me: @nba-ryder
@nijamike @patewing @vicspics @digitalking @marzi @nordina @ailenepm @nikossa1908 @barbadosso @saurav811998 @mvrr007 @svarozlch @bruzzy @portllo @steem-d-anlovnlt @davedlckeyyall @goingmoblie @bennyvandthejets @davor27 @the01crow @photo-moment @xtramedium @safas @kofspades @cmoljoe @neo-wiza @truegreatwork @jamesdenny @papakli @mekky @andrewfilisetti @patewing @steaknsteem @xtramedium @jeffjagoe @kryptocek @millhouze