The UNIBROW sneakin in ( Anthony Davis and his MVP race)
MVP discussion has been going on for months. Analytics has discussed many bigger names who could be this seasons most valuable player.  
Last season's MVP race ended up being a two-man battle between Russell Westbrook and James Harden. This year  Harden has been amazing once again and are putting up historic numbers this season. 
Pelicans lost DeMarcus Cousins for the remainder of the season with a torn Achilles. Anthony Davis has stepped up since in a best kind of way he could.  Anthony Davis has improved his PER rating. Now he is moved into the second place in the NBA with  the PER at 28.6. NBA leader at the moment is James Harden with 30.5 PER rating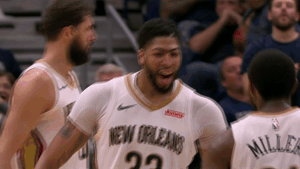 Davis is sitting at the 5th place on the MVP ladder. Betting sites has predicted 2 % chance that he could win MVP award this season. Right now Pelicans is third in the western conference, but they can fall out of the playoff picture very quick. While there is still a possibility that they miss the playoffs, the Pelicans currently have the 9 game winning streak.