Is Leonard coming back or not??
 Kawhi Leonard won't return on Thursday from his lingering quadriceps injury.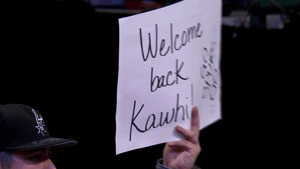 It was predicted that Kawhi may be returning back to the court on the thursday´s game. Actually Spurs trainers and medical staff has cleared Kawhi to play the game already. But Kawhi wanted to get second opinion from the New York and they didn´t clear him.  Leonard has been bothered by a quadriceps injury all season 

Spurs reporters has told that nothing changed with Leonard's situation and that he'll return whenever he's ready. 
 "is expected to remain out and will continue to evaluate his injury for a possible comeback before the season ends," 
Opinion: Spurs are ninth in the West right now and are facing not making the playoffs first time over 20 years. They will need extra help from Kawhi, but on the otherside they can not compete with warriors or Rockets so is pushing Kawhi back to the court really a good idea. Lets see how this season ends for the Spurs. For my expectations i would be happy to see Spurs in the playoffs.