You will have to excuse the pun, aka, play on words, which I kind of didn't mean but I also kind of always do. Its been a long day for me so far here and in the sun no less... This could be why I have been thinking of something cooler, much cooler than the current situation.
So how many people know exactly how much ice is actually on top of the continent of Antarctica? Well, scientific estimates suggest that about 80% of all of the freshwater of the world is on top of the continent, as well as, about 90% of all the world's ice, according to the Australian Antarctic Division. That is a lot of ice\potential water. Even more, the ice cap that sits on top of the continent can get up to over 4km|2.48 miles thick!! With the mean(average) thickness of around 2km | 1.26 miles... that is a lot of ice. Can you kind of get an idea of this concept? I personally, can not at times and I have spent some time down in this region...
---
A couple of huge icebergs just doing what icebergs do when they are in Antarctica
Click image to view full size
---
Even more, if all of that ice were to melt and seep into the ocean than sea level would rise anywhere from 60 to over 70 m. This would drastically change the entire coastal region and alter the shape/look of all of the other continents. Protecting this remote, wild wilderness is more important than most people would ever believe.
---
Besides those mind bending facts that probably a lot of people have never really thought of before. The shapes of the ice does make for unbelievable photography opportunities, which whilst doing so - you can easily fill up a memory card in a matter of minutes...
---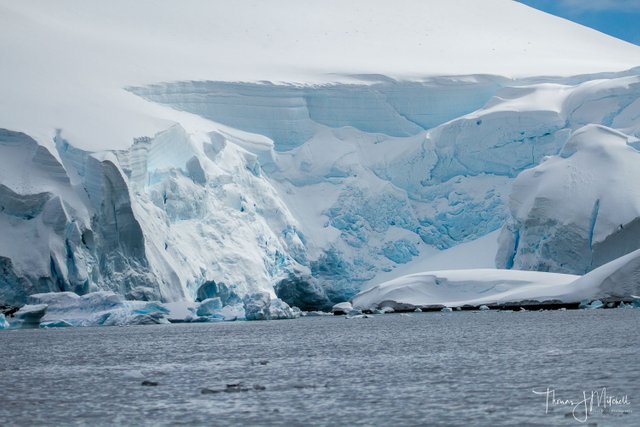 Just some more ice on the Antarctic peninsula - awesome, right!?
Click image to view full size
---
Thanks for reading and all the support, Steemit!!

Dont forget to Upvote & Resteem!!!

All stories & photographs are of my own work unless noted under the picture in question.

For more stories and photos check out my Instagram feed

Check out my website new website too - Just BCOZ Photography