Symphony in the Rice Field
THE RICE FIELD
---
I loved the rice fields, and even missed them.
Aku mencintai sawah, bahkan teramat merindukannya
---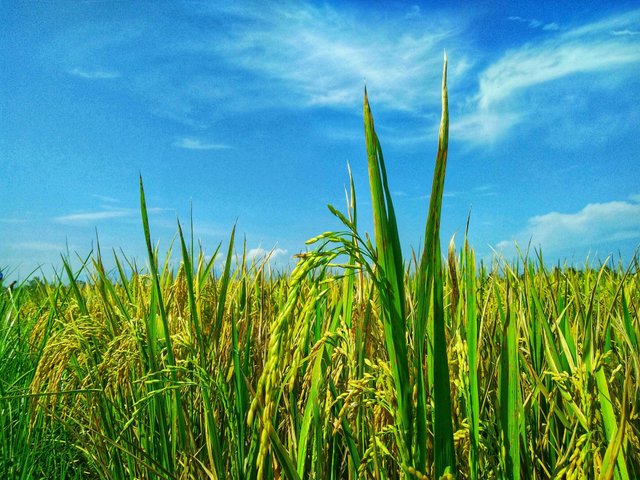 ---
Yes ... I really want to have some patches of paddy fields, which I will later learn to grow crops especially to grow rice, sounds weird and a little funny, because we live in the State of Agriculture, but are unable to grow crops and have no farmland. .. Pity
Ya... Aku sangat ingin memiliki beberapa petak sawah, yang nantinya akan kugunakan untuk belajar bercocok tanam terutama sekali untuk menanam padi, terdengar aneh dan sedikit lucu, karena kami yang tinggal di Negara Agraris, namun tidak mampu bercocok tanam dan tidak memiliki lahan pertanian... Miris
Rice fields are my dream of living a simpler and more meaningful life, as well as my late parents who were desperate to have rice paddies, but never reached to death.
Sawah adalah impianku akan hidup sederhana dan lebih bermakna, sebagaimana juga mendiang orang tuaku yang sangat ingin memiliki sawah, namun tidak pernah tercapai sampai ajal menjemputnya.
As a resident from the opposite island, he does not bring anything as a provision to live in a country of people, he comes only with the spirit to live better to be more supportive and sufficient for all the needs of his family, but what will be in words, good fortune seemed to always stay away from him, survive by working odd jobs as unskilled laborers, so our education, his children also abandoned
Sebagai pendatang dari pulau seberang, beliau tidak membawa apapun sebagai bekal hidup di negeri orang, dia datang hanya dengan semangat untuk hidup lebih baik agar lebih mudah menghidupi dan mencukupi segala kebutuhan keluarganya, namun apa daya, nasib baik seakan selalu menjauh darinya, dia bertahan hidup dengan bekerja serabutan sebagai buruh kasar, sehingga pendidikan kami, anak-anaknya juga terbengkalai
Now I'm continuing her dream, trying to collect money little by little, when it is adequate I will soon buy it, though in small size though.
Kini aku sedang melanjutkan impiannya, berusaha mengumpulkan uang sedikit demi sedikit, bila sudah memadai aku akan segera membelinya, walau dalam ukuran yang kecil sekalipun.
I want to learn to grow rice, because to me rice is not only a spy as a staple food, more than that I want to get closer and recognize the grain of rice that is getting older and contains will also be more down, contrary to the habit of Man, which will increasingly straighten his head and puff out his chest when he feels it has a little contain and settle.
Aku ingin belajar menanam padi, karena bagiku padi bukan hanya se mata-mata sebagai bahan makanan pokok, lebih dari itu aku ingin lebih dekat dan mengenali filsofi padi yang semakin tua dan berisi akan juga semakin merunduk, berbanding terbalik dengan kebiasaan Manusia, yang akan semakin menegakkan kepala dan membusungkan dada ketika ia merasa telah sedikit berisi dan mapan.
---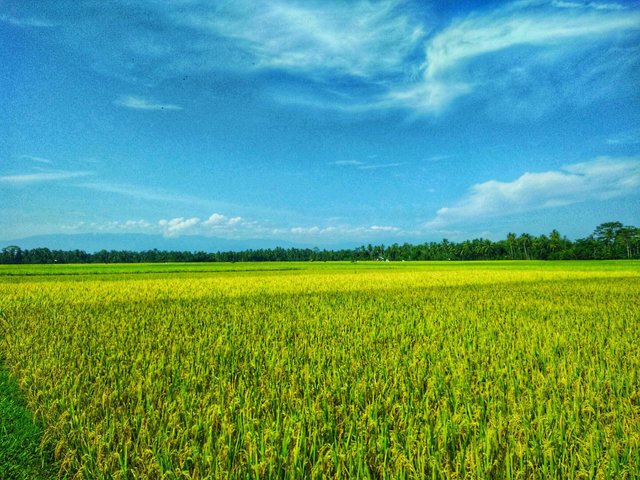 ---
For me Rice is not just a source of food, more than that rice is the source of all sources of life
Bagiku Padi bukanlah semata hanya sebagai sumber makanan, lebih dari itu padi adalah sumber dari segala sumber kehidupan
---
---
Thank you for reading my First Post, if it interesting, please upvote, comment and reblog, REGARDS
---
---