Treeplanter is not a bid-bot, so what is it?
Hi friends,
As you might know I've been constantly helping @martin.mikes and @kedjom-keku organization with their blockchain and social platform project @treeplanter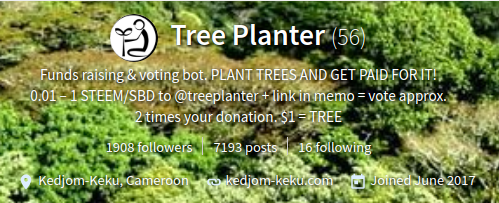 Providing a daily report of the donations that were successfully upvoted.
https://steemit.com/report/@treeplanter/treeplanter-report-2-26-2018
Queue
There is a queue page where you can see if your donation is in the waiting queue.
https://treeplanterv2.herokuapp.com/queue
Donations
You can send any amount as donation, if you provide a link in the memo,
@treeplanter
will try to give a 2 times donation worth vote. You can always send more than the maximum vote it will just be considered as part of donation.
Features:
It is not a bid-bot, meaning we will refund a donation that was not able to be voted.
It is not a immediately vote as there is a waiting list (We wish it was smaller)
Donations are used to plant trees and lease some SP to keep offering the service.
Your donation will be processed before payout of the post or comment, if it was not able to perform vote donation will be automatically refunded.
Daily report of the performed donations.
Weekly report every Sunday.
Monthly report, last day of the month.
We expect donations to be shared with others and not self-votes.
I'm the developer of @treeplanter but I try to constantly communicate with @martin.mikes which sometimes is hard to reach because Cameroon situation (war, civil war, poor internet connection).
I am sorry if you are feeling upset for not getting the upvote immediately but we are doing our best to provide a solid donation and fundraising platform.
Please contact me for any inconveniences but please take into consideration this is just a hobby project and I cannot be here 24/7.
Thanks for your patience and let's keep planting more trees out kids will thank us for this.