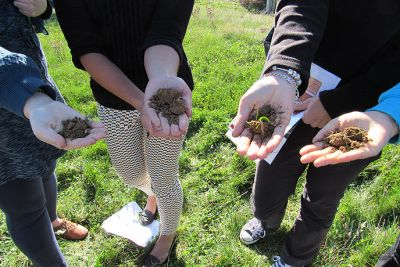 The free event promises something for everyone, from experts to amateurs, school children or enthusiastic beginners who want to get more involved with nature.
Hosted by Eco Active Jersey, in partnership with Jersey National Park and Natural Jersey, who work to protect and promote the island's natural beauty, Wild About Jersey aims to raise environmental awareness and encourage people to volunteer or join environment projects or monitoring programmes.
The theme chosen for this year is "connecting with nature." Eco Active says: "Scientists have proven that spending time in nature improves our physical and mental health, relieves stress, and brings us together. Connecting more people with nature will help us to slow down the loss of our biodiversity. Through this event we hope to establish and deepen the relationship between our natural environment and our community."
The day, launched by Durrell chief executive officer Dr Lesley Dickie, will include a series of series of free experts talks on environmental topics in Queen's Hall. Visitors will also be able to browse a wide range of stalls and activities provided by local natural environment organisations.
Jersey Biodiversity will be hosting a "Earthworm Watch survey" at 10:00 on its stall and will inviting little hands to dig for earthworms, to discover what they do to the soil. While gloves will be provided, outdoor wet gear is recommended as things might get muddy.
Between 13:00 and 14:00, Jersey Biodiversity will go hunting for centipede and other creatures under rocks and leaves. Microscopes will be available for everyone to see the creatures up close and identify them.
Other activities on the day will include a quizz on trees with Jersey Trees for Life, owl pellet dissection with Jersey Barn Owl Conservation, a rock pool touch tank ​with Marine Biology Section Societe Jersiaise and ​candle rolling with local beeswax with the Jersey Beekeepers' Association.
Speakers will include ​Jim Hopley from Jersey National Park, Jon Rault and ​Jo Stansfield from the National Trust for Jersey, Dr John Wilkinson from the Amphibian and Reptile Conservation Trust , UK and Dr Amy Hall from the Jersey Bat Group.