The Sandhill Cranes of the Whitewater Draw - McNeal, Arizona
The Sandhill Cranes of the Whitewater Draw - McNeal, Arizona


Every year in Mid-October through Mid to late March, thousands of Sandhill Cranes migrate to The Whitewater Draw here in McNeal Arizona.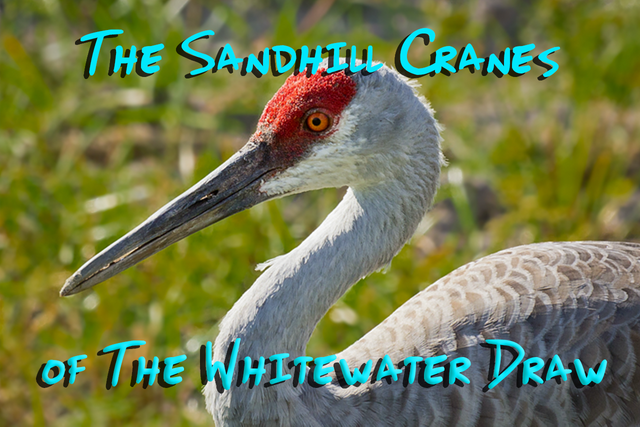 The Whitewater Draw is only about 1/4 of a mile away from my house, as the crow, or should I say Sandhill Crane, flies. These beautiful fowl have migrated here for many, many decades, if not centuries. They are most active during the early morning and evenings.
Have a watch, they are very graceful!

Video by:
@Lymmerik
(Rickie O. Pauley)
I hope you enjoy this video that I filmed and compiled December 31, 2019.
Thank you for taking the time to watch my video, I really appreciate it.
If you would like to support my channel, please like, comment, share it, and subscribe. Don't forget to ring that blasted bell too!
To help my channel grow, you may, at your own discretion donate to one of the following.
PayPal - paypal.me/lymmerik
Bitcoin - 1GURZEa63iRZDegdS5rTKgfyevwAAgoxqW
Bitcoin Cash - qzxd59zwstmpxqakjwgq5qfsttts2arfsskf2u9cs5
Steemit - https://steemit.com/@lymmerik
Music used in this video is from the YouTube Creator Studio:
Requiem in Cello - Hanu Dixit