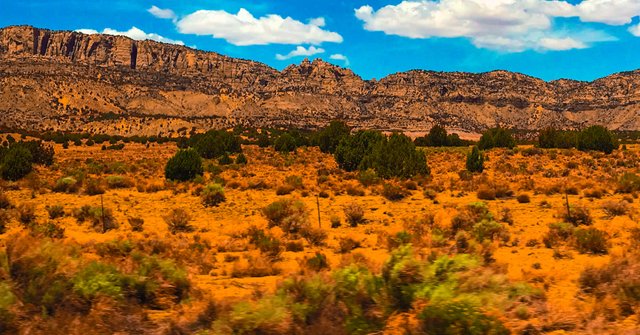 During our road trip through the USA after my graduation we stopped in Southern Utah, a state I have underestimated for a very long time. Utah is easily one of the prettiest places I have been to nature-wise. There are many famous National Parks, but we only had time for one - Zion National Park. At first I was unsure about attending this National Park because it is famous and I was wondering if it was going to be completely overrun with people. We went relatively late in the day, the line at the entrance was not too long and the Park itself was not very full. I would definitely recommend to go there later in the day.
---
Once you enter Zion, you should go to the information center. The people there are really nice and helpful. There are many hikes you can go on with various levels of difficulty. Most well known is the Angel's Landing trail, which is a day long hike along the crests of the mountains. However, we only had three-ish hours and my shoes were so old that I was sliding on pedestrian roads, not really something you would want to walk on the crest of a mountain. Instead we were recommended to walk a trail that leads to several pools and waterfalls.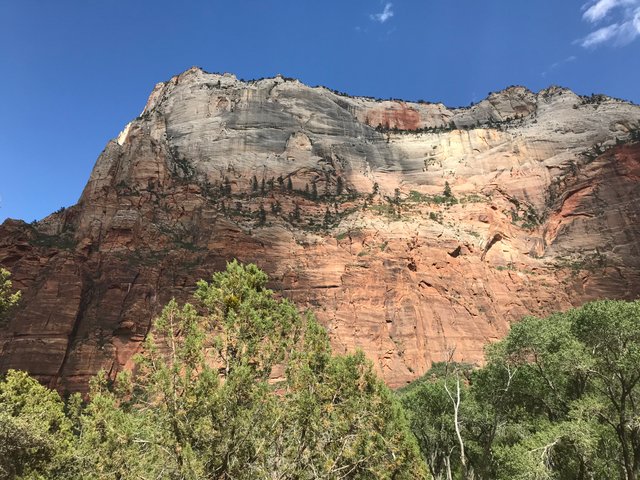 The park is pretty big and you cannot take your car to the trailheads, unless you have rented a cabin. But the Park offers free bus rides that take you from the information center to various stops along a South-North route. At these stops you will have access to almost all trailheads. Some can only be reached from another trail, like the Angel's Landing trail. Our trailhead was 20 minutes away from the information center. This may sound like a long time, but even the view from the bus is stunning. The road goes through a valley nestled in between cliffs that rise on the left and the right. The rock is red which gives you an amazing contrast with the green from the bushes and trees. Our trailhead started opposite the bus stop, so we had to cross a little river that runs along the valley.
---
The trail itself was a little bit more challenging than we expected. For the first half you climb up a mountain. The trail itself is not in the very best condition. I like it that way, but it can be a problem for older people and younger children. Big rocks lay in the way a lot, and the ground is very sandy, so be prepared to stop and empty your shoes a lot.
After climbing the first few meters you are rewarded with stunning views. This trail does not hold back with beautiful outlooks. And they come back, and the higher you climb, the better the view gets.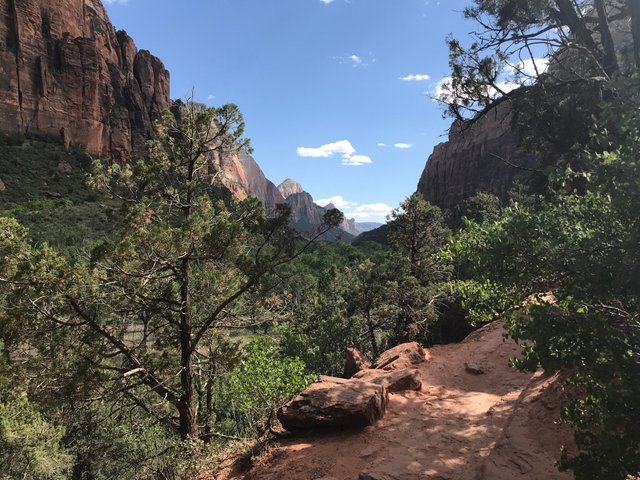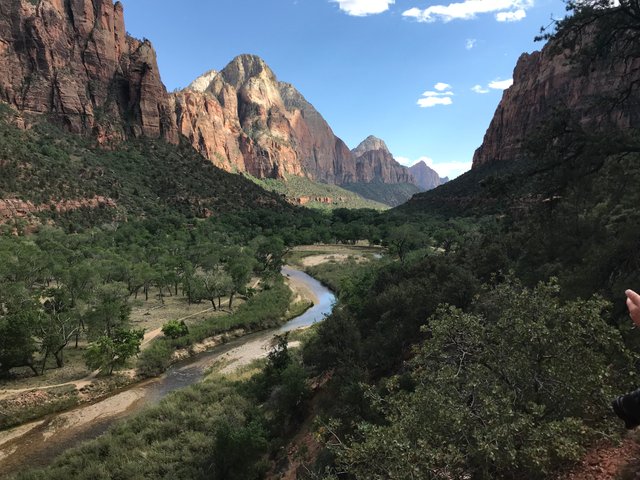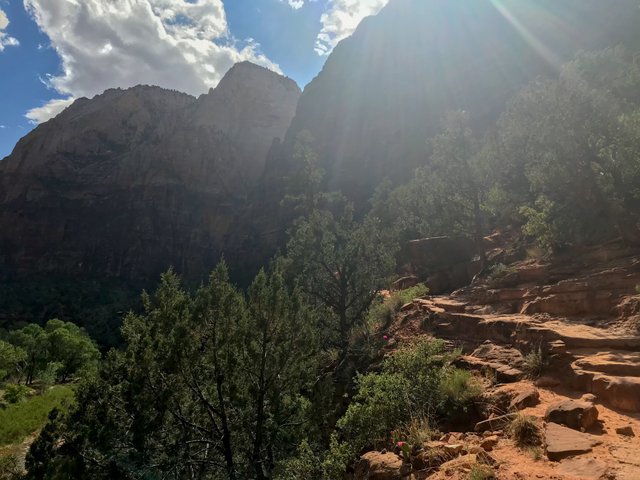 The trail leads you into a little side valley, if you can call it a valley at all. You continue walking underneath a wall of red rocks and in between little trees. Through the ages some huge rocks have broken out of the mountain and fallen onto the little plateau the trail is build on. Some have fallen so that there are narrow passages the trail leads through. It is a very cool atmosphere when you walk through such a tiny passage and you feel the cold from the stone surrounding you. Our surroundings got colder in general as the trail is now in the shades. Given the temperature we had to deal with all day this was a very much appreciated change.
Once you walk deeper into the side valley, you will notice a change in humidity. You will also start hearing water. Most of all, you will notice and increase in difficulty, as the trail gets rougher und more uneven. There are more boulders in the middle of the path but some of them can be climbed. If you turn around and look back to where you came from you get an amazing view into the main valley. If you look the other way you can see what is ahead of you.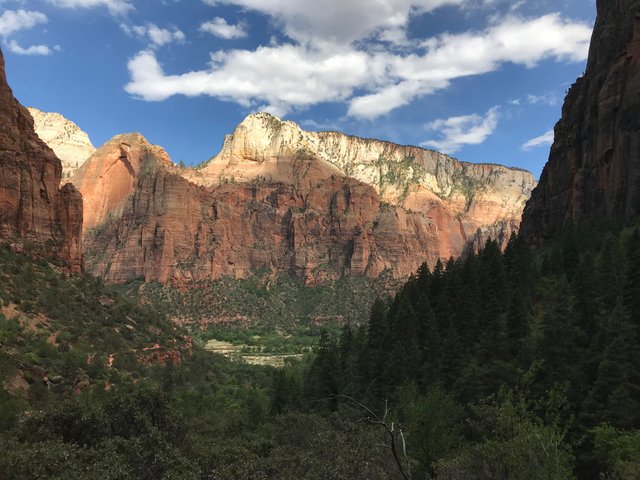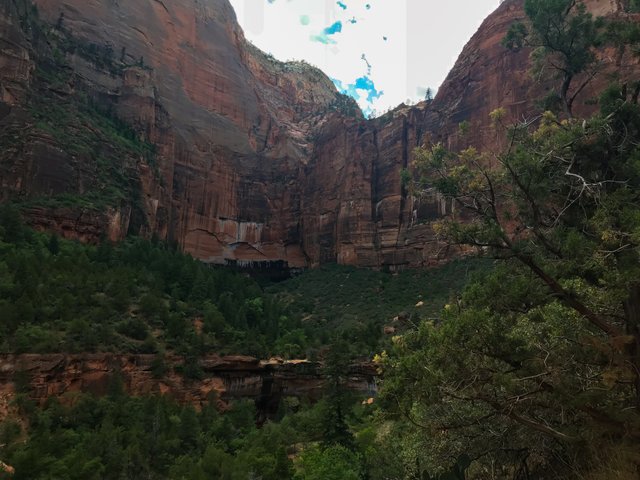 You continue to walk along the rock walls. The trail gets rougher, sandier and more uneven. It is a drag, but the beauty of your surroundings makes up for it. After a while, you reach a sharp turn and a very steep rise. You cannot see what's on the other side, but as soon as you passed the high point you can see one of the cascades. It's really not more than a few drops dripping from the rock and a little pond. It's still a very nice atmosphere as it is refreshing, which makes a nice first resting station.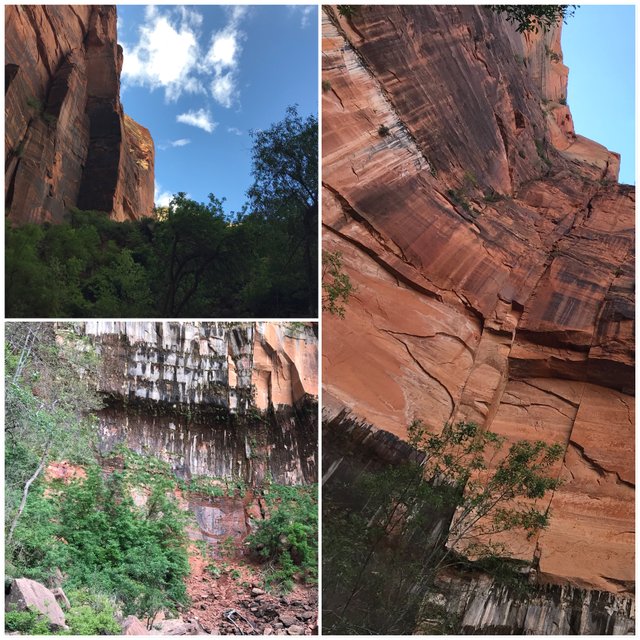 We then walked back the trail a little bit until we came to a side trail. This was a dead end, but we walked it anyway. And we were rewarded. We came to a small pond with crystal clear water. Additionally, we had a nice panoramic view.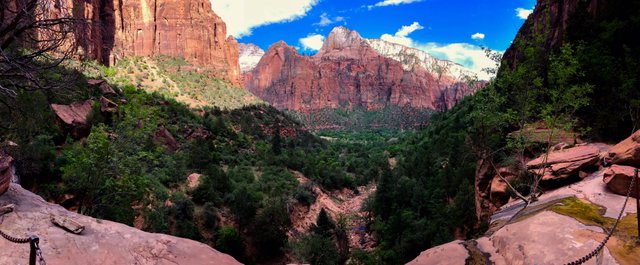 After going back to the intersection, we had to start going back. The trail we took was a circuit, so we did not walk back the exact same way as we came. The trail leads away from the first cascade and follows the valleys curvature. This part of the circuit has been modified with a paved trail so families and older people can use it. This becomes very obvious as the visitor traffic is increased tremendously. The surrounding nature is still stunning and you will pass under a little waterfall. For some reason I do not have a picture from the waterfall but the view from under the waterfall.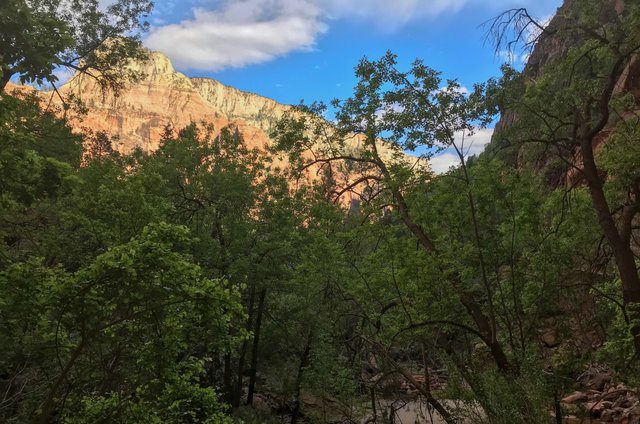 You follow the path up a little hill and then downward towards the bottom of the valley. We were lucky that day and saw some deer grazing right next to the path. These deer were not afraid of us which is not a good sign. It was a good sight nonetheless. At the end of the trail you cross a little bridge from which you have an amazing view along the little water stream that runs through the valley.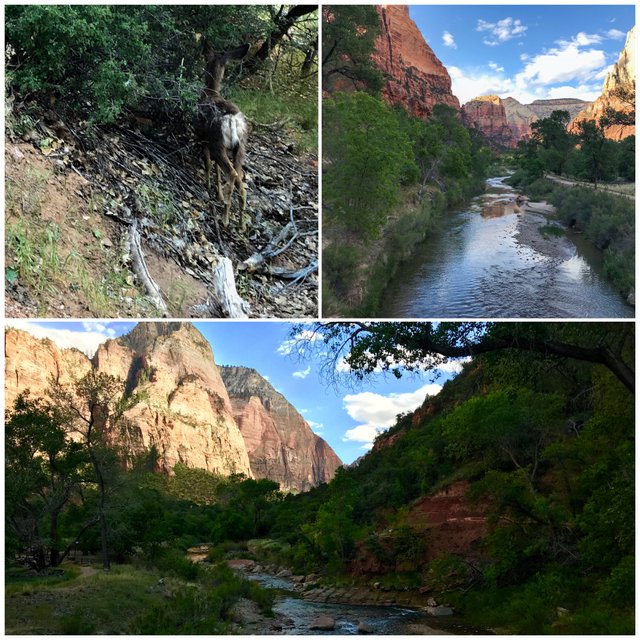 This is the end of the trail. We walked back to the bus stop and rode back to the entrance. This was my favorite hike this far. Literally every few meters you get something beautiful to stare at. I hope to come back one day to hike another trail there.
---
Thank you for reading this post. As I am writing this I'm sitting on an ICE train from Brussels to Cologne and from there back home. I spent the last weeks traveling and am now returning home. At first I wanted to do a work trip, alas working on designs, music and Steemit. But while couch surfing through the Netherlands I met some great people and we had such a good time that I could not touch "work". I will write about this trip later. I will also translate this post into German, but typing on an iPad on a train can be a pain in the butt, especially when you're tired from being on the road. I won't be home for very long. Next week I'll be on a business trip in Switzerland and then in Denmark. Then I may be embarking on a trip to Norway, where I'm hoping to make it all the way to the Lofoten, visiting friends I made on this trip. Life is good when you dare to get out of your comfort zone.
As always,
Cheers @lesshorrible