Birding: The Beautiful Rufuous Flycatcher
EcoSwell is a sustainable development, for-impact organization based in Lobitos, Peru. Since 2014, our team has been dedicated to ensuring people and nature can thrive in unison in the coastal environment of north Peru. We're still learning the ins-and-outs of the SteemIt community, but we're very excited to join in and start sharing our content! Learn more about our organization and our efforts by visiting our Facebook and website.
Hi, SteemWorld!
We've heard the bird watching community on SteemIt is growing, so we're hoping to get involved :) Much thanks to @birdbanter! Here at EcoSwell, we promote conservation through ecotourism and love to go bird-watching whenever we have the chance! Follow us for more bird-watching pictures.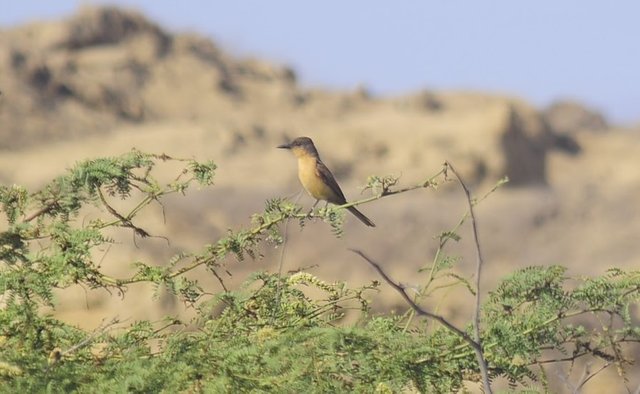 Check out this Rufous Flycatcher (Myiarchus semirufus) spotted in its natural habitat in Lobitos! The Flycatcher, like the Peruvian Plantcutter, is also endemic to Peru, residing in the ecological region of the dry forest. In this photograph taken by our volunteer Alejandro Espezúa, the Flycatcher is sitting on top of an algorrobo (mesquite) tree (Prosopis pallida). Look how beautiful and majestic it is!
As of 2008, the Flycatcher is listed as an endangered species by the IUCN. As an environmental sustainability, for-impact organization, EcoSwell works to conserve these endangered species. We aim to prevent the deforestation of the region and recover degraded habitat, so that these beautiful creatures can reside in their native homes.
If you support our mission and are interested in learning more, please follow us on SteemIt! Throughout, the next few days, we'll be posting a series of photos from around the Lobitos community. After we familiarize ourselves with the SteemIt community a little more, we'll be releasing an 'Introduce Yourself' post. Stay tuned!