Rhododendron Garden Tour: Terrific Trees [16 Photos]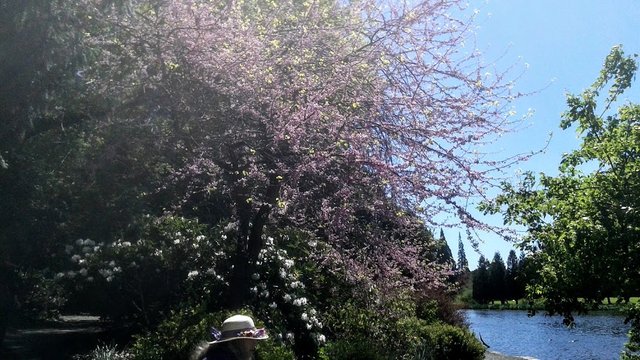 Flowering trees are quite amazing. The thing I enjoy most about trees is that they encompass such a large area above, which makes anyone nearby instantly feel enveloped within a natural room space.
In this article I am sharing some of the trees I found fascinating on my garden photo tour. Trees often have interesting trunk bodies, unique leaves, scents, and zillions of flowers in Spring. Trees are so hardy, they are almost maintenance free once established. Any flowering tree is likely to become a centerpiece to be proud of.
All of these photographs are my own. I had collected these photos last year (April 2019) when I visited the Crystal Springs Rhododendron Garden in Portland, Oregon.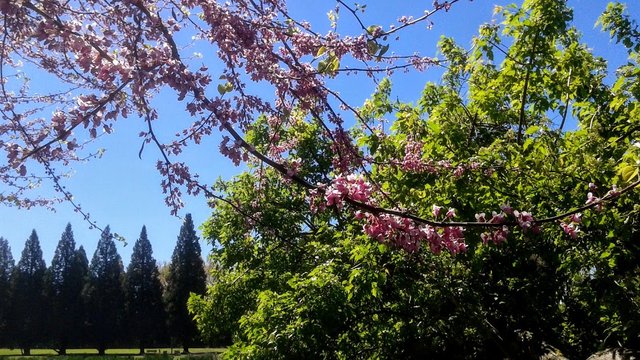 Cherry trees are especially popular. They bring long downward arching branches laden with scented pink flowers attracting butterflies. Eventually the flowers will become cherries attracting woodland birds.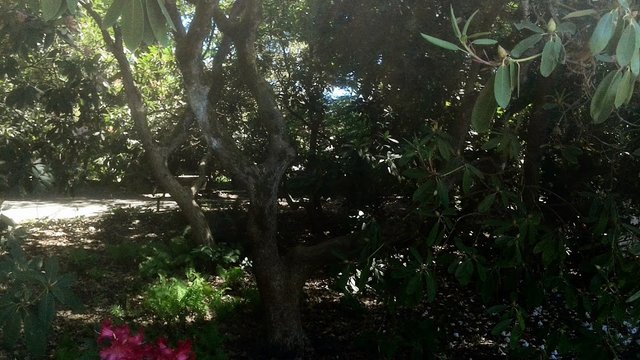 The oldest rhododendron trees have very curvaceous trunks and branches. The wood has become so hard and strong, you can probably climb up onto them. Yet they still continue to produce young leaves and fresh flowers from their uppermost stems. Rhododendrons usually do not grow very tall, and the longest stems on top will often flex downward, allowing for people to enjoy their lovely colors or scents.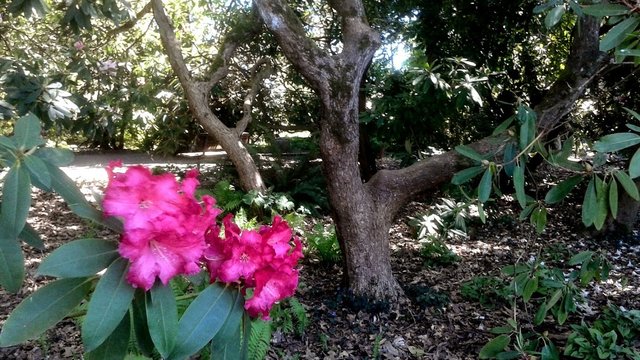 Magnolia trees can become very tall. This one stood extremely upright with lots of open space around it. Magnolia blossoms of peach pink petals open even on the lower branches.
These flowers resemble lotus blossoms.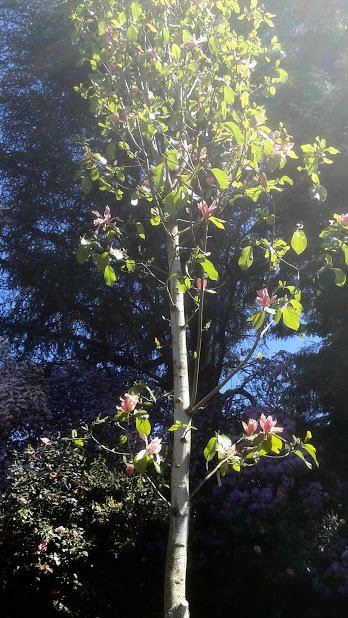 Sometimes an old trunk fascinates me. Here we glimpse the bumpy roots of a tree that have developed bark and become part of the supportive base of the tree trunk. This can happen over time as the soil erodes away and the roots expand so large that there is less space in the soil to contain it.
The challenges of life often force a tree to adapt and become far bigger and stronger than its unchallenged neighboring trees.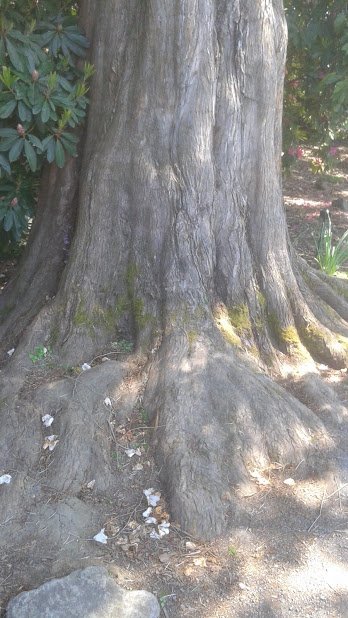 A birch tree bending over the river. This is this tree's favorite type of habitat. Fish enjoy eating the bugs and catkins that fall from this tree. It provides cool shade over the water and helps fish to hide from predatory birds. The pond life in return provides nutrients to fertilize the deep water roots burrowing in the mud.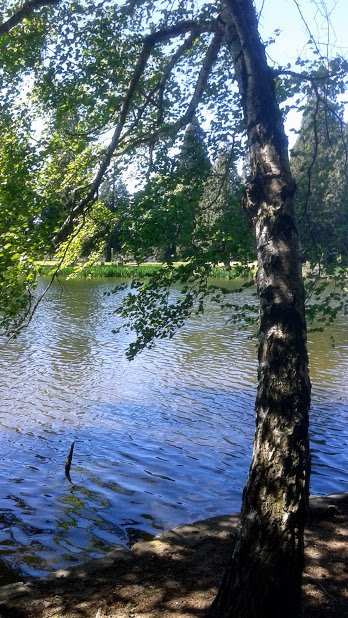 Below I believe this is a type of hydrangea. The platelets of white flowers adorned the dangling textured leaves. A buffet or rich white flowers.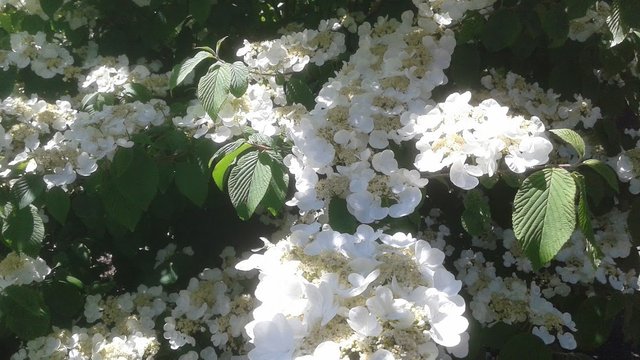 Dogwood trees are known for the four petal delicate flowers. Dogwoods are often short lived trees. They can be difficult to grow if the conditions of the environment around it are not quite right. To find an old one growing with many flowers is a rare sight to appreciate.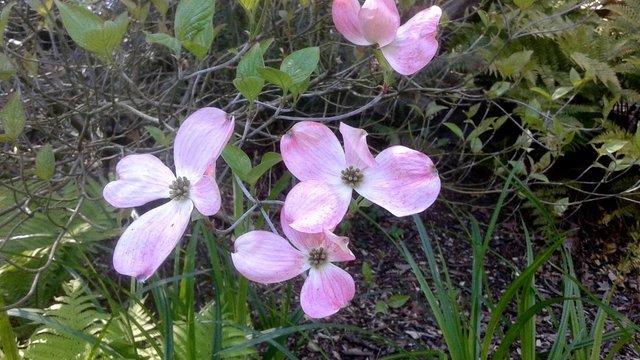 A golden tree in Spring? That is something we don't see every day. I have a hunch this might be an oak tree, holding onto its orange leaves all winter long because the wood stems are so hard. They will lose their leaves when new green ones appear.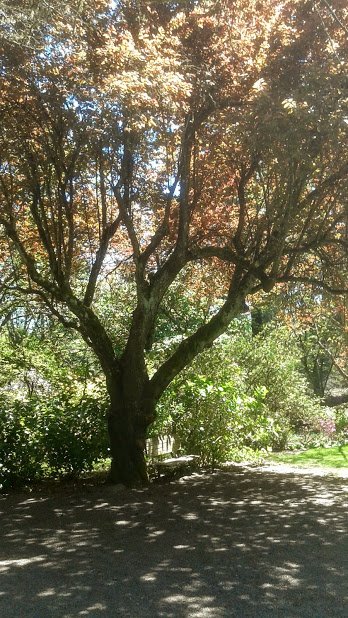 Another view of the beautiful scenery behind the birch tree.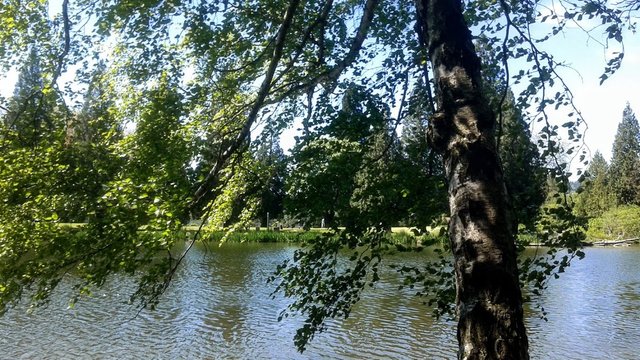 A maze of twisting trunks make up the under-story of the oldest parts of the rhododendron gardens. New branches and leaves rarely grow on this part of the tree because there is not enough sunlight underneath.
These trunks act as supportive skeletons, fighting with the other trees to capture as much sunlight as possible on top.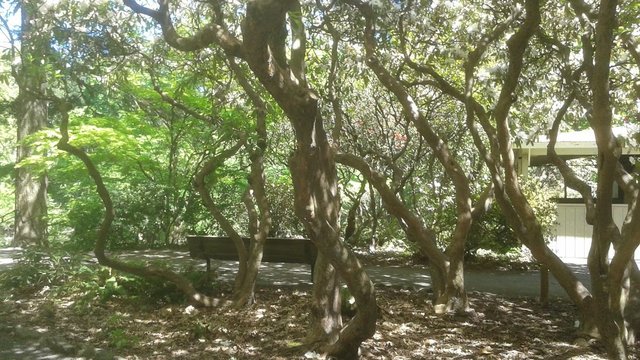 The dogwood tree has long slender branches that extend every few inches. The branches bend downward in arched segments that reminds me of a wedding trellis supporting luxurious white pleated fabric. Dogwood provides its own free floral arrangements, making them a very ideal background tree for Spring weddings.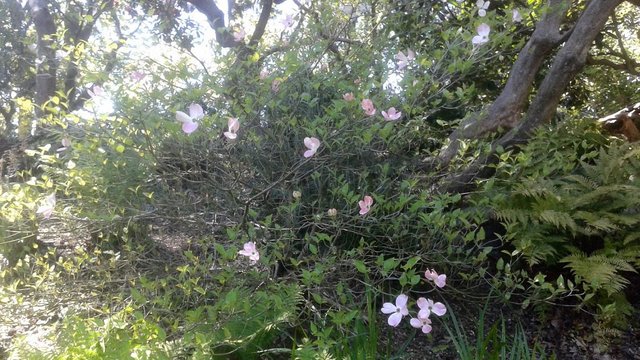 Even an old stump somehow finds interest to me in this landscape. Surrounded by Douglas fir, Japanese Maples, and distant trees such as towering Sequoias. The stump stands as a fossil of a former giant.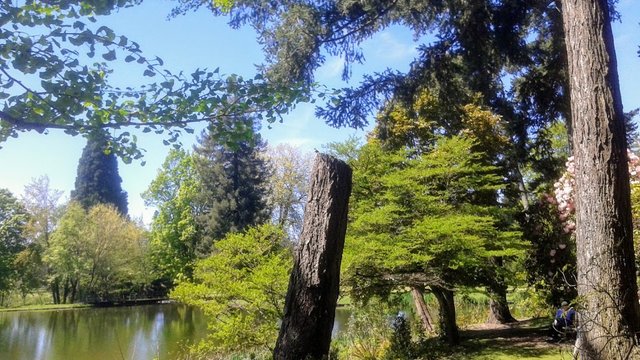 A larger view of the white flowering hydrangea below.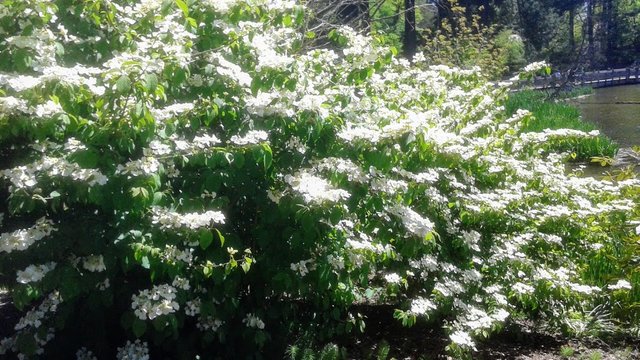 Often times I examine the buds of trees when they emerge. In bonsai, it trees teach me in this way when they are ready to be pruned.
In this nature spot where the geese most enjoyed taking care of their young, I found these conifers were pushing out new green needles on barren branches. The branches were hanging in a direction that fell diagonally down, yet the new needles grow only in perfect horizontal directions. I'm not sure if this is larch or some kind of cedar.
The mini step-ladder effect of needles climbing the branches definitely make this an interesting meditation tree. Everything around the tree felt calm and peaceful under the unmoving shade.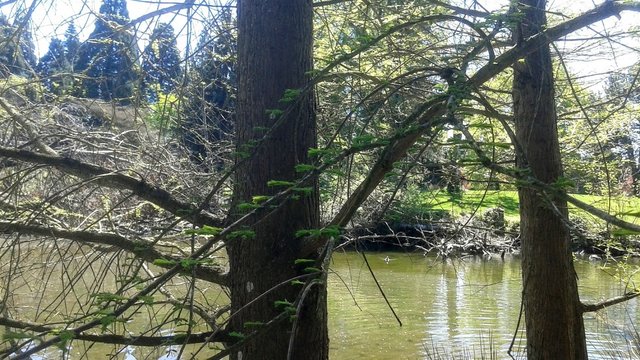 ---
Thank you for viewing my collection of photos.
There are many more photos in this collection I will be soon releasing, and I have categorized them by topic.
Rhododendron Garden Tour
As always, comments are welcome below.
---
#tree #trees #natural #gardening #april #portland #river #stream #blooms #flower #birch #sequoia #dogwood #hydrangea #rhododendron #cherry #cherry-tree #cherry-blossoms #maple #japanese-maple