White Rhino is Extinct, The World is NOT Fine [Badak Putih Punah, Pertanda Dunia sedang TIDAK Baik-Baik Saja] (Bilingual)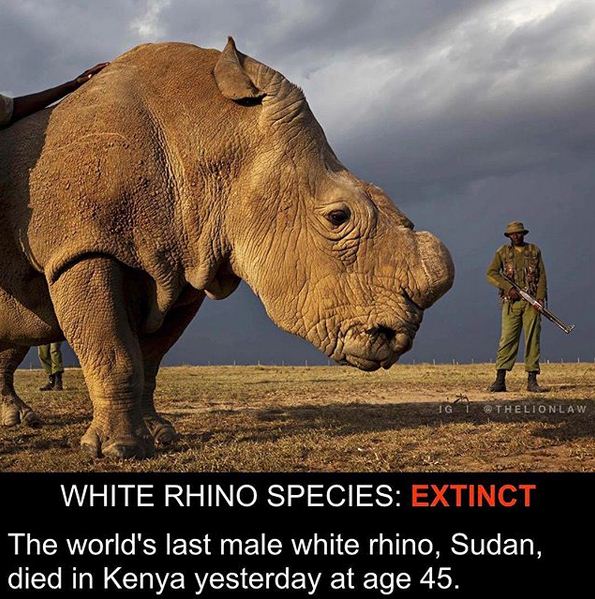 Source
Wake Up! Mother nature is warning us.
That was the first thing came up from my mind after reading the news about the extinction of the world's last white rhino male. Honestly, I feel so sad.
"Why should you be sad? It is just Rhino." Perhaps, some people might think that way. However, we should realize that humankind can't live alone without nature's support. We must acknowledge that something wrong is happened to our nature, our forest, our wildlife animals. The extinction of flora and fauna will be a sign for human that we are heading toward a bad living conditions, a dangerous life.
In short, If the strong and large wildlife animals can face the extinction, let alone small and weak human like us. In fact, we are not only sad due to the rhino extinction alone, but we feel sad due to the living conditions of our future generations. Before too late to realize, let's hold hand together to HEAL the world and make it a better place for us and our future generation
Sadarlah, Alam Sedang Memberi Peringatan!
Itu kalimat pertama yang terngiang di pikiran saya setelah membaca berita tentang kepunahan badak jantan putih terakhir di dunia. Sejujurnya, saya merasa sangat sedih.

"Mengapa harus bersedih? Badak doang pun yang mati." Mungkin, beberapa orang akan berpikir demikian. Namun, kita harus menyadari bahwa sesungguhnya manusia tidak bisa hidup sendiri tanpa dukungan alam sekitar. Kita harus sadar bahwa ada sesuatu yang salah terjadi pada alam, hutan, dan satwa liar di sekitar kita. Kepunahan flora dan fauna menjadi pertanda bagi umat manusia bahwa kita sedang menuju kondisi hidup yang buruk, kehidupan ke depan yang berbahaya.

Ringkasanya, jika satwa liar yang besar dan kuat saja bisa menghadapi kepunahan, apalagi manusia kecil dan lemah seperti kita. Maka sungguh, kesedihan yang kita alami kali ini bukan hanya karena kepunahan sang badak semata, namun kita merasa sedih karena kondisi hidup generasi masa depan kita yang terancam bahaya. Maka sebelum benar-benar terlambat menyadari, mari kita bersama bergandengan tangan untuk MENYEMBUHKAN alam sekitar dan menjadikan bumi ini tempat yang lebih baik bagi kita dan generasi masa depan.
So, what can we do?
Jadi, hal apa yang bisa kita lakukan?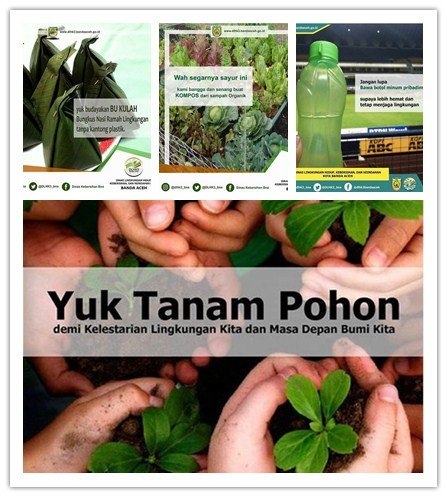 Source
Reduce the use of plastics bottle and plastics bag by bringing your own water bottles and goodie bags.
Protect our water sources from gold and silver mining by voicing the regulation of natural protection.
Taking care of the forest by preventing or reduce the use of palm oil (which its tree damage the soil).
Plant your own food and replant the trees.
Share this message to the world and many more.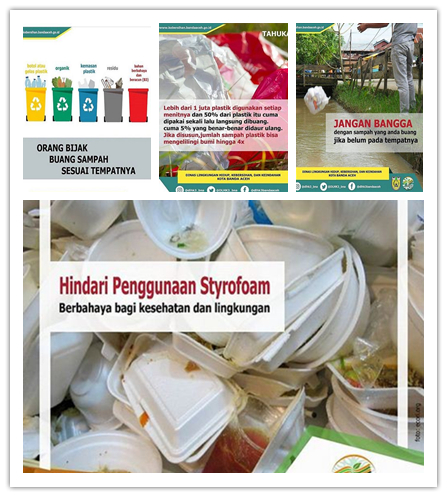 Source
Kurangi penggunaan botol plastik dan tas plastik dengan membawa botol air dan goodie bag sendiri.
Buang sampah pada tempatnya dan daur ulang sampah yang masih berguna.
Lindungi sumber air kita dari penambangan emas dan perak dengan menyuarakan peraturan perlindungan alam.
Merawat hutan dengan mencegah atau mengurangi konsumsi minyak kelapa sawit (yang pohonnya merusak tanah).
Tanam makanan Anda sendiri dan lakukan reboisasi (menanam kembali pepohonan).
Sebarkan pesan ini ke seluruh dunia
Dan masih banyak lagi yang bisa kita lakukan untuk melindungi alam.
Let start from us. Let's start from today. Don't wait until it too late.
Ayo, mulai dari kita. Kalau bukan sekarang, kapan lagi? Jangan tunggu nanti-nanti.
For the @betterperson and the better world.
See you next time~