Wild life! Wild animals in focus. White Lion No. 1 [ENG]- Dzika przyroda! Dzikie zwierzęta w obiektywie. Biały Lew Nr 1 [PL]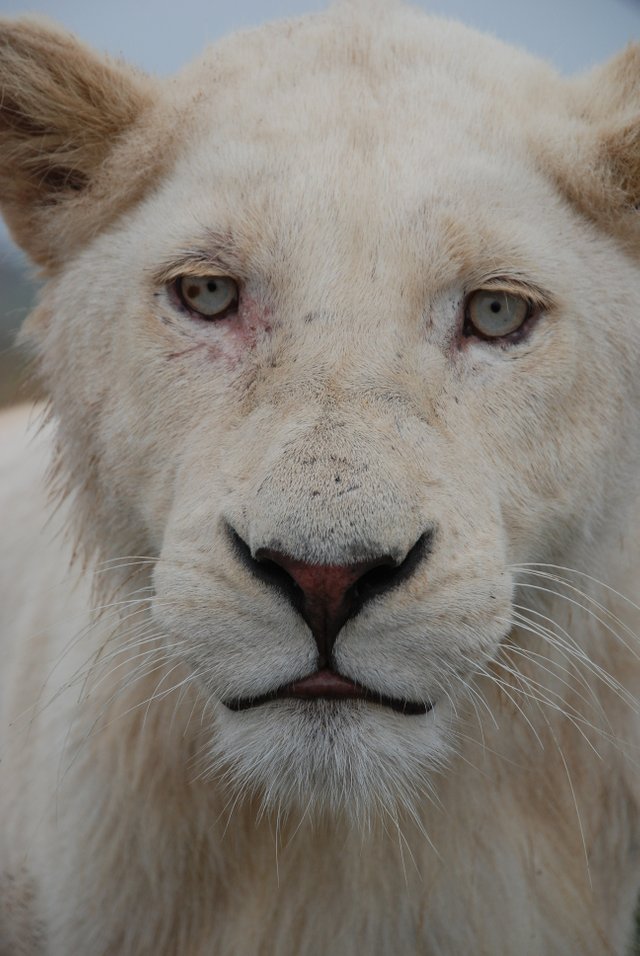 [ENG]
In retrospect, I would like to show you some wild nature on the example of my own photographs. For starters, white lions ... 7 selected photos.
Big Cats - White Lion - Panthera leo krugeri
They occur in South Africa, very rarely at large or in the ZOO.
The gene is responsible for their color, which must be present in the lioness and lion so that you can expect a litter of snow-white color what important parents do not have to be this color and have this gene. With time when the young grow up change the shade to a slightly creamy - ecru. Their eyes can be golden-brown or blue.
They were incorrectly described as albino, which led almost to their extirpation by poachers.
Considered a valuable booty, trophy and tribal beliefs, it does not make their lives easier.
As the only big cat family, they live in quite large groups of up to 30 individuals - this is practically only where they are protected by poaching. Most of the currently encountered individuals were obtained in captivity by intentional pairing with the responsible gene.
My observations show that they are a bit more nervous than other subspecies. Perhaps I met them more hungry than the others ...
Have fun watching and admiring!
[PL]
Z perspektywy czasu chciał bym Wam pokazać trochę dzikiej przyrody na przykładzie własnych fotografii. Na początek białe lwy... 7 wybranych zdjęć.
Wielkie Koty - Biały Lew - White Lion - Panthera leo krugeri
Występują w Południowej Afryce, bardzo rzadko na wolności lub w ZOO.
Za ich barwę odpowiedzialny jest gen, który musi występować u lwicy jak i lwa by można było się spodziewać miotu o śnieżnobiałej barwie co istotne rodzice nie muszą być tej barwy a mieć ten gen. Z czasem gdy młode dorastają zmieniają odcień na delikatnie kremowy - ecru. Ich oczy mogą być złoto-brązowe lub niebieskie.
Błędnie określano je jako albinosy, co doprowadziło prawie do ich wytrzebienia przez kłusowników.
Uważane za cenny łup, trofeum oraz wierzenia plemienne nie ułatwia im życia.
Jako jedyne z rodziny wielkich kotów żyją stadnie w dosyć dużych grupach liczących nawet 30 osobników - zdarza się to praktycznie tylko tam, gdzie są chronione przez kłusownictwem. Większość obecnie spotykanych osobników została uzyskana w niewoli poprzez celowe kojarzenie par z odpowiedzialnym za to genem.
Z moich obserwacji wynika, że są trochę bardziej nerwowe od innych podgatunków. Być może spotykałem je bardziej głodne jak pozostałe...
Miłego oglądania i podziwiania!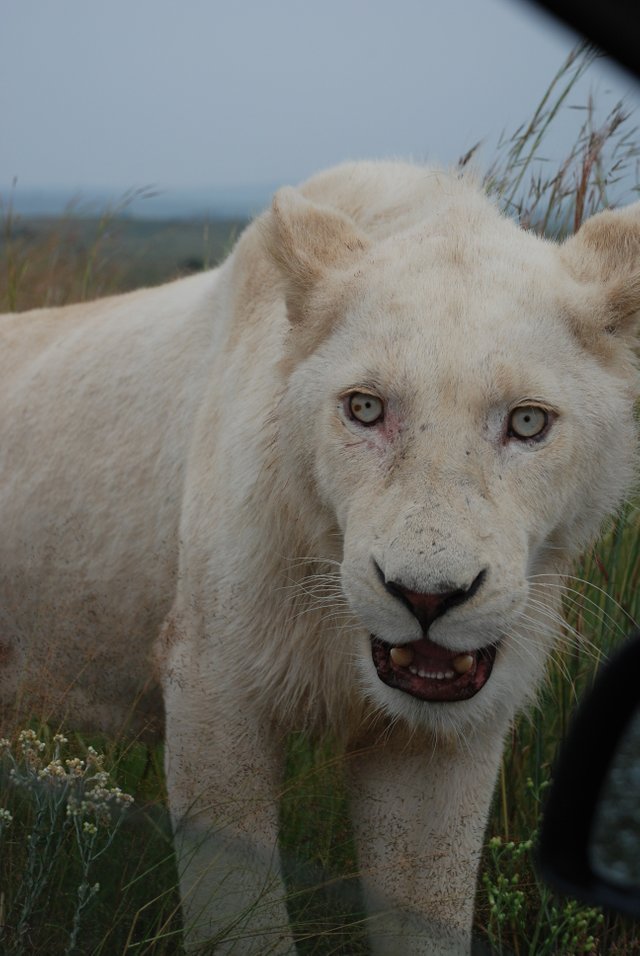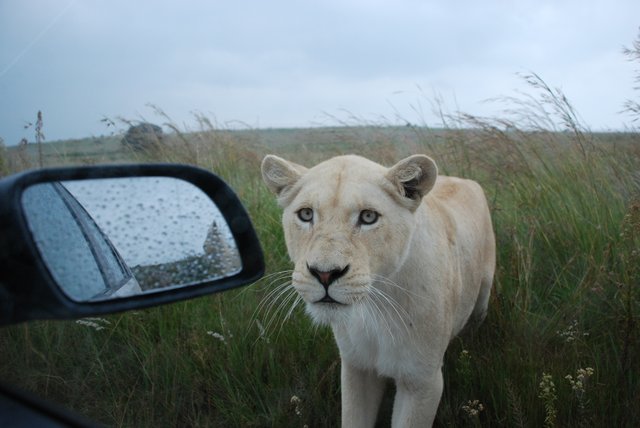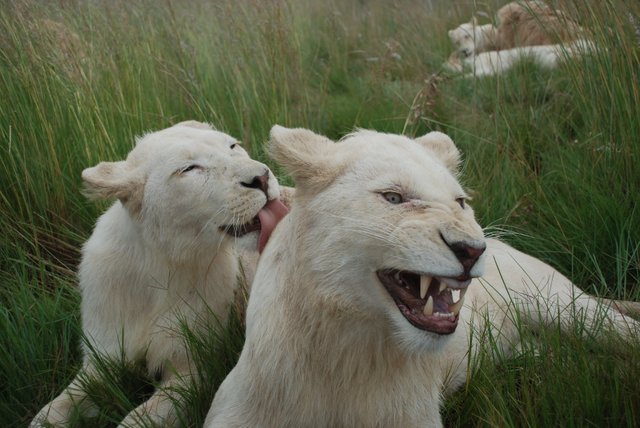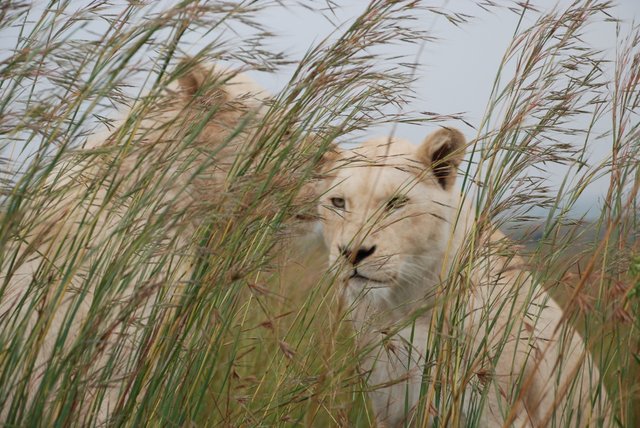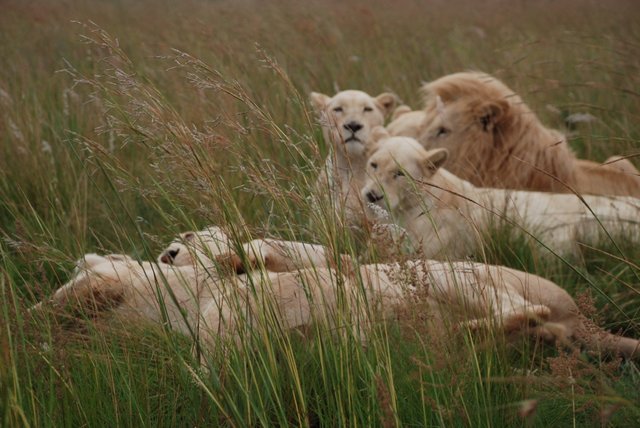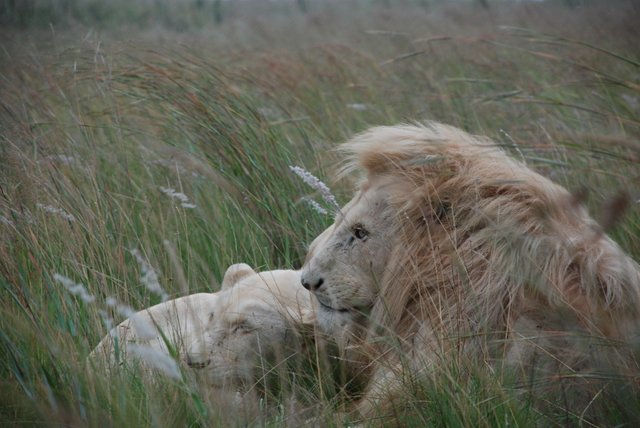 [ PL ]
Zdjęcie: własne
Miejsce: Rhino & Lion nature reserve Johannesburg - RPA
Zdjęcie wykonano aparatem Nikon D80 z obiektywem Nikon AF-S NIKKOR 18-135mm 1:3.5-5.6G ED
[ENG]
Photo: own
Place: Jhino & Lion nature reserve Johannesburg RSA
The picture was taken with a Nikon D80 camera with a Nikon AF-S NIKKOR 18-135mm 1: 3.5-5.6G ED lens