Wild Tip: Switch Your Garden Paths from Grass to Wood Chips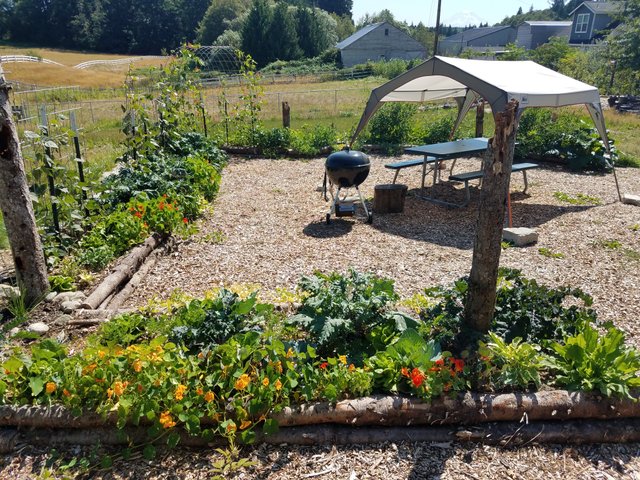 Often I see gardens with grass growing in the paths between the beds. If your garden looks this way it may be causing you problems. Here are some reasons why you should switch from grass paths to wood chips.
So what's so wrong about grass paths? I mean they look nice and are soft on bare feet. Well there are several reasons why I think grass paths are a mistake.
First, at least in my climate grass is where the slugs hangout. Every time I mulch an area of grass my slug population decreases. I have noticed that slugs seek shelter in the day buried down in the grass.
The less grass the less slugs I have to deal with.
Second, grass paths aren't as good at supporting beneficial fungi as wood chip paths. My wood chip paths are filled with fungi and sometimes mushrooms. This allows for fungi to spread from one garden bed to other nearby garden beds and even other nearby growing areas such as hedgerows and food forests!
This helps to interconnect your garden with the rest of your wild homestead allowing for nutrients and water to be shared between all your plants.
Third, the grass uses nutrients and water. While the grass is not in your garden beds it's still drawing up water and nutrients. Wood chips on the other hand will continually breakdown and slowly release nutrients into the surrounding soil and will also retain water in the soil instead of drawing it out.
Some people even harvest the soil that builds up from their wood chip paths to use on their garden beds. But I like to just leave it in place and let it feed the beneficial fungi which in turn feed my plants.
Wood chips are a great alternative to the classic grass paths that I see in gardens. There are clear advantages though you will have to top up the wood chips about once a year. This is the main downside but just think about how much less mowing you will have to do!
What do you do in your garden? Please share in the comments—I would love to hear from you!
---

Follow me for more posts all about working with nature to grow your own food and build a natural life: @wildhomesteading
And check out my blog - www.wildhomesteading.com for weekly in-depth posts on how to work with nature, grow your own food, and build a wild homestead. When you work with nature, nature works with you.