Enjoy the Natural Coolness of "Bael" this Summer.
Its Summer time in India, and last few day the scorching heat has started to take toll. The temperature is rising and it's getting unbearable going out in day. People started to avoid spicy food and mostly relies on Cucumber, Juices and Fruits. People started to drink more soft drinks and water to quench their thirst. And to be safe from extreme heat waves every Indian household would be looking for "AEGLE MARMELOS" Juice.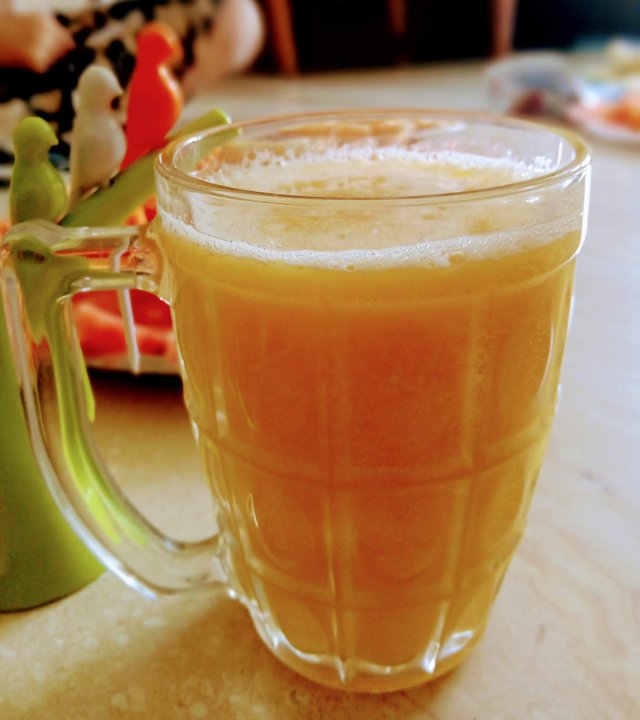 In India we call it BAEL FRUIT.
Bael or Aegle marmelos is a spiritual, religious and medicinal plant, native of India and Bangaladesh and spread throughout South East Asia. The fruit takes about 10 to 11 months to ripen. It is a sweet, aromatic and astringent in nature. It has many benefits and uses such as to cure tuberculosis, hepatitis, dysentery, constipation, peptic ulcer, piles and many more, useful in worm infestation and stomach related problems.
The fruit which have a hard outer layer and pulpy from Inside is considered as a Medicinal fruit and a boon for all summer drinks. To know more of the Fruit, visit the below link, which I shared last year, introducing this fruit first time to many on Steem.
https://steemit.com/@steemflow/a-medicinal-fruit-called-bael-aegle-marmelos
More importantly, this fruit is also offered to Lord Shiva and have special mention in Shiva Mahapuran". The trees uses to be big and have lot of spikes, luckily I have a smaller trees in my neighbourhood.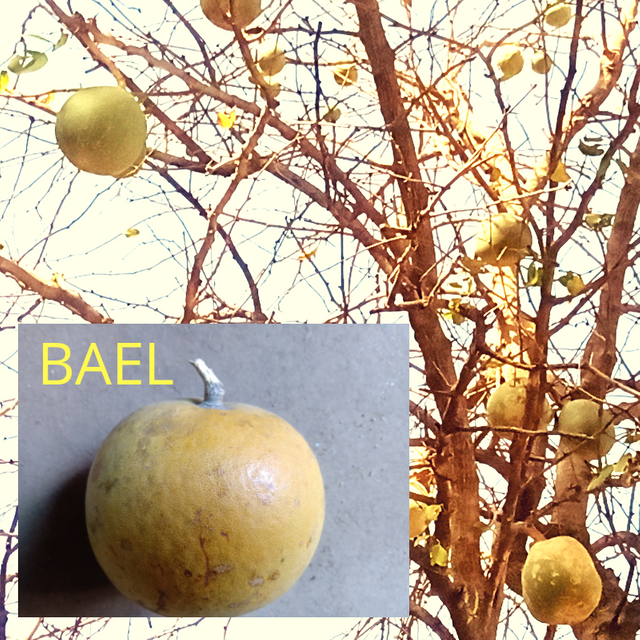 The raw fruits on tree uses to be Green however on rippening the outer layer turned to yellow, which means it is ready to be consumed. Many eat the pulpy stuff directly or many like to have it's juices made. Drinking or consuming Bael has many advantages it helps our body in many ways:
The fruit helps in blood purification and blood circulation.
The fruits keeps the stomach in good condition and avoid any chances of constipation, or diarrohea.
It further helps to keep your body cool during heat waves. And energise you instantly.
It helps in Controlling Diabetes and Body Cholestrol level.
It is considered to be boon for would be mother as it help in increasesing the breast milk.
This is also a good way to get rid of all Kidney ailments
It also helps in cleaning g Intentional worms.
BAEL Juice preparation is also very easy. A normal size Bael can get us 2 glass of juice. And we need following:
A Bael Fruit.
2 Glass of water.
Sugar / Jaggery (as per sweetness)
Chinnamon powder (not mandatory)
So break open the fruit, and take out the pulp using a spoon or a knife carefully. Put the pulp into a Mixer and add water/sugar/chinnamon and blend it perfectly. Pour them into a glass and have it straight away. The pulpy part is already sweet,however on adding water to it , it might call for added sugar or jaggery. So use them as per your taste.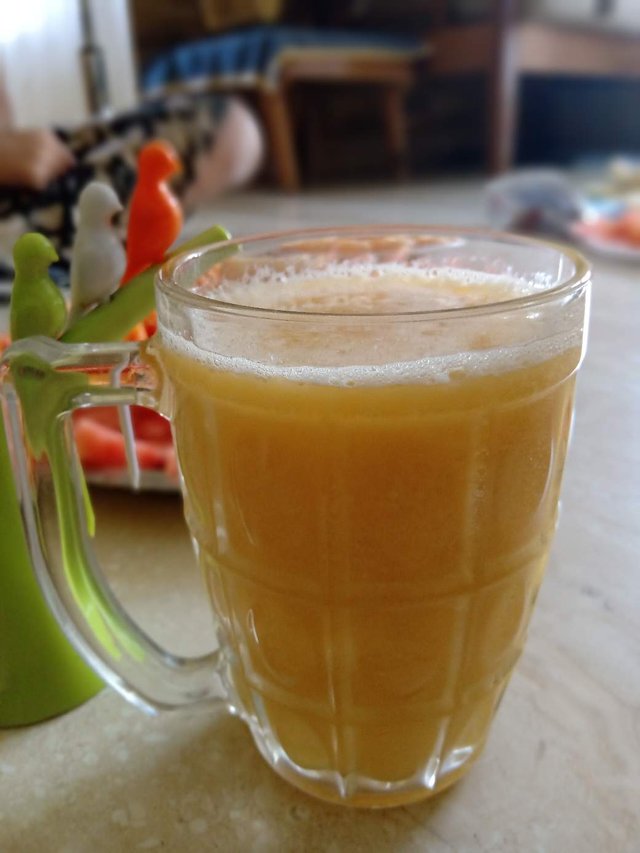 This big glass of Bael Juice is enough to protect you from all kind of summer woes. Have it , Drink it and Go out to feel the heat😉
Stay Calm....
Keep Steeming...Steem On !!!
---
My Witness Votes
@firepower , @enginewitty, @blocktrades , @gtg , @helpie, @abit, @c-squared , @jackmiller, @ura-soul, @blockbrothers, @ocd-witness @bobinson, @jatinhota, @curie, @adsactly-witness, @therealwolf @patrice @reggaemuffin @c0ff33a @thekitchenfairy @drakos @roelandp @good-karma @yabapmatt @partiko @steemcommunity @qurator.
---