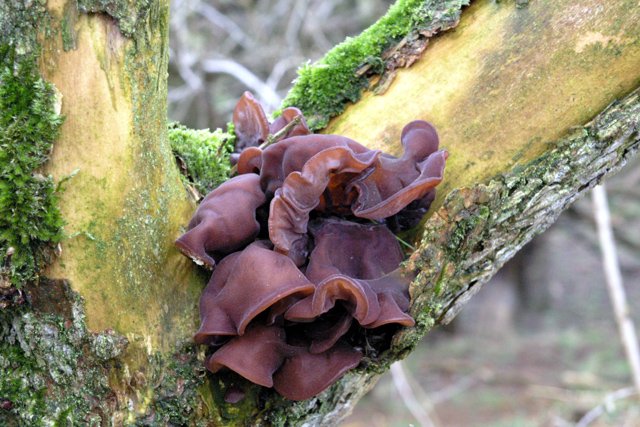 I can probably guarantee that 90% of people who have ever gone for a walk in the woods have seen this mushroom. Whether they have noticed it or simply walked by without a second glance, they certainly must have seen it. It's EVERYWHERE! And its name is the Jelly Ear or Auricularia Auricula-Judae.
Jelly Ear
The Jelly Ear has lots of different names: Wood Ear, Jews Ear, Cloud Ear, Tree Ear, and much much more! The common word in all these: Ear. There is a very good reason for this, it looks like an ear. Jelly Ears are incredibly common in the British Isles. You'll mostly find them growing on dead branches or limbs from the Elder tree. This fact helps to reveal why a common name for this fungus is the Jews Ear. Simply put, the name comes from the story that Judas hung himself from an elder tree; and the fungus growing on the tree represented him. Nowadays, this name is no longer used as much, as it is deemed politically incorrect. Nothing really looks like it either, making it a pretty safe mushroom for the kitchen. One family of cup fungi could be mistaken for this fungus, but the key is that not only will it be growing from an elder tree, the cup will also be facing down. The Jelly Ear will often grow in abundance all along a branch or limb of a tree.
During the Summer, most of the Jelly Ears will completely dry up, making them slightly harder to identify. Although if you confidently identify them while they are dry, you won't have to spend lots of time drying them out for storage! I have always found the look and texture of these mushrooms quite repulsive, but in an attempt to be as open-minded as possible, I picked some last winter and tried them. I've mentioned this in a previous post, but simply frying them with butter will give you interesting results! They were not very nice. So, I simply ignored them from then on. I acknowledged my ignorance but I simply would not try them again! It was until I told one of my friends about this mushroom a few weeks ago that I once again became intrigued by this fungus. She told me that she recognized the mushroom and had eaten it in an Asian dish her mother and made before. The dish was called 'Nabe' which is basically a hot pot of meat, veg, and mushrooms in a broth. The name directly translates to "things in a pot" or "pot things". This is really where Jelly Ear lends itself best to, Asian cuisine.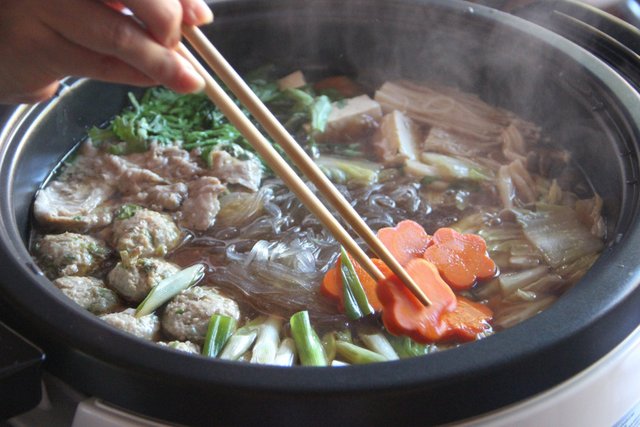 Nabe, a traditional Japanese dish often including Jelly Ears
You can easily find Jelly Ears in supermarkets or oriental cuisine stores where you can find them in small packets for £5.00. This is, in my opinion, a ridiculous price for something that could be harvested by the kilogram in a single morning!
Warning: Never consume a mushroom without properly identifying it first. Always consult more than just one book or website. Incorrect identification of any fungus could be fatal. If in doubt, leave it out!
Photo Credits:
Wikimedia
Japanese Cooking 101