Herbal tea mix!
Each winter we have a daily ritual of making a pot of herbal tea. We drink some for breakfast, some for lunch and some after dinner time.
The aim is not focused on medicine, even if all the herbs certainly have medicinal qualities, but just a pleasant smelling and tasting warm drink which is very welcome in cold months.
So even in that way it is a sort of medicine, good for the soul, not just the body!
We usually collect herbs during the whole growing season, from spring to late autumn. Those we dry in the shade and then store in paper bags. In late autumn we open all bags, chop the herbs roughly with scissors and then mix the whole lot in a large vat! It's great fun, kids say we're making a magic potion!
Then we stuff the herbal mix inside glass jars and store it in the cupboard. For each pot of tea which is about 1.5 liters we put 3-4 soup spoons of the herbal mix and it's usually enough.
So what is inside the mix? Each year is different of course! But here is a quick list of some of the herbs inside!
peppermint, a very potent local variety
thyme whole branches
oregano flowers, pink and white
lemon balm leaves
plantain, broad and thin leaves
elderberry flowers
garden sage leaves
leaves of currants, strawberries, raspberries
St John's wort flowers
yarrow flowers
anise hyssop leaves and flowers
linden tree flowers
pine tips
rosehips
hawthorn fruit and leaves
quince "centers" with the seeds
The photo shows some of the mix just being put inside jars. We usually make about a dozen jars so we have some for gifts.
The part that makes me especially proud is we gather most of the herbs from our own garden and the process is entirely hand made and home made.
I'm not sure how effective our herbal tea is as medicine, but it sure feels like really helpful addition to our healthy life. What's more, the kids also drink it readily and along with some immune boosters, we haven't had a serious illness in the family so far. The kids haven't been to a doctor due to illness so far, meaning 7 and 4 years.
PS: I started this post in early November and just now managed to finish it. Usually the last 2-3 months of the year are the busiest in work and with 4 birthdays in the family + Christmas + new year + two namedays... It's a very festive season for us. I'd say too festive even 😂🥳🤪
Wishing you all very happy and prosperous New year!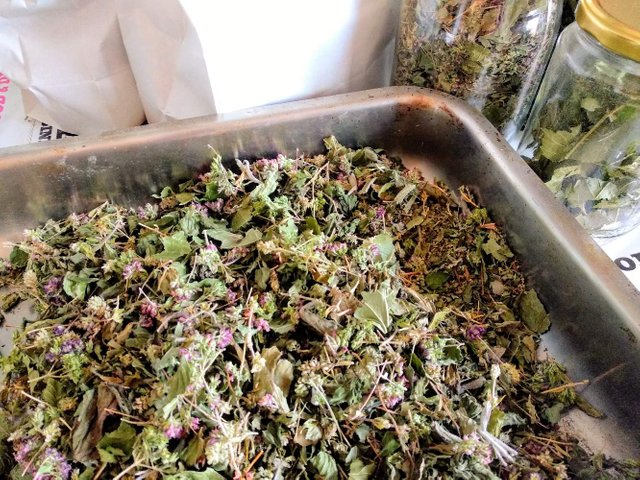 Posted using Partiko Android