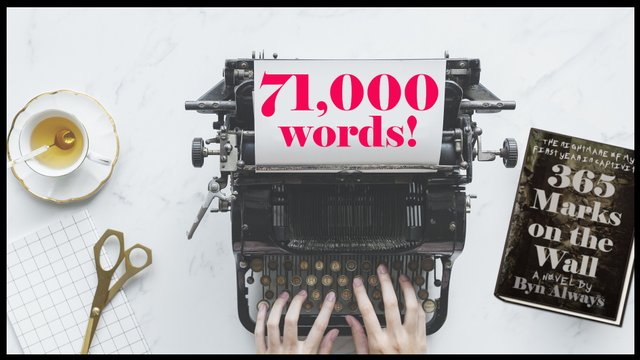 There will be no freewrite today, because I've hit my groove in the story and I'm going for a writing sprint this afternoon-evening. I reached the 70,000 word mark well before I thought I would and it is SO freaking exciting! I'm hoping to hit 80k tonight, although that is a pretty big goal. I would be happy to get close to that!
The story is wrapping up so well. I am really excited to get to the end of it and then hopefully find enough help with editing and such that I can publish it.
Anyway, just a short post to update you all on my NaNoWriMo progress. I feel like if I can do this, then I can continue to do it and finally get some full length novels written. That is definitely something on my bucket list!
Thank you to all of you for your continued support of ALL of my writing.
Especially @mariannewest with her daily freewrites that dug me out of a writer's block of years!
And @janton for reading nearly everything I write and giving me so much support.
And of course, in the "real" world, my husband who is passionately supportive of my writing. He insists that some day I will be a big best seller and I can be his sugar mama and take care of him in style ;)
Anyway... off to write some more words!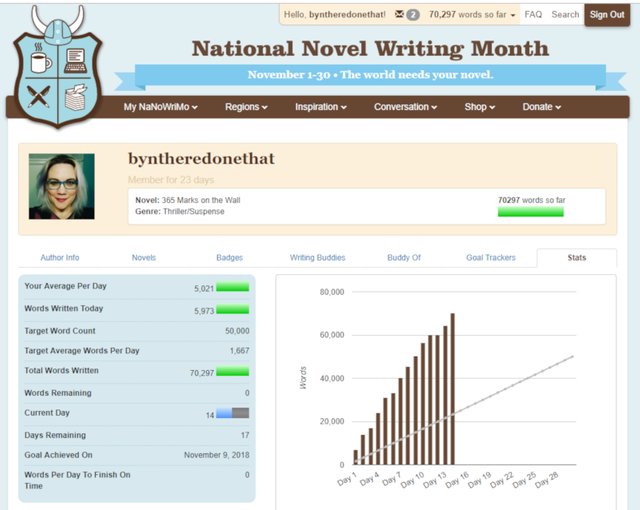 I technically hit 70k last night before I went to bed. I was so excited to reach that goal that I actually couldn't get to sleep for HOURS! I have added a little over 1,000 words today.
Photos: 12