POLICE DON ARREST 50YRS OLD MAN WEY DEY ABUSE 10yr OLD
Good morning my country people how una dey this beautiful morning I hope say go dey go for una side, rainy season don dey pack load dey go cos e wan make way for harmattan so make we dey ready our thick socks and cloth o cos e no go easy.
Today na wednesday naijapidgin don bring another tori come Samantha una as usual my country people the things wey dey happen for our obodo naija theirs days ehn no be small o some na new while some don dey happen tey tey the mata dey make person dey wonder weda the country situation dey good abi e dey worse.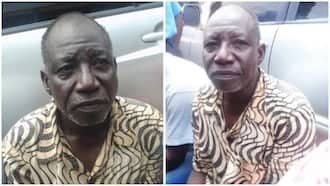 Source
The one wey happen now no be new thing cos e don dey happen since and the crime dey increase by the day, e get one 50yrs old man lukman haruna wey abuse one 10yrs old girl for abule egba lagos state, according to reports the man dey always finger the girl and na neighbors demand be the girl mama talk say she notice say blood dey comot from her pikin private part as she question the girl tire na im she con finally talk say na this man dey always finger her say e don tey wen the man dey do am but bcos the man threaten her not to tell anybody she con dey fear to talk na so the mama con call police to arrest this man after police too question the girl say who dey abuse her she point the man. now police don carry the matter go gender unit of command and dem don talk say the suspect will be charged to court.
People dey talk say as if be say this crime of rape and abuse don too much and the suspects dey always go free make demands start to dey castrate the men wey commit the crime, abeg my people how una see this matter wetin una fit talk put.
Na @rosyblessing carry this one come.
Na we be naija pidgin
Na Spirit of Naija!!
Na we be Naija!!!
---
Footnote
If you would like to support us,
Please follow our curation trail Or delegate SP to @naijapidgin account.
We are naijapidgin community with a mission to promote and get the fast growing Nigerian community on this network fully engaged in a language they cherish passionately. As well as help minnows
---
Join our discord server for fun, interactions and voice shows here
We broadcast both in English and pidgin live on discord channels.
On discord we have the following shows and lectures:
Real-Life Talk with @preciousimo
[Tuesdays by 8pm]
Lectures on Block chain, Steemit and Cryptocurrencies [Wednesdays by 6pm]
Relationship talk with @rosyblessing [Thursdays by 8pm]
Variety night show with @itoroarchibong and @imbigdee. [Sundays by 5:30pm]
Special Hotseat [Sundays 8pm]
Dont miss it
Naijapidgin Team:
The brain behind the running of this great platform remains the wonderful and dedicated personality, one who truly gives their time and best for Nigerians on the blockchain:
@ogoowinner
@zizymena
@oliverwilliams
@horlaide
@mittymartz
@nmalove
@preciousimo
@rosyblessing

Na @mittymartz design this avatar