🎸#mytunes : ♯ Weekly Music List || Nº12 ♯

Welcome to the weekly post of #mytunes project, what's this all about?, simple:
we all create a unique colourful songs collage when sharing your own music, the music you're listening or that you love!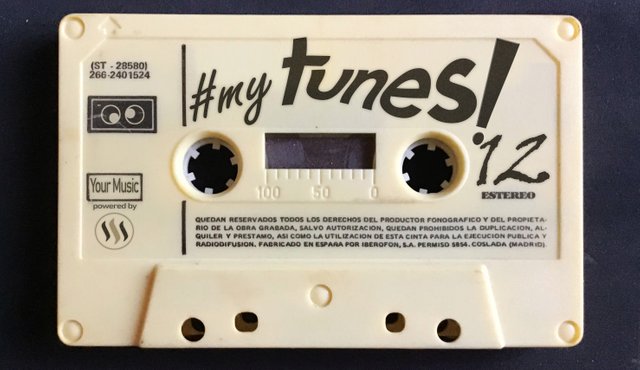 ~ This is NOT A CONTEST, everyone wins :) ~
We keep here with our best vibes, sharing music and love .
With the funds of our donors I'm driving a Raffle of
1 Steem + 1SBI share amongst all that made a valid entry :
http://www.randomresult.com

There is a remaining fund of 2 Steems, that will provide us with 2 more weeks of gifting some love to one fortunate steemian.
Great loving thanks to our donors: Big hugs to them!
Got special thanks to :
@fraenk who is permanently supporting and spreading the word out there. You can find him at Googly Discord Channel
Special mention also to #pypt and @sgt-dan who keeps helping as much as possible, much love to you... visit The Ramble Discord server
My sincere thanks, hugs and love to those who commented, shared music, participated and supported the idea,those were(in order of appearance ):
@esthersanchez, @drakernoise, @viking-ventures, @geekdancing, @marblely, @artemisa7
The Weekly Music List was made by all who participated and I called it MyTunes Weekly List 11 with finally 6 tracks that is worth to watch and listen to. You can find it here: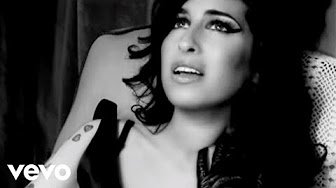 Weekly Music List #11
Source: YouTube

---
We are using
#palnet
,
#creativecoin
and
#sonicgroove
tags in our posts, therefore we are getting liquid rewards in those tokens that I will send to your accounts to help you grow them. It would be nice to power them up to help those projects grow too!
Liquid rewards:
0.157 STEEM, 0.111 PAL, 4.1461 CCC, 48.904998 SONIC
Valid entries: 4
Sharing out: 0.04 STEEM, 0.03 PAL, 1.04 CCC, 12.23 SONIC (rounded up) each! :P
Rewards have been already sent to participants.
You can check all the rewards at : https://steemworld.org/@mytunes
And our weekly raffle winner of 1 Steem + 1 SBI share ( that will be purchased by @kharma.scribbles) is :
@esthersanchez
Congrats!

(Who have just received her prize)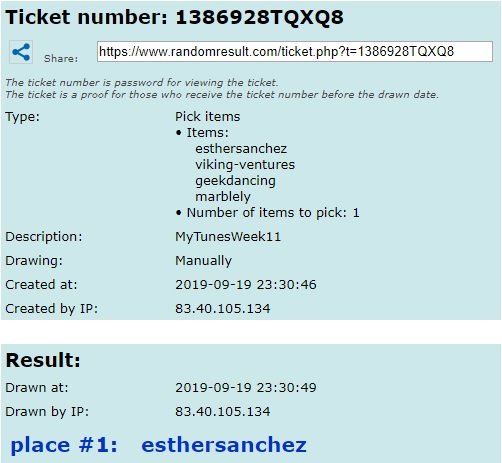 The ticked can be checked here:
https://www.randomresult.com/ticket.php?t=1386928TQXQ8
I'm not sure this is the best random tool out there but couldn't find any better...I'm open to your suggestions on this.

---
How to take part? :
Coment on this post and share at least one song (or song-list) you've being listening to or that you simply love. It can be a Spotify link, a YouTube link, Choon link, DSound link or whatever audio-video stream platform you love. Take into account that the list is published on YouTube ( at the moment, will see in the future )
Some tips:
Every entry gets a 100% vote plus a "follow" and persistent vote (100% vote) on their normal posts for those who make good quality comments and posts. Votes come from @mytunes, @drakernoise and @artemisa7 accounts. Nowadays due to drop in crypto's prices our vote is lower than normal, hope this changes on a near future :)

Lets go for an amazing Weekly Music list #12!







If you want to take more fun, join the #googlyeyes fever, take part!



👀 GooglyEyes 👀

Remember to look at the world with different funny eyes and listen with open ears, sharing music makes a better world for everyone...

~ Made with 💖 for you, hope you enjoy it! ~

I live normally on the #googlyeyes discord where you problably will find me if needed : Here